With the 2021 edition of the Finat Sustainability Awards, the association wants to highlight its members' efforts to reduce, reuse and recycle. 
Avery Dennison and CCL have been named the winners of the 2021 Finat Sustainability Awards.
A jury consisting of Jacques van Leeuwen (chair), Gian De Belder of P&G and Rosalyn Bandy of TLMI concluded that the ten initiatives submitted this year showcased the wide range of approaches at play to increase sustainability in the self-adhesive label value chain. The entries included systems for collecting label waste materials, technologies for single-use and re-usable packaging, circular approaches for facestock, sleeves and release liner, among others. However, the winning initiatives stood out because of their novelty, scalability and cooperation along the value chain.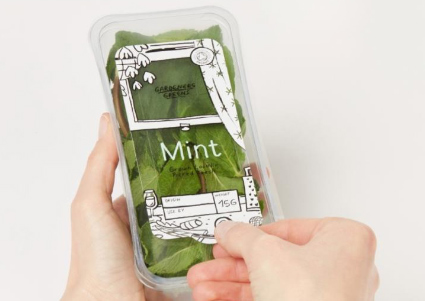 Avery Dennison was named winner of the supplier category winner for its sustainable reclosure materials, from PVDC-free Oxygen Barrier in food to Monomaterials in HPC. These innovations can be rapidly applied in highly relevant types of packaging in food and hygiene, enabling the extension of shelf-life while ensuring recyclability following the Ceflex design guidelines.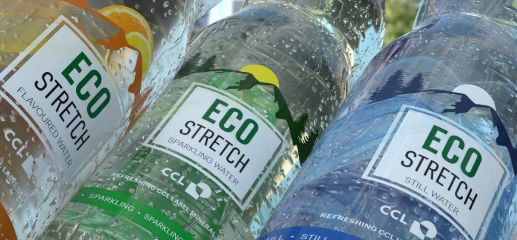 Finat has also awarded CCL in the converter category for its closed-loop technology for stretch sleeves, EcoStretch. The initiative shows a high impact, high level of innovation, including a plastic de-inking step. It involves the broad packaging value chain and is an entirely circular example of recycling decorations into decorations.
'We were pleased to see participation from across the supply chain, and from all company sizes: small, medium and large,' says Pablo Englebienne, regulatory and sustainability affairs manager at Finat. 'Although the awards went to two major players in the industry, we are pleased to see that sustainability is not a "blue chip" privilege. I would really like to encourage also SMEs to submit again for next year. Going forward we are considering some changes to recognize sustainable innovations from all segments of the industry. We are looking forward to multiply this year's numbers in 2022.'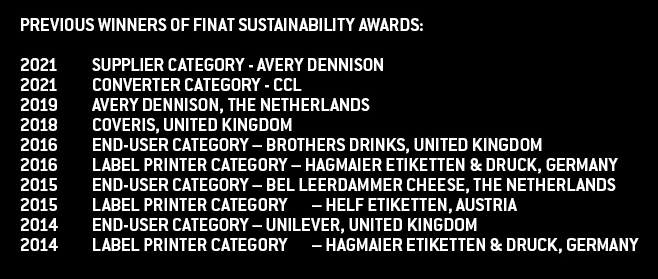 The competition was introduced in 2014 as the Recycling and Sustainability Award to recognize the industry's efforts in paper and film release liner recycling. The competition was since rebranded as the Finat Sustainability Awards and currently concentrates on sustainable practices in a broader sense. 
'There's an enormous opportunity across the label industry to reduce waste, reuse containers and recycle the materials we use in our products,' says Jacques van Leeuwen, head judge, a former recycling consultant for Finat, and a veteran of green initiatives across the label industry. 'We know that many of our members are already working hard to reduce their environmental impact, and we want to recognize the initiatives that are making our industry more sustainable.'
First edition saves over 1,000 tons of materials 
In the awards' first edition in 2014, the jury was impressed by the quality and number of competing projects reflecting a total of over 1,000 tons of recycled film and paper liner, as well as a significant amount of recycled matrix and other secondary materials.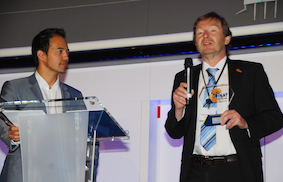 In the converter category, the winner, German-based Hagmaier Etiketten & Druck, impressed the jury with high recycling rates for paper and film liner, communication efforts inside and outside the company, and technologies offered for other secondary materials. Finally, by offering customers a take-back of the spent liner, the company demonstrated responsibility for secondary materials and showed initiative in helping its customers join the sustainability path. In the 2016 edition of the competition, Hagmaier Etiketten was again recognized by Finat for its sustainability.
'Sustainability a few years ago, when we won these two awards, was a big challenge,' comments Thomas Hagmaier, managing director of Hagmaier Etiketten & Druck. 'We had to convince our partners of the importance of sustainability. Companies within our supply chain had to change their mindset from incineration to either giving the waste a second life or returning it to raw material.'  
According to Hagmaier, the meaning of sustainability has significantly changed in the last few years. 'Today, it is standard for environmental protection. We have almost zero waste today, except for some general waste,' he adds. 'Paper, cardboard and foil get separated and go to certificated recycling; matrix material goes to a reprocessing plant for a second life, and the liner is collected and returned to a paper mill. We also use our machines' heat to control the temperature in the building and introduced the use of solar energy. Theoretically, this covers most of our energy consumption on a long sunny day. It means more investment in presses, vacuum systems and even more solar roofs. Where possible, we also changed our vehicles to electric or hybrid and started a bike-to-work scheme for our employees.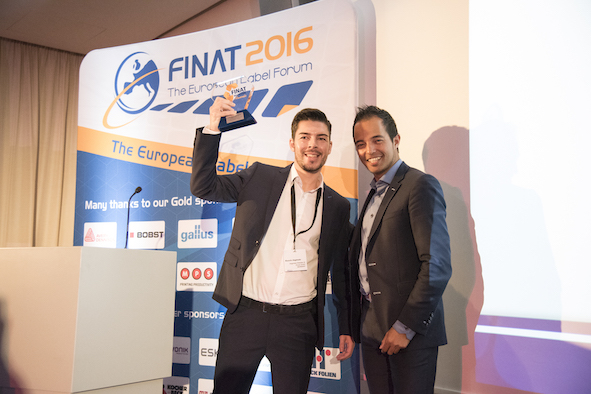 'Winning these two awards made us very proud our efforts were recognized. It motivated us to intensify our work towards a sustainable future. Meanwhile, the sustainability idea has deeply rooted itself in the market. It's nothing unusual today to have some sustainability activities written into a company's goals. However, the question is whether they are serious about it or are simply using it to elevate their image? Also, offering environmentally friendly materials is nothing unusual these days, but in my opinion, the market is not yet ready to pay a little more for them.'
Green success continues
The second edition of the recycling awards saw another strong field of contestants, with several returning participants making even stronger entries for 2015.
The winner, Austrian printer Helf Etiketten, captivated the jury with a 100 percent liner recycling rate. The judges also commented on its sustainable ethos by collecting liners from customers and implementing a complete waste management system.
'The jury unanimously agreed that the maximum-capacity recycling of liner and the commitment of the company to communication on recycling internally and externally, backed up by press releases and newsletters, were exemplary. Combined with the great efforts by the company to reduce matrix waste and trace secondary material, the jury was happy to give the award to Helf Etiketten,' adds Van Leeuwen.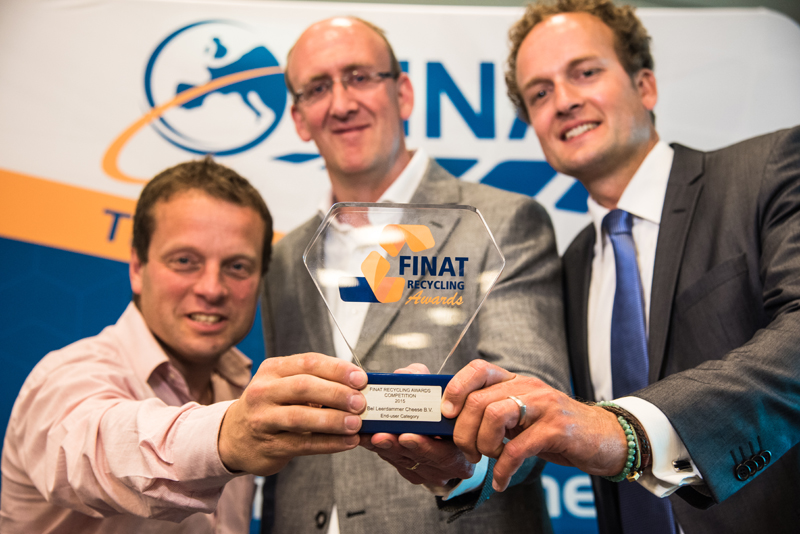 In the end-user category, Bel Leerdammer Cheese stood out for building on ongoing efforts through developing successful pilots in 2013 and recycling 100 percent of paper liners in 2014. It incorporated recycling into its operation's comprehensive quality system and strengthened internal and external communication regarding its release liner recycling efforts.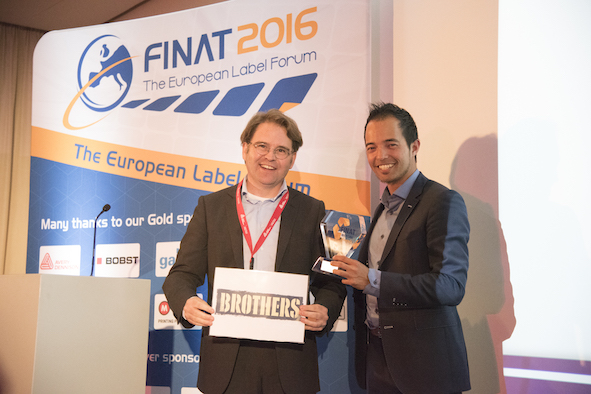 British brand Brothers Drinks was recognized in the following edition in 2016 for its early involvement in a program focused on recycling PET release liner, jointly set up by Avery Dennison and leading UK plastics processor Polymer Extrusion Technologies UK (PETUK). Brothers Drinks shipped the used silicone-coated PET film liner following the automatic labeling of the drink bottles to PETUK, which reprocessed them into PET granulate for subsequent reuse in, for example, microwave trays. 
Two years later, the 2018 Finat Recycling and Sustainability Awards panel unanimously agreed Coveris's Environmental Services deserved recognition. 
'Supporting our vision of No Waste from both an operational packaging perspective, we were extremely proud to have received recognition from Finat and the wider label industry for our pioneering efforts in this area,' remarks David Smith, operational excellence director at Coveris Graphics, Labels & Board. 'Established in 2007, our Environmental Services offer has grown from a small-scale internal operation to now being responsible for taking over 10,000 tons of paper out of industrial and consumer waste streams. 
At the time, Coveris had just launched its pioneering ReCoveris machines. This unique processing capability supports delamination of label substrates from release liner for multi-stream recycling thanks to a partnership with UPM RafCycle. 
'With the release liner component being fully recycled back into liner for reuse, the label facestock is upcycled into composite decking materials,' adds Smith. 'Targeting label waste across three main streams – manufacturing and production waste, customer waste, and finally, by-product release liner waste, we are now very close to reaching our net-zero waste target across our label operations.'
CleanFlake puts Avery Dennison on podium
Avery Dennison's CleanFlake portfolio won the 2019 edition of the awards. This innovation enabled the production of high-quality recycled PET (rPET) from post-consumer bottles while maintaining all-important visual impact and food contact approval. 
'Winning the Finat sustainability award was very important to me and the entire team that worked so hard to develop CleanFlake technology, our winning entry. However, it wasn't necessary to win to know that we were doing the right thing based on our values,' commented Noel Kasmi, VP of marketing for Avery Dennison Label & Packaging Materials Europe. 'Recognition from the industry that you're doing the right thing is always great to have. We saw it as confirmation in our belief that CleanFlake has a critical role to play in enabling recycling and contributing towards a sustainable labeling industry.
'Actually, I am proud to say that we have recently launched our improved CleanFlake solution. For all fast-moving consumer goods segments, it allows more brands using PET to enable the recycling of their packages. The new CleanFlake portfolio offers significant improvements in printability (best in class TC7007 topcoat), conversion, and application.'
Extensive collaboration has ensured the portfolio meets widely varying recycling standards in many countries. CleanFlake adheres to EPBP design guidelines and delivers 100 percent wash-off when following the Petcore PET tray recycling protocol. It's also approved by Returpack (Sweden) and Infinitum (Norway).
---
For further info: 
More information available online on the comprehensive Finat Sustainability Portal