Read later
Tengcai benefits from RFID and Industry 4.0 focus

Guangdong Tengcai Technology, a high-tech enterprise established in 2011 and located in Foshan City, is one of the label producers designated by the Guangdong Provincial Government for the production of epidemic prevention and control labels for a wide range of Covid-19 related applications, Julia Du reports.
Its core business is the design and converting of self-adhesive labels and RFID tags. At present, the company focuses mainly on the south China market, where most of its customers are self-adhesive label users. Its products cover many industries, including food, household chemicals, wine and medicine.
Tengcai Technology has invested in a wide range of printing processes for the production of self-adhesive labels. In its factory are seven advanced 5-12 color rotary presses, together with more than 20 automatic quality inspection machines, high-speed flat die-cutting machines, UV inkjet printers and engraving machines, along with other auxiliary label printing equipment. This forms a powerful printing fleet capable of providing professional services to its peers in the label industry.
Recently, Tengcai Technology installed two Hongsheng HSR-series flexo presses (10-color and 12-color), and one SPGPrints rotary screen printing station. According to Hanwen Peng, CEO of Tengcai Technology, the selection of the Hongsheng flexo press was driven by its 'advanced technology, stability and printing quality after comprehensive comparison with the competition'.

The HSR series of narrow flexo printing presses employs the latest Baumüller servo technology to ensure the stability of web tension and overprinting, and the speed can reach up to 200m/min. Moreover, it can adapt to a wide range of applications, including paper and film printing, laminating, cold stamping, die-cutting, and through cutting.
In order to complete its offering, Tengcai Technology plans to add an inkjet press to explore new market opportunities, and at the same time, supplement the company's existing conventional printing machinery.
The company covers an area of about 10,000 square meters, with 4,000 square meters of cleanroom workspace and modern factory facilities. Tengcai has achieved ISO 9001:2015 certification and ISO 14001:2015 Environmental Management Certification.
RFID upgrading and development 
With Industry 4.0 now such a popular topic, RFID is seen as a key technology for implementing intelligent manufacturing, playing a role in controlling the supply chain, track and trace, anticounterfeiting, and thus improving the efficiency and service level of intelligent enterprise management.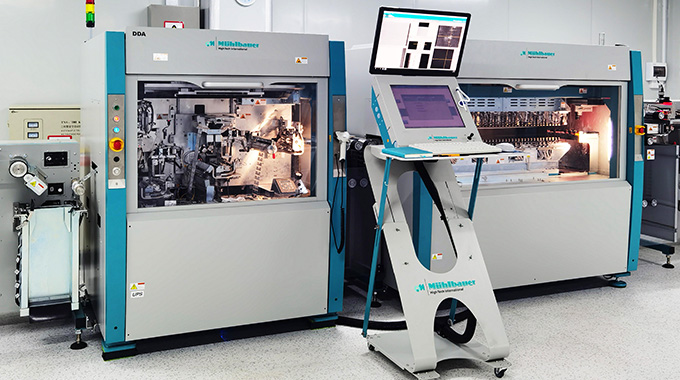 In 2019, the RFID department was established with the installation of Mühlbauer's DDA 40000 system, along with an RFID laminating machine and a Voyantic Tagsurance RFID inspection system. 
Tengcai Technology understands that competition in the market is actually the competition for talent, and for that reason, has implemented a comprehensive training plan for its key talent with the motto 'Respect for the individual'. Tengcai has a young team which includes a wide range of disciplines from industry application experts to advanced equipment operators and technicians and highly trained customer service staff.
Having a diverse range of talent is key to integrating offset, flexo, silkscreen and digital printing under the same roof, allowing different order lengths with product complexity to be processed efficiently. 
Tengcai Technology also recognizes its obligations to wider society and its mission statement includes implementing key metrics for sustainable economic, environmental and social growth. The company believes that taking the road of environmental protection is a win-win and key to the long-term prosperity of the label industry. Its achievement of ISO 14001:2015 Environmental Management Certification has involved putting energy conservation and environmental protection at the forefront of its daily practice. It regularly carries out environmental impact assessments for each construction project, obtains the correct pollution discharge licenses, and signs the relevant Hazardous Waste Recovery Service agreement and the General Industrial Solid Waste Collection and Disposal agreements.
The Covid-19 pandemic has had little impact on Tengcai Technology, according to CEO Hanwen Peng. Instead, as noted it, has been designated one of the producers of key label materials for epidemic prevention and control by the Guangdong Provincial Government, delivering these applications across a wide range of end uses.