At the TLMI Annual Meeting, the association presented its converter, supplier and volunteer of the year awards. 
Craig Moreland, CEO of Coast Label, was awarded the TLMI Converter of the Year, which recognizes a member of the North American package printing industry who has made extensive contributions to the labeling marketplace and has additionally demonstrated a strong commitment to the association.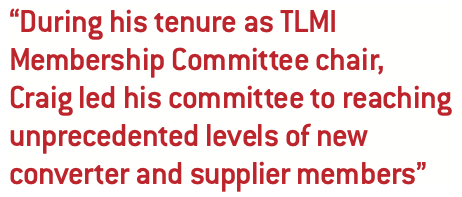 In 2004, Moreland joined the association and attended his first meeting. He has since served as chairman of the board for two years and has been on the board of directors since 2010, where, according to TLMI, he has been one of the association's most influential committee chairpersons.
'Craig Moreland's contributions to TLMI are many. During his tenure as TLMI Membership Committee chair, Craig led his committee to reaching unprecedented levels of new converter and supplier members. During his time as vice chairman and chairman of the board, he was influential in presiding over the retirement of the association's president of almost two decades,' said Linnea Keen, president of TLMI. 'He played a critical role in keeping TLMI on track during what could have been an extremely tumultuous transition. Craig is a true leader in every sense of the word, and it has been an honor working with him. I want to personally thank him for his many years of service and all that he has done for the association and to congratulate him on receiving this tremendous honor.'
During the ceremony, Moreland spoke of how he pulled together funds and borrowed a portion of the sales cost from his father to purchase the company, and then convinced the company's original owner to carry the note for the remaining amount. Under Moreland's guidance, Coast Label has shifted from a flatbed letterpress company to the flexographic and digital print house it is today, serving a wide range of end user segments and applications.
Steve Schulte, vice president of sales and marketing at Mark Andy, was presented the Supplier of the Year honor, in conjunction with Labelexpo Americas.
Having served on the TLMI board of directors and the association's marketing committee, Schulte is a a longstanding committee member for the TLMI Print Awards. 
'Steve Schulte exemplifies a highly engaged, personable, and hardworking TLMI supplier member,' said Keen. 'He is a trusted friend, colleague and mentor within the association and having served on the TLMI board of directors alongside Steve, I can attest to how dedicated he is to TLMI and to lending a helping hand to any member in need. Steve has extensive knowledge surrounding print technologies and his experience in the industry has been a great asset to TLMI on both a technical and personal level. I want to congratulate Steve on this well-deserved honor personally.'
Brian Hurst, vice president of manufacturing at Yerecic Label, was awarded with the TLMI Volunteer of the Year award. Hurst has been at Yerecic Label for nearly three decades and has served in his current position for over 15 years.
'Over the years, Brian has been a hardworking association committee member, a technical resource, a cherished colleague and a friend to all who have had the opportunity to work with him. He never misses a TLMI event, and we have all come to rely on Brian for his expertise and unfailing camaraderie,' said Keen. 'I want to congratulate Brian for this achievement personally and to thank him for being one of our most devoted members.'
Annual Print Awards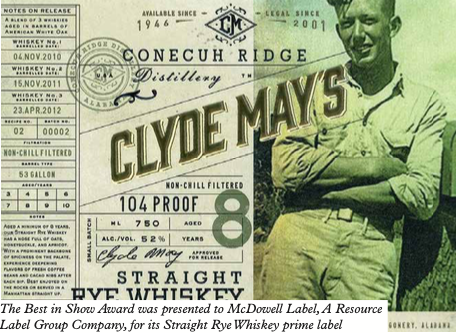 Winners of this year's TLMI Annual Print Awards competition were announced by Judging Committee chair, Paul Teachout, business development manager, narrow web, at Anderson & Vreeland.
Over the past year, narrow web converters from across North America submitted nearly 200 entries. A panel of 12 judges, each representing a different TLMI supplier member, closely examined all converter submissions near TLMI's headquarters in Cincinnati this fall, to ultimately award seven Best in Class entries and one Best in Show.
There was a total of 59 awards presented including 33 first-place winners, 26 second-place winners, seven Best in Class winners and one Best in Show.
The Best in Show Award was presented to McDowell Label, A Resource Label Group Company, for its Straight Rye Whiskey prime label. The label mimics the textured processing papers from the prohibition era and featured solid foil stamping and doming. 
It was also awarded the Best-in-Class honors in the Wine & Spirits – Color Process – Prime category, making it eligible for the Best in Show honor.
---
Go to tlmi.com for more information