Hybrid Software demonstrates industrial printing portfolio at Printing United Expo
The company showcases full stack of solutions for industrial printing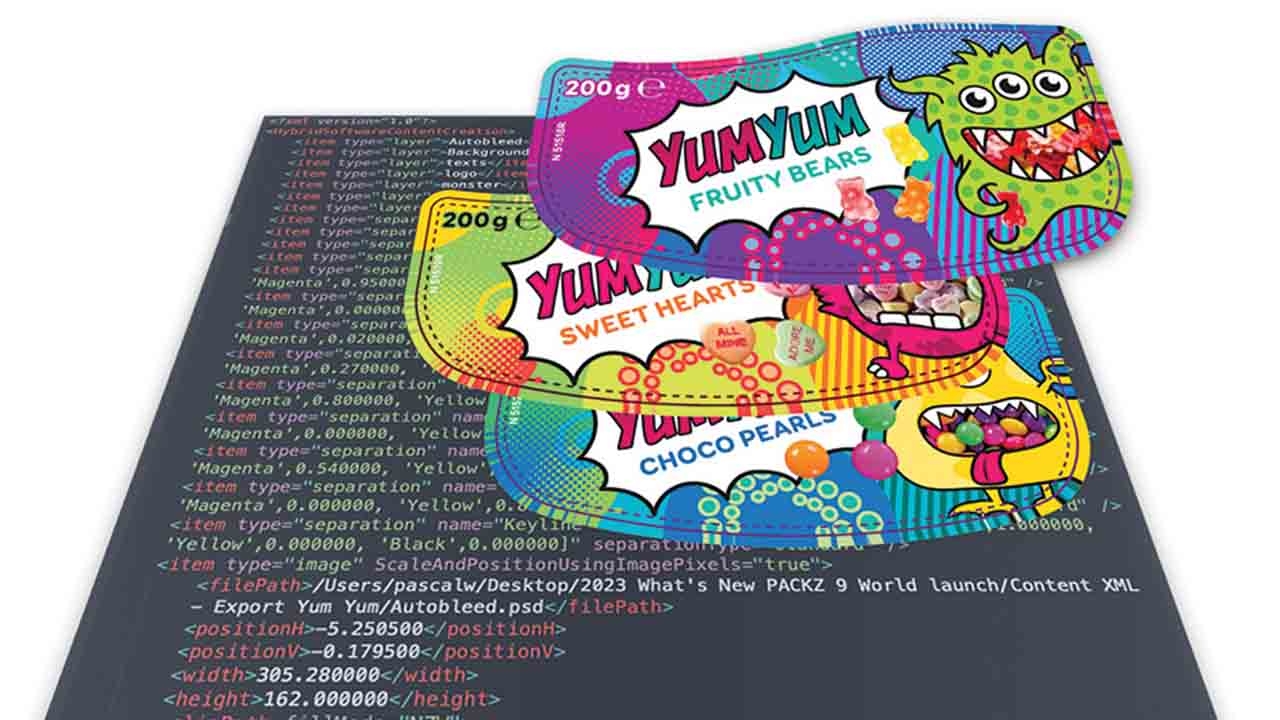 Hybrid Software Group will be showcasing its wide array of software solutions and printhead electronics for packaging and all forms of digital and conventional industrial printing during Printing United Expo 2023, with a special focus on Global Graphics Software's SmartDFE and ColorLogic's CoPrA 9 color management technology. Global Graphics Software's SmartDFE has received a 2023 Pinnacle Product award in the technology category, while ColorLogic's CoPrA 9 bagged the 2023 Printing United Pinnacle Product award in the Non-output Device category.
The company will also demonstrate its complete portfolio of prepress and workflow software for labels and packaging industry. The updated Hybrid Packz editor adds tools to predict the color of printed artwork under various printing conditions, including different spot color strategies. The feature helps label and packaging producers accurately reproduce brand colors using the fewest possible spot colors—and therefore, the lowest production cost. Other recent developments include Content XML for dynamic content creation using standard markup language, and Packzimizer for intelligent ganging of digital and offset label production. MyCloudflow provides file processing, asset management, soft proofing and workflow automation hosted in the AWS cloud and professionally managed by Hybrid Software personnel. Both Packz and Cloudflow now offer optional colorspace modules built on ColorLogic technology for exceptional brand color matching along with cost-effective ink optimization.
The group's other operating companies will also be present at the event to showcase products.
• Global Graphics Software will be presenting live demos of its award-winning SmartDFE, the full software stack for high-speed, single-pass presses printing fully variable data. Built upon Harlequin Direct, the world's fastest PDF RIP, and using patented components that leverage artificial intelligence and machine learning, it provides rasterization and inkjet drop generation for image quality and printing speeds. Its automation capabilities provide complete control of the print workflow as well as valuable information for QA and inspection, press maintenance and stock control.
• iC3D Software, developer of 3D visualization and rendering solutions, will demonstrate version 9 of its iC3D suite. This includes a major enhancement to its PDF editor, leveraging technology from Hybrid's own PDF libraries to deliver an enhanced user experience and faster, pixel-perfect rendering. Version 9 also offers seamless integration with Hybrid's Cloudflow for high volume 3D automation.
• Colorlogic, leading provider of cutting-edge color management software solutions, will be offering demonstrations of its three flagship products: ColorAnt, CoPrA, and ZePrA. In particular, award-winning ColorLogic CoPrA is essential for any print manufacturer embracing extended gamut printing, creating high-quality profiles with a user-friendly interface for any color space and printing process.
• Meteor Inkjet will showcase its complete portfolio of industrial inkjet solutions including all major industrial inkjet printheads; cutting-edge printhead nozzle status detection and image quality enhancement technologies; software development kits enabling bespoke printers to be built from the ground up; and Dropwatcher systems to support printer OEMs in the design, optimization and production of inkjet print systems.
• Xitron, developer of Harlequin-based navigator RIP and workflow products able to drive virtually any output device—including litho, flexo, screen printing, digital, and high-speed inkjet—will demonstrate its entire line of prepress workflow solutions. Offering true prepress independence in each segment and based on the fastest RIP on the market, Navigator workflows are cost-effective solutions that feature exceptional functionality with blended technologies from sister companies Hybrid Software and Colorlogic. For digital presses built with any inkjet printhead, Xitron will demonstrate Navigator DFE, which recently surpassed 5,000 installations worldwide.
'Hybrid Software Group is a unique resource for Printing United Expo 2023 attendees. Our software products have contributed to the success of many print providers, ranging from commercial printers to packaging converters as well as wide format/specialty printers. However, our six business units also provide vital OEM technologies to many vendors who use our products and know-how to create digital front ends for fast and powerful digital presses. We're proud to deliver the heart of industrial printing to many of our co-exhibitors at the expo and look forward to showing everyone our latest technologies,' commented Mike Rottenborn, Hybrid Software Group CEO.
Stay up to date
Subscribe to the free Label News newsletter and receive the latest content every week. We'll never share your email address.