Labelexpo Southeast Asia technology preview
The region's premier label event set to take place Feb 9-11 in Bangkok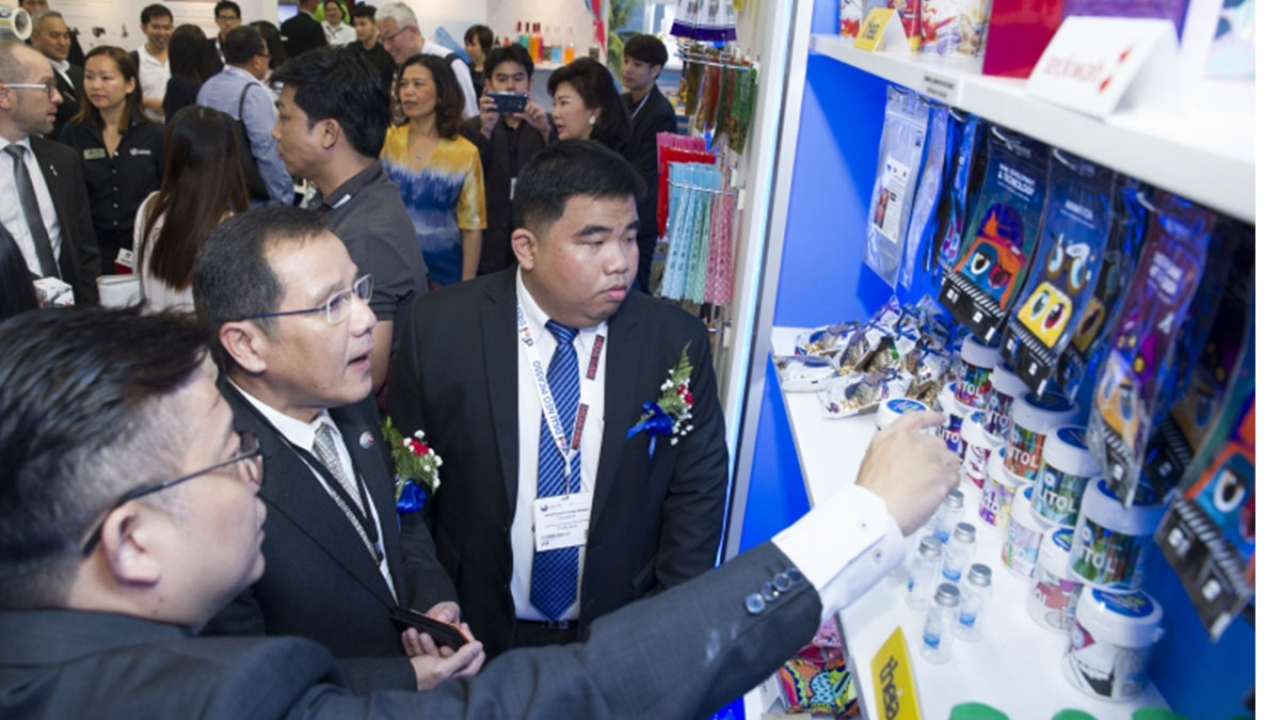 Labelexpo Southeast Asia will take place Feb 9-11 at Bitec, Bangkok, Thailand. It's the first time the event has returned to the region since its launch in 2018. Events planned in 2020 and 2022 were postponed in the wake of the Covid-19 pandemic.
'Labelexpo Southeast Asia 2023 will be the show that brings together ASEAN and the wider region's label and package print community for the first time since the pandemic,' said event manager Richard Quirk. 'This will be the first time these visitors have had the chance to see the astonishing developments in technology across all label sectors from digital and conventional presses to finishing technology, materials and consumables.'
Over 170 exhibitors will be on the display over the three-day show, which also features as Digital Embellishment Trail.
Digital embellishment means the replacement of analog tooling and plates with any combination of inkjet varnishing, digitally applied tactile effects, digital foiling and laser die cutting. Participating companies include Kurz, Grafotronic, Domino and Epson, and all will have samples and experts at the show to demonstrate the possibilities of variable embellishment.
Delegations are expected from Thailand as well as the wider ASEAN region. The 2018 event attracted 8,000 visitors from 62 countries.
Continue reading for a preview of the technology visitors expect at the show next week. To register for Labelexpo Southeast Asia or to view the floor plan, visit www.labelexpo-seasia.com
Alpha cure is a manufacturer of medium-pressure UV lamps, offering a wide range of original and replacement UV lamps for all types of systems.
The company also offers a wide range of system accessories from reflectors and quartz plates to power supplies.
Armor-Iimak showcases inkanto and other thermal transfer ribbons. The company's thermal transfer ribbons meets user requirements for resistance, legibility and print medium (uncoated, coated paper, synthetic, textile, flexible packaging). Its products come with a lifetime guarantee and Certificate of Conformity to provide traceability to end-users.
Asahi Photoproducts will show its water-washable CleanPrint flexo plate and plate processing technonlogy. There are no VOCs emitted and the system allows for faster plate production, improving pressroom productivity.
AstroNova is showing its T2-C high-capacity tabletop label press. Producing consistent, high-volume, 24/7 production, the T2-C's compact footprint allows it to fit into any size print department.
BST will demonstrating the latest TubeScan 100 percent inspection system. TubeScan offers high-quality narrow web inspection at an entry level. TubeScan can be configured with multiple camera options and software modules to meet the most demanding inspection requirements including QLink workflow solutions for seamless defect removal processes.
Also demonstrated will be a PowerScope 5000 digital monitoring system and a compact web guide.
Cosmo Films will showcase its wide range of products including flexible packaging, label, lamination, packaging, synthetic paper and industrial films, along with its newly launched products - PET-G shrink label films and Cosmo Plastech (containers). Also showcased are new adhesives for flexible packaging and lamination.
Durst will showcase its Tau RSC E 330 5c. The RSC E has been designed to evolve and grow with business and is equipped with native 1,200 DPI resolution. It offers an economically attractive entry into Tau RSC technology. The printer comes fully equipped with Durst Workflow and Durst Analytics software and optional Durst Smart Shop software, enabling a web-to-print workflow.
Erhardt+Leimer demonstrates the Smartscan inspection system used not only for quality control in the labels market, but also for the checking of other printing applications, like packaging printing. Smartscan Generation II offers more compact dimensions, new inspection widths, simplified integration, no more external control cabinet, optimized illumination, integrated reflection module and exchangeable background panel, with higher web speed and improved defect algorithms.
Maxcess will showcase the Fife-500 Max and the GuideLine digital sensor. The Fife-500 Max includes added networking and communications capabilities, an intuitive 5-inch color touchscreen, 8-pole motor for smoother guiding, greater accuracy and reduced scrap. The Fife-500 Max allows users to quickly adapt to movements in the web, even at high line speeds.
The GuideLine digital line sensor can detect lines, edges of lines and graphic patterns, such as bar codes at a competitive price point. It can also be used in low contrast conditions or with different patterns located close to each other, where traditional line sensors do not work. GuideLine can also edge guide transparent films.
Flora (Shenzhen Runtianzhi) will showcase its J330-S UV label press, a 5-color CMYKW UV inkjet press designed as a compact and fully integrated single-pass platform. It is using the latest Epson S3200 600 DPI printhead and can run at speeds up to 60m/min.The press can accommodate media roll sizes up to 1,000mm.
GSE will showcase its ink dispensing and management software for standardizing color quality and cutting waste in label and packaging printing at the booth of its distributor, Techno Global Graphics. GSE's modular Colorsat ink dispensers potentially reduce ink usage by up to 30 percent. They are tailored to volume and application needs – including label, flexible packaging, carton and corrugated board printing and available for UV, LED-UV, low-migration, water-based and solvent ink sets, and flexo, gravure and screen processes. They feature exchangeable pumps and valves and may optionally incorporate accessories such as agitators and heaters for optimally conditioning inks that supply the dispensing unit. Their modular design allows easy adaptation for handling new ink sets or reformulated inks.
IST METZ will present for the first time its MBSc (Modular Modular System compact) UV system designed for label printing applications.
Jinya's products include self-adhesive paper and self-adhesive film, inkjet materials, variable information labels and special constructions used in a wide range of end use sectors along with adhesives including permanent, removable, frozen-grade adhesive and tire adhesive.
KPowerScience will launch its Winjet PE4600 Series of pigment-based aqueous inkjet printers. The PE4600 prints at 1600 dpi resolution on a 324 mm print width.
Luster is displaying intelligent vision equipment including the LabelHero Series 100 percent label quality inspection system.
Press Systems Group, a leading Southeast Asia distributor of printing products covering the flexo, offset and gravure markets, will represent a number of companies. PSG will demonstrate the curing performance of Zeller+Gmelin LED-UV inks using both lab units and on an actual Rhyguan converting machine. The demonstrations will also showcase GEW's latest air-cooled Aeroled LED-UV curing system in combination with UV and LED-UV inks from Zeller & Gmelin.
PSG will be showcasing three Rhyguan machines, including the TOP-330-2 semi/full-rotary die-cutting and inspection system and the WON 370 automatic slitter rewinder.
The TOP-330PLUS will be configured with one flexo printing unit and will incorporate equipment from leading brands represented by PSG, including GEW LED-UV curing systems, Sandon anilox roll, Swedcut doctor blade and Innova mounting tape.
Other suppliers represented by PSG include Universal Engraving for hot stamping and embossing dies, Alpha-Cure for UV lamps, and Rotometal's magnetic and print cylinders.
Ricoh will showcase a variety of high-quality thermal transfer ribbons suitable for printing on materials such as papers, films or textiles. These coated polyester ribbons are available in different roll specifications and for a wide range of thermal printers. Ricoh also demonstrates its direct thermal papers. End use applications include food labels, receipts, bank statements, utility bills and transportation tickets.
Rotometal will showcase its new aluminum magnetic die cylinders, claimed 50 percent lighter than competitive cylinders. The company says the cylinders are cheaper to transport, easier to handle and reduce wear and tear on machines. The aluminum alloy is the same as that used in the aviation and space industries, ensuring low weight with very high strength and high hardness.
Sandon Global demonstrates its laser engraved anilox rolls and sleeves, supplied to narrow and wide web flexographic printers worldwide. The company also develops a range of ancillary products including sleeve covers, ultrasonic cleaning equipment and sleeve storage.
Seal King is showing its range of premium security labels and tamper-evident tapes, which can be applied to nearly all surfaces including metal, plastic, paper, carton and glass.
Swede Cut demonstrates its doctor blade technology.
Vinsak will launch its USAR 430 finishing machine in combination with Tecnocut's E-Diffsystem. Vinsak, in collaboration with Tecnocut and its engineering portfolio, can offer machines with an advanced automated system that can be configured based on the specific needs of customers in search of label finishing.
Voyantic will show Tagsurance 3 system for RAIN RFID and NFC tag and label production, including testing and quality assurance. The Tagsurance 3 System allows accurate three-point testing at high speeds.
Yicheen showcases its RDM series of multi-function, modular label finishing systems including both full rotary and semi-rotary die cutting modules. The RDM series can be customized for functions including slitting, varnishing, laminating, stamping and sheeting.
Zhuoli Imaging Technology produces thermal transfer ribbons with self-manufactured PET film. Its main products include wax, wax/resin, resin, near-edge ribbon and color ribbons. These products are manufactured in compliance with RoHS and REACH regulations and have ISEGA and UL certification.
Stay up to date
Subscribe to the free Label News newsletter and receive the latest content every week. We'll never share your email address.