Captain Moreton spiced rum label depicts an intriguing tale
The detailed label, designed by Widakk Design Studio, narrates an intriguing tale of early Brisbane history
Widakk Design Studio has crafted the label design for Captain Moreton spiced rum, a product of Queensland Distillery Co. based in Brisbane, Australia. The label narrates an intriguing tale of early Brisbane history, entwining unfortunate events, strokes of luck, an unexpected discovery, and a touch of irony.
At the heart of this narrative stands Thomas Pamphlett, an unforgettable figure in Brisbane's history, whose adventurous life as a convict, shipwreck survivor, and wanderer among Aboriginal tribes is as rich and flavorful as the rum itself. The label's intricate illustration vividly depicts the true events of Pamphlett's journey, from a fateful shipwreck on Moreton Island to his pivotal role in the founding of Brisbane, Queensland's capital. Plus, the typography and color palette work seamlessly together to capture the charm of the story.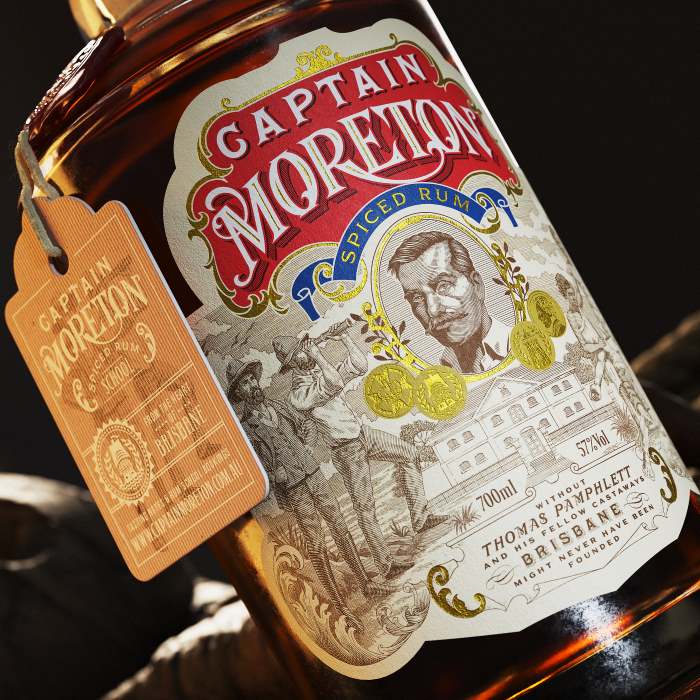 The detailed drawing, which takes up most of the space on the front label, illustrates the true events described here: In March 1823 with three other ticket-of-leave men, John Finnegan, Richard Parsons and John Thompson, he set out for the Five Islands (Illawarra) to cut cedar. Blown north by a storm, the boat was wrecked on the outer shore of Moreton Island. After some hardships, mitigated by help from Aboriginals, they crossed to the mainland. Believing themselves south of Sydney they sought a northward route homewards. In September 1823, Pamphlett and the Aboriginals attracted the attention of John Oxley, who was then exploring in the Mermaid for the site of a new penal settlement at Moreton Bay. Oxley was interested to hear of the large river and explored it as far as the point reached by the castaways.
Oxley then took Thomas Pamphlett with him to Sydney. On 11 October 1826. Pamphlett was found guilty of larceny and sent for seven years to Moreton Bay, which had been set up after a favorable report on the area by Oxley, thanks to Pamphlett himself. The Moreton Bay settlement became Brisbane, the capital of Queensland, Australia.
This article was sourced from the Dieline and published with permission. 
Stay up to date
Subscribe to the free Label News newsletter and receive the latest content every week. We'll never share your email address.