Apex International simplifies flexo with ECG
Apex International has organized an open house under the Flexo Simplified with ECG banner at the FlexoKITE Technology Center, located at the company's manufacturing facility in Nashik, India.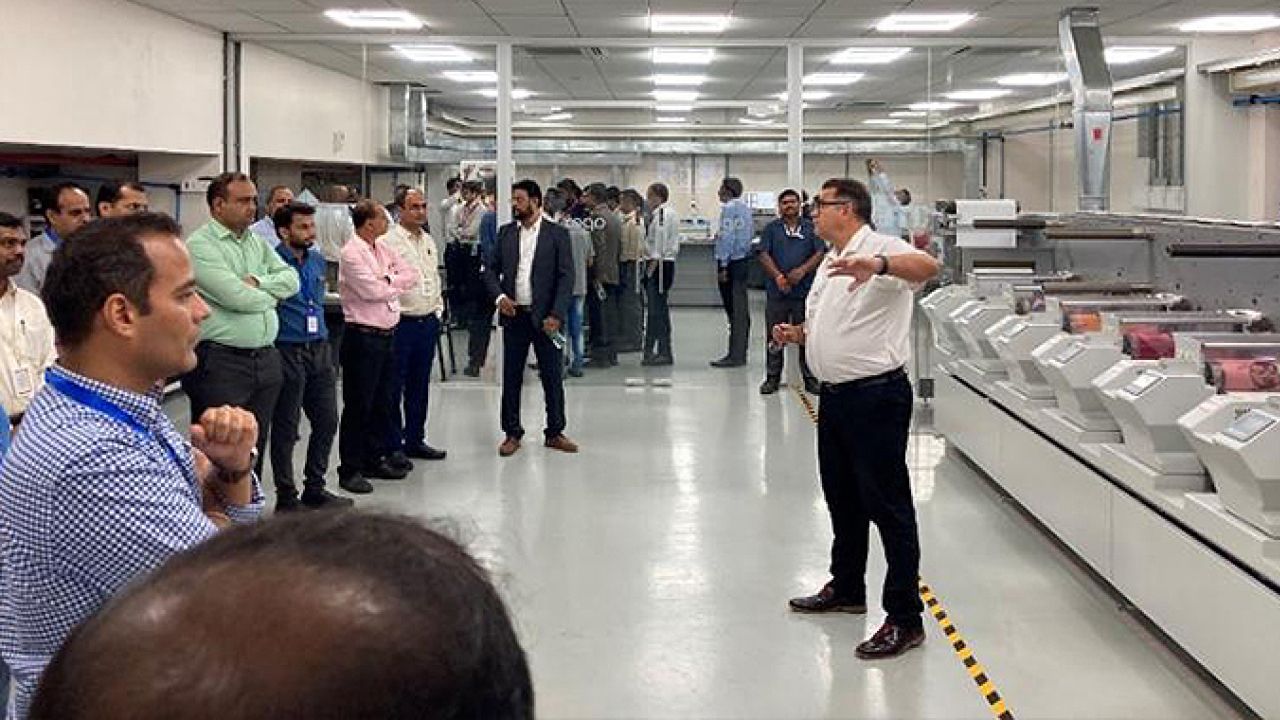 It was a closed event with label customers across India, especially from the country's western region. The center is managed by Apex International and its partners Avery Dennison, Bobst, Cosmo Film, Dupont, Esko, Flint, Numex, Swedcut, and Tesa, bringing the industry's providers under one roof.
The Open House included the factory visit, with Apex showcasing the design workflow by Esko, pre-press plate making by Dupont, and a sample produced on the Bobst M5 press. The objective of these designs was to demonstrate how quickly jobs can be changed over and set up when ECG is adopted. 
During the event, FlexoKITE managed to set up and print three designs on two substrates at production speed in 21 minutes and 32 seconds. This impressive timeline proved the real potential financial benefits of the ECG process. 
'FlexoKITE helps to access the highest level of technical knowledge within each of the partners. This combined solution delivers faster solutions, accelerated R&D, and unparalleled support,' commented Nick Harvey, technical director at Apex International.
Harvey highlighted the advantages of ECG to simplify the flexo process along with the past historical limitations and failures. For example, ink transfer and densities do not remain constant, anilox specifications are not always performing according to expectations, and the variability of CMYK from anilox to anilox and press to press. 
'The advantages of ECG are significant with fewer ink recipes, no anilox changing, and faster changeover, it doubles efficiency from 40 up to 80 percent. If done correctly, ECG will achieve higher resolution print with high quality and up to a 50 percent increase in production time, 30 percent less ink cost, 90 percent less wash-up solvent cost, less tape, and less anilox, moving towards a greener and more sustainable solution. The successful path to ECG must be step by step, job by job,' added Harvey.
FlexoKITE is a fully equipped flexo facility designed and set up to provide a supportive base for the flexo industry in Asia. Assisting with R&D testing and fine-tuning designs, printers can convert gravure or letterpress designs to flexo without impacting their production environment or time. There is also the collective expertise within the partners to evaluate and resolve print issues, having Esko's advanced screening software, DuPont's Cyrel fast thermal plate processor, and Bobst's M5 narrow web flexo press which is integrated with Apex GTT aniloxes and Flint UV Force ink system.
Stay up to date
Subscribe to the free Label News newsletter and receive the latest content every week. We'll never share your email address.