Labelexpo Mexico 2023 technology preview
The inaugural Labelexpo Mexico 2023 takes place on April 26-28 at the World Trade Center in Mexico City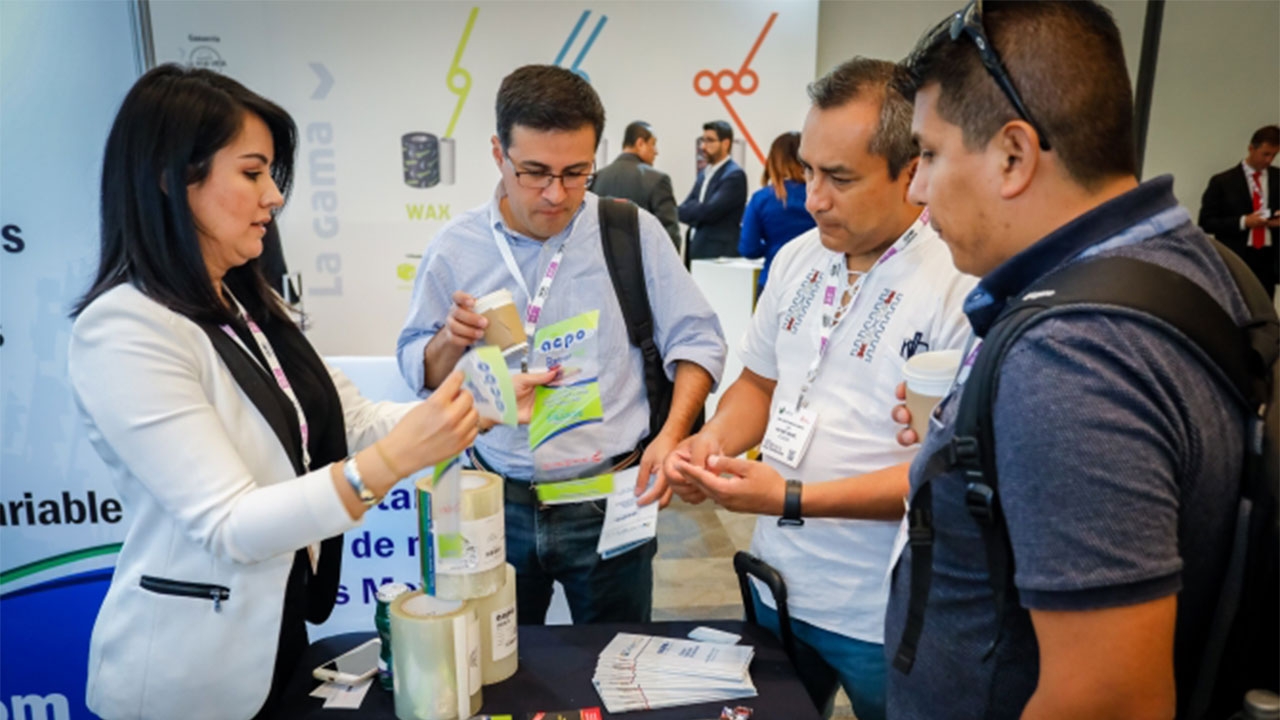 The first-ever Labelexpo Mexico 2023 will take place April 26-28 at the World Trade Center in Mexico City. It's the full Labelexpo exhibition, after the company has hosted successful Summit-style events in the region.
Commented Tasha Ventimiglia, Labelexpo Mexico 2023 event director, 'The event has been created following unprecedented visitor attendance at previous Mexican label summits and reflects the demand from Mexican converters for cutting edge label and package printing technologies.'
Labelexpo Mexico 2023 will be Latin America's largest dedicated label and package printing show, featuring over 100 leading global suppliers of label printing and converting equipment and consumables.
To register, visit www.labelexpo-mexico.com
Labels & Labeling and Labelexpo recently hosted an hour-long Spanish-speaking webinar detailing trends in the region. A recording of the webinar can be viewed in full here.
Below is an alphabetical preview of what to expect when Labelexpo visits Mexico City.
AB Graphic | AKO | Apex | Arclad | Armor-IIMAK | Ashai Photoproducts | AstroNova | Azteca Inks | Beontag | Bobst | Cartes | Cosmo Films | Daetwyler Mexico | eGraf | eProductivity Software | Epson | Etirama | Etirapid | EyeC | FlexoExport | Flexo Wash | Flora | Fuji Shoko Group | GEW | GM | Golden Laser | Grafotronic | International Media Products | JM Heaford | Joy Paper | K Laser Technology | Kocher + Beck | Kor Machinery | Kurz | Label Traxx | Lemorau | Mactac | Manroland Latina | Mark Andy | Nazdar | Nilpeter | Phoseon | Representaciones Pfeifer | Sermaflex | Shenzhen Zolo Packaging Technology | Sun Digital | Symbio | Todaytec | Unilux | UpSoftware | Uteco | Vemax | Wilson Manufacturing
AB Graphic shows Omega Ti200 and DigiLite systems on its booth. The Omega Ti200 is an entry-level machine that enables the production of radio frequency identification (RFID) and electronic article surveillance (EAS) labels. Designed to take rolls of printed die-cut labels and insert smart RFID or EAS tags (or a range of other inserts) in a single pass, the Omega Ti200 is described as single-lane, low cost and easy to use.
The DigiLite is a versatile, compact digital finishing system, suited to provide additional capacity at busy times or as an entry-level machine. It is available in both rotary and semi-rotary configurations.
Built to the same standards as the larger Digicon Series 3, it can run at 64m/min in semi-rotary. It can operate in-line (right to left only) or stand alone.
ABG's new sales and service office in Santiago, Chile, 'aims to cement the company's market-leading position for digital finishing equipment in Latin America, a region with significant label market opportunities, particularly in the wine, beverage, chemical and security industries,' says the company.
ABG SpA's managing director Sebastian Rosero said: 'We are really excited about the growth of ABG in the LATAM region and look forward to showcasing our equipment and announcing our arrival at Labelexpo Mexico. The principal focus of the company is to provide dedicated sales and service in Chile and eventually build a support network for our LATAM customers, thereby increasing market share.'
AKO presents products from its wide portfolio of label printing and finishing equipment, labelstock converting equipment and label materials. Founded in 2010 and headquartered in Shanghai, AKO has five plants in China and three in Southeast Asia and North America.
Apex, which runs seven production facilities on four continents, shows its range of anilox equipment.
GTT2.0 is an open-channel slalom engraving that allows ink to flow calmly onto the plate, instead of being pressured in and out of the closed cells. Benefits are said to include low-pressure ink release which minimizes dot gain and plugging, increased capability in combination prints from a single unit, solids and screens on one station, reduced anilox inventory, ink weight reduction and better white opacity, and easier clean-up.
UltraCell+ is Apex's flagship hex cell engraving. It employs a 'shallow profile' geometry which, coupled with its high-density low-porosity ceramic, enables consistent ink release and printability. Benefits are said to include improved solids and process printability, greater ink release, faster clean-up and increased score-line resistance.
Arclad will show its latest sustainable products: WO PET and Natural Bond.
WO PET is a wash-off self-adhesive material that allows for PET recyclability, a sustainable labeling option for brand owners interested in the eco-design of their packaging and committed to circular economy initiatives. It is designed to enable a clean removal of the label from the substrate in the caustic bath during the washing process at the recycler, so the PET flakes can be then recycled and used to make new bottles.
WO PET is available in white and clear polypropylene. The wash-off adhesive technology will be demonstrated at the booth, while technical specifications and recommendations for converters will be explained as well.
Natural Bond is a paper-based self-adhesive material made of sugar cane bagasse, a source that is renewable in shorter periods (less than a year) compared to conventional wood-based sources, resulting in a significantly lower environmental impact.
Arclad has now expanded this sugar cane bagasse facestock to banana and other fruit labeling applications with direct contact adhesive - its newest launch - Natural Banana Seal.
Arclad will also promote its brand protection and security portfolio: ARsec, a tamper-evident security label; ARseal, a security seal; and ultra-destructible and destructible products such as Arud and Ardest.
Armor-IIMAK shows its ranges of thermal transfer ribbons produced at its manufacturing facility in Queretaro, Mexico. Armor-IIMAK's expertise in ribbons, printers and substrates makes choosing the right ribbon easy.
The Armor-IIMAK ribbon range features the new ATX range for textile labels developed to meet most textile printing requirements.
The company offers three black ribbons designed to meet every challenge of textile labeling. These highly durable textile resin ribbons have been developed for specific garment care applications and are dry clean and laundry safe. ATX 1 is a price-oriented ribbon ideal for domestic washing; ATX 7 is also available in white, ultra-white and red; ATX 9 is an alternative for industrial washing.
Armor-IIMAK has also developed a range of fabric label materials for textile applications. The Nylon, Satin and Polyester materials deliver optimum print results with Armor-IIMAK textile resin ribbons and are certified OEKO TEX Standard 100 – Class 1. They are available in white and black.
Inkanto, Armor-IIMAK's exclusive brand ribbons, are guaranteed for life against any manufacturing defect in normal conditions of use and storage. Each box of inkanto ribbons comes with a cleaning wipe and now each inkanto features CleanStart – a built-in printhead cleaner that removes debris before it can build up.
Asahi Photoproducts a manufacturer of flexographic photopolymer plates, is represented at Labelexpo Mexico by its local distributor Representaciones Pfeifer.
'We partnered with Asahi in 2021 because we knew about the quality and reliability of its products and the company,' said Gerardo Kahn Feldman, vice president of business development. 'Although the company had a global reputation, its products were not available in Mexico at the time. It was a perfect opportunity to properly introduce the brand in Mexico. We are delighted to be representing Asahi Photoproducts and its AFPTM CleanPrint line of flexographic printing plates at this premier of Labelexpo in Mexico.'
Asahi's AFPTM CleanPrint family of flexographic plates are suitable for printing on a wide range of substrates, from thin plates for printing of labels and flexible packaging to thick plates for printing on corrugated. Plates can be selected based on the requirements for the individual substrate and project, including out-of-the-box flat-top plates, kiss-touch pressure to preserve corrugated fluting, high-quality printing with minimal dot gain and plates designed for printing with sticky inks. Representaciones Pfeiffer will be displaying the entire AFPTM family of plates.
AstroNova, with its brands QuickLabel, TrojanLabel and GetLabels, will release a new addition to its line-up at this year's Labelexpo Mexico.
QuickLabel will showcase the newly released QL-E100, an introductory, compact and portable color-label printer. Featuring a touchscreen interface, the QL-E100 is user-friendly and produces high-quality, professional results.
Additionally, QuickLabel will show the QL-120X, which includes a two-year warranty, and the QL-300, the first-ever 5-color label printer (CMYK+W).
TrojanLabel will showcase the T2-C, the first-ever high-capacity label press with a footprint compact enough for a table-top, which can run consistent, high-volume, 24/7 production.
Azteca Inks is a Mexican company with more than 16 years' experience manufacturing and selling UV and water-based inks for flexo printing. Certified to ISO 9001:2015 for more than five years, the company also offers varnishes, laminates, cold foils and products for specialty applications.
Beontag is one of the world's leading providers of graphic and label materials and IoT technology. With operations in more than 20 countries and a footprint in over 40 markets, the multinational company offers end-to-end product capabilities for a range of industries and businesses, driving seamless communication between companies, products and people.
Beontag will present a complete portfolio of products in its two segments, focusing on sustainable products that positively impact the entire value chain. Among the technologies presented are EcoTags, made of paper and emitting less than half the CO2 per unit compared to a pet tag; in addition to PCR Coated Paper, Liner RPet and Linerless, which are eco-friendly self-adhesives.
'Beontag's presence at Labelexpo Mexico reinforces the company's commitment to offering products and solutions to one of the main markets in the world, in different segments and with a focus on sustainability,' commented Ricardo Lobo, CEO of Beontag.
Labelexpo Mexico 2023 will also be one of the first events to feature the new Beontag brand and visual identity. The multinational company has updated its branding to better capture and represent its purpose of driving seamless communication and enabling the future for the entire value chain.
Bobst promotes its wide range of label printing equipment, which includes highly automated and modular digital and flexo presses. The team onsite includes recently appointed Carlos Rodríguez, new sales director for the narrow mid-web printing and converting team, and Josep Roca, Americas technology sales manager.
'The label and packaging market in Mexico, and indeed throughout Latin America, is growing strongly, which is why Bobst is reinforcing the sales team here with the appointment of Carlos Rodríguez as our ambassador for labels,' said Nigel Tracey, technical sales director, marrow mid-web printing and converting at Bobst.
'We are now less than [a few weeks] away from Labelexpo Mexico and I look forward to welcoming converters to discuss how the various platforms in the Bobst Label Solutions portfolio and dedicated services can help optimize their production floor and future-proof their business,' said Rodríguez.
Bobst's range includes flexo, UV inkjet, All-in-One and finishing technologies, including the Bobst Digital Master series (Digital Master 340 and 510), and the All-in-One All-Inline modular platforms which were launched in 2022. They provide fully digitalized and automated production lines, from printing to embellishment and cutting, and are built on a modular and upgradable architecture.
Cartes will showcase its digital finishing technology Jet D-Screen (JDS) on the Gemini platform, combined with its laser die-cutting and converting system, which together allow for embellishing, finishing and die-cutting digitally printed labels.
The Jet D-Screen for digital finishing is conceived with cutting-edge technology, enabling variable data handling and specially designed to create unique labels, embellished with multi-layer effects, in-register varnishing, intricate and thick tactile embossing, security applications, ultra-high precision foil printing and cast gold with fine detail.
Cartes' laser die-cutting is complemented by a range of process automation features, such as automatic job changeover via barcode reading, automatic positioning of longitudinal cutting units and turret rewinder, which create the right combination for fully automated digital finishing.
The Cartes Gemini series offers fully modular solutions for: digital finishing for creating metal doming, high build varnish and Braille effects (Jet D-Screen); flexo varnishing and printing, cast and cure, semi-rotary die-cutting, laser die-cutting and converting and many other functions.
Cosmo Films will showcase its range of specialty packaging, label, lamination, synthetic paper, promotional films and industrial films along with Cosmo Plastech (Rigid Containers) and Cosmo Sunshield (Window Films) for various applications.
Daetwyler Mexico will perform live demonstrations of its LaserClean equipment, which cleans anilox rollers with the use of lasers. The system removes all types of impurities and residues in the cells, including polymer. It requires low energy consumption, and no waste is generated. Cleaning is precise and responds to the needs of each roller. It does not use water, chemicals or external substances.
Additionally, Daetwyler Mexico specialists will offer information about its broad portfolio of products used in rotogravure, flexo, offset, dry offset and digital printing.
The company is a distributor for Hell Gravure, Ohio, Schepers, Lüscher, K. Walter, Daetwyler Graphics, Bauer, Daetwyler Swiss Tec, Glunz & Jensen, Eltex, Renzmann, Eggen, CGS Oris, Screen, Heights, Interflex, Lohmann, GMG, Xitron, Contitech, Nyloprint, Hybrid Software, LaserClean, StudioRIP, Smag, Trojanlabel and Troika, among others.
eGraf shows a variety of inspection and rewinding equipment. eGraf JBS is an automated high-speed inspection slitter rewinder. It features an automatic web tension control system, a controlled stop positioning system that works together with a missing label detection system or a 100 percent inspection system to place automatically the missing or defective label right in the splice table, a counting system by labels or roll length with automatic stop, an easy-to-position razor blade slitting system, and a web guide. Its maximum speed is 275m/min (900 ft/min) and maximum web width is 330mm or 400mm (13in or 16in).
eGraf MDG is a video plate mounter with high precision and repeatability that features a unique zero backlash system that avoids movement of the printing cylinder while mounting the plate. eGraf MRB is a label rewind table for inspecting and rewinding label rolls. It features a rotary disk system that allows controlled tensions and backward motion for label inspection and replacement. eGraf inRegister is a web video inspection system for rotary presses specialized in registration marks. Besides showing the registration mark in real time, it features a smart vision system and user-friendly software that eases the analysis, automatically detects the registration mark reducing the set-up time, shows graphically the displacement of each ink individually, measures the displacement in machine direction and cross direction of each ink and notifies the operator when an ink displacement is out of the specified range.
eProductivity Software (ePS) presents version 11.0 of Metrics ERP, a management software designed specifically for the packaging and labeling industry to meet the particularities of the sector.
ePS will participate in the event together with ISBI, the company's representative in Mexico. 'The focus segment of this event is important in our growth strategy, and we have a lot to offer in terms of solutions for this industry. And Metrics 11.0 brings more versatility to support packaging and label manufacturers,' said Oscar Silverio, ePS operations manager for Latin America.
Among the modules is iQuote, an estimating solution that automates the process of choosing the most cost-effective path to produce a job. 'The system evaluates all the variables and makes the decision intelligently,' said Silverio. 'The flexo/labels industry has numerous manufacturing processes, which use laminated or non-laminated materials, combinations of mono or multi-layer films in different densities, gravure or flexo printing, and this directly interferes with price formation.'
Another essential Metrics feature for the labels, tags and packaging industry is traceability. 'The sector demands a high level of quality and to ensure it, it is necessary to have traceability at all stages of the process,' explained sales development manager Christian Herrera. 'And Metrics ERP offers efficient control, including reports, data sheets and test records for quality assessment.'
Epson demonstrates its L-6534VW inkjet label press, which enables reliable and repeatable high-speed printing at up to 164 ft/min for jobs up to 13.39in in width.
The new generation PrecisionCore linehead center drum system is a space-saving, compact design integrating all the functions required for production, such as corona treatment, white ink, digital varnish, web cleaner, ionizer and an additional UV curing unit, all as standard.
The Epson-developed pinning technology controls the range of ink scattering and realizes ultra-sharp dots and thin lines. The system delivers a wide color gamut, tonal gradation, flat print and lack of graininess using less colors. The high-opacity white ink can be reverse printed. With digital varnish ink, both a gloss or matte finish spot varnish is available on the same label.
Etirama presents its Etirama Global Series of flexo presses. Mexico is the Brazil-based flexo press manufacturer's second biggest market in the Americas, with more than 30 machines installed.
Etirapid is a Mexican company with 20 years' experience printing labels and distributing color printers from 4in to 8.5in, desktop and industrial barcode printers, scanners, ribbons, dispatchers, rewinders and in-line label finishing machines (printing, lamination and stamping). It represents brands such as Epson, Godex, Argox, Eclipse, Austik Technologies and Afinia.
On display will be color label printing at 1,200 DPI with pigment printing (water-resistant) and with a speed of up to 19m/min. This same continuous printing is put inline with lamination and finishing machines whether low speed or high speed, which gives the user production of labels of any size instantly with good print quality.
Etirapid also shows thermal transfer and direct thermal printers, from 203 DPI to 1,200 DPI, which can be integrated into a scale, have its own label cutter, WiFi connection, network port, peeler and program with base access of data. It will also show wireless scanners with a reading range of up to 100 meters and drop-proof from 1.20 meters high.
EyeC will showcase its latest technology for quality control automatization throughout the entire design and printing process. Visitors will be able to see live demonstrations of the scanner-based EyeC Proofiler DT line with scan sizes up to 1,778 x 1,219mm.
Also displayed is the EyeC Proofiler Graphic that automatically verifies the entire content of print-ready files or step-and-repeat files against the approved artwork when integrated with the user's workflow system.
The company will also introduce its latest in-line inspection systems from the EyeC ProofRunner HighLight series. The newest system generation includes four modular inspection systems for 100 percent inspection of highly finished labels (ProofRunner Web HighLight) and folding cartons (ProofRunner Carton HighLight) in the premium segment. Thanks to unique HighLight illumination, the systems quickly and reliably check the quality of labels and folding cartons with complex finishes such as hot stamping, holograms, or blind embossing.
FlexoExport has supplied used flexo printing and converting equipment for more than 60 years. The company buys and sells label presses, including digital presses, digital finishers, slitter rewinders, turret rewinders and all accessories. FlexoExport is also the North and South American distributor for UK-based converting equipment manufacturer Daco Solutions.
Flexo Wash features its FW Handy Mini 2 anilox cleaner and the PW 45 WR plate washer.
The FW Handy product line of anilox cleaners are fully-automatic units designed to deep clean/restore anilox rolls and print sleeves of all sizes, and provide a good and cost-efficient tool for the daily washing and maintenance of aniloxes.
The fully-automatic plate washers are designed to gently wash flexo polymer plates and letterpress plates, leaving them 100 percent clean and dry, ready for immediate reuse. The company will host live plate washer demonstrations during the show.
Flora (Shenzhen Runtianzhi) shows its 5-color UV inkjet label press J330-S, designed as a compact and fully integrated single-pass platform. It uses the Epson S3200 600 DPI printhead and can run with speeds up to 60m/min. The 350mm print width can support a wide range of applications to deliver high-quality, bright images. It can accommodate media roll size up to 1,000mm.
The single-pass press offers non-contact printing and one-step forming to deliver consistent printing quality while supporting 24 hours on-call production. It offers one-step personalization with shorter set-up time, minimal tool cost and optimal workflow connection with reduced waste.
The new press has been developed for a wide range of label materials including electronic labels, household labels, logistic labels, wine labels and anti-counterfeiting labels on top of standard pressure-sensitive labels.
Flora has installed more than 20 presses to date and offers a well-trained service team to respond to calls around the clock. The company employs 500 staff at its 100,000sqm factory in China and serves customers in more than 100 countries with a network of 60 overseas distributors.
Fuji Shoko Group a global printing component supplier headquartered in Japan, is promoting its doctor blade series at Labelexpo Mexico 2023 – the first show it has exhibited at in Mexico.
Fuji Shoko's doctor blades feature a proprietary ceramic coating technology. The ceramic layer coated onto the blade's surface adds extra hardness, durability and various other functions ideal for printing/coating applications. Non-coated steel or stainless-steel models are also available for ordinary conditions.
Manufacturing doctor blades since 1967, Fuji Shoko also offers various printing components and consumables, including a film laminating machine by Japanese manufacturer Sumitomo.
GEW shows its AeroLED system for full cure, printing, coating and converting applications up to 60cm wide. It is also compatible with GEW's ArcLED system. Using the same fan and ducting arrangement as the industry standard E2C, customers have flexibility to switch between arc and LED curing on any station. No filters are required due to the high redundancy, allowing easy maintenance and a more cost-effective AeroLED retrofit than ever before. Any customers with GEW's Rhino/RLT power supply platform can upgrade to LED within a matter of hours, by simply changing the cassettes and running a software upgrade.
In an AeroLED system, air is extracted by a single centralized fan sited away from the press. There is no need for integrated fans or electronics in the individual lampheads, which eliminates the high-pitched noise and risk of failure that these bring. AeroLED features the same LED chassis and core components as GEW's LeoLED lamphead. As with LeoLED, the lamphead has tough watertight seals to protect the LED modules from ingress and to make cleaning easy and safe.
GM (Grafisk Maskinfabrik) shows its DC330Mini compact finishing machine.
The DC330Mini will demonstrate flexibility and high productivity with onboard UV flexo varnish, lamination, cold foil, die-cutting, slitting and dual rewinding capabilities. Taking up just 2.7m (8.8ft) in length due to the short web path, it features servo-driven tension control and offers excellent registration. It is also suitable for running in line with a digital press or GM's own hot foil and screen embellishment units.
Uffe Nielsen, CEO of GM, said: 'We already have a strong customer base in Mexico, Central and South America, so it's only natural that we'll be part of the line-up at the first Labelexpo trade show in this part of the world. LATAM is one of our fastest-growing markets, so we wouldn't want to miss out on such a great opportunity to further highlight our established presence here, connect with our partners, and of course, show our finishing innovations to even more potential customers.
'When it comes to materials handling, GM has the technological advantage, so we can help converters finish first in the closely fought label race. We also pride ourselves on building bespoke machines for any application and providing tailored service and support packages. I would like to encourage visitors looking for a great finishing solution to head straight to GM's stand in Mexico City,' Nielsen concluded.
Golden Laser shows its newly designed LC-350 double-head high-speed laser die-cutting machine. It is equipped with a barcode scanning camera and supports job changeover on the fly with automatic speed change. It features a modular design which can be fitted with functions such as corona treatment, varnish, hot stamping and slitting.
Grafotronic demonstrates its DCL2 and boon-Raptor machine.
The DCL2 is a fully modular machine for finishing pre-printed labels. Each module has its own tension control and is therefore 100 percent independent. Each module is easily retrofittable onsite at any time. The DCL2 is not only extremely versatile – it also offers maximum productivity and the broadest options in widths, from 350mm to 670mm wide, and speed up to 200m/min in full rotary mode or 150m/min with new semi-rotary die-cutting module – The One.
The boon-Raptor is a high-speed (up to 300 sheets/min) roll-to-sheet machine for self-adhesive material and film. It is a precision sheeter able to work in-line or off-line as a stand-alone system.
International Media Products (IMP), a vertically integrated polyester film and thermal transfer ribbon manufacturer, exhibits alongside parent company Zhuoli Imaging to show its ranges of thermal transfer ribbon (TTR) products.
Its portfolio includes standard and 'plug & play' premium resin-enhanced wax, standard and premium wax/resin, general purpose resin for durable label printing, specialty resins for higher level durability and solvent-resistant requirements, near-edge wax/resin for flexible packaging and TTO printing, garment care resin, and hot stamping foils for pharmaceuticals and date-coding applications. Products include UL/CSA, Halogen-free, ROHS/WEEE, and ISEGA/REACH compliant options.
A slitting facility located in Atlanta, Georgia, along with a distribution warehouse in California, provides same-day shipping of over 250 stock TTR items.
JM Heaford, celebrating the 10-year anniversary of its FTS Plate mounter (which is displayed at Labelexpo Mexico) has launched a new narrow web demounter and tape application station.
Designed in collaboration with a major converter in North America to improve overall process efficiency for their job changeovers, this narrow web stand-alone unit mechanically removes plates and applies adhesive tape onto the print sleeve or cylinder. This increases the capacity of the plate mounter for plate mounting thus eliminating a potential bottleneck, enhancing pre-press efficiency.
The demounter also eliminates plate damage which can be caused by manual demounting, saving significant plate replacement costs, press down time, waste and removes operator strain and long-term repetitive strain injuries.
The tape applicator ensures bubble-free application of tape with constant pressure eliminating the need for hand rolling. Combined with the optional rotary knife, it provides a simple, safe, accurate and repeatable system which reduces the risk of damage to operators but also print sleeves and cylinders.
Joy Paper, a Chinese manufacturer founded in 1988, shows its ranges of release liners suitable for various applications of labels and packaging.
K Laser Technology, a manufacturer of holographic and metalized substrates, exhibits alongside its exclusive Mexico distributor Sumicorp. The company will be exhibiting its KOLDfoil ONE product line of holographic and metallic cold foil materials.
KOLDfoil ONE is claimed to be the only multi-application cold foil that is compatible with flexo, digital and offset printing applications. The proprietary material also has the largest selection of metallic colors and holographic patterns found in the industry, says K Laser. Increasing press uptime and improving manufacturing consistency, KOLDfoil ONE is formulated for clean release, sharp edges and crisp foiling details, and also performs well in flood coat applications.
Kocher+Beck showcases the latest development within its GapMaster range, the new GapMaster EM, in addition to its ranges of magnetic die-cutting technology such as magnetic cylinders and flexible dies.
The new GapMaster EM is reverse compatible with any previously installed model of K+B GapMaster. The mechanical adjustment handle is replaced with the EM retrofit gearbox providing digital technology with maximum precision. The adjustment step ranges from 0.25µm to 10µm.
Kocher+Beck's team will be on hand to discuss its broad product range, including cutting stations, power measurement systems, screen printing technology, along with equipment for envelope technology and sheet-fed offset systems.
Kor Machinery will present a wide range of inspection slitter rewinders for pressure-sensitive labels, flexible packaging and shrink sleeves. On exhibit will be Kor's SR4-350 machine with BST tube scan. With a top running speed of 305 m/min, these machines can inspect, edit, slit and rewind labels in one step.
Kurz shows its transfer materials for hot stamping and cold foil, and promotes its digital converting machine range.
Label Traxx, with 30 years of experience and serving 500 customers worldwide, shows its MIS/ERP system for the labels and flexible packaging segments of the printing industry.
In 2022, Label Traxx modernized and optimized the user experience of its MIS/ERP, as well as incorporating Siteline and Batched into its software ecosystem, elevating processes for scheduling, artwork approval, and customer service.
Siteline for Label Traxx is a tool that allows the scaling of the converter's customer service team. Orders can be put to press faster by providing the team with a tool that enables them to quickly impersonate their customers and drop orders with tens or hundreds of line items into Label Traxx. It gives converters' brand owner customers the ability to check order history, order status, and see their entire catalog of products online.
Batched for Label Traxx automatically generates optimized schedules from Label Traxx job tickets. It takes the guesswork out of scheduling and generates an optimized production schedule aligned to the complexities of the converter's business. The converter can interact with the 1 percent of tickets that need human interaction, and provide full transparency into capacity, lead times and order status.
Lemorau will present a new configuration of its MEBR series which can produce roll-to-roll and roll-to-sheet.
The servo-driven system features an unwinder equipped with an electronic web guide system and splice table with pneumatic clamps, one die-cutting unit in rotary mode that can be upgraded to semi-rotary mode, smart sheeter unit (no tools required for any repeat size of sheets), easy strip waste rewinder, slitting unit, semi-automatic turret rewinding and a conveyor with non-stopping sheet batch counter function. The conveyor is also removable for a more practical roll-to-roll production. This new MEBR's configuration allows a wide range of label production.
Also on display is an inspection slitter rewinder – Lemorau ICR3 – and auxiliary equipment such as core cutters, roll lifters and label rewinders.
Mactac promotes its range of pressure-sensitive adhesive (PSA) materials for use in graphic design, packaging, retail display, fleet graphics, automotive assembly, medical device assembly and more. Mactac employs more than 1,000 people and has operations throughout the United States and Mexico.
The company offers a wide array of roll-to-roll PSA-coated papers and films in various weights and thicknesses, textures, colors and opacity levels and conformability/rigidity ranges. Its products can be found in hundreds of industries and applications, such as durable goods labeling, product identification, barcoding and instruction labeling, security and safety labeling, health and beauty products, food and beverage labeling, and more.
Its Industrial Tapes range includes custom-engineered PSA tapes for bonding, mounting and fastening applications.
Manroland Latina, which has offices in Mexico and throughout Latin America and is backed by British-owned Langley Holdings Group, a specialist in capital equipment technologies, represents a number of leading brands in the label sector.
On display at the show will be a DCM BabyCat, an inspection and doctoring machine. The BabyCat allows the user to perform sleeve control and correction operations on rolls up to 400mm wide. The machine is autonomous during the automatic inspection cycles.
Applications include flexible packaging, labels and sleeves. It can handle plastic films, paper, aluminum, cardboard and laminates.
Also demonstrated is a Prati Saturn with BST Eltromat camera: a high-end modular inspection machine fully compatible with the highest inspection and safety requirements. It certifies the quality and quantity of the labels in real time thanks to the high-tech BST camera. It can also perform die-cutting and printing.
The company's booth also features specialists from the brands Pantec and Omet.
Mark Andy shows its Digital Pro 3 flexo/toner hybrid machine that is aimed at label converters moving into digital label production for the first time, and those that are looking for additional or replacement capacity for their legacy presses.
DPro 3 is an ideal entry-level to mid-market system that offers a low cost to print ratio from its compact footprint. The digital toner engine offers CMYK printing at 1,200 DPI and can be complemented by a flexo unit before and after digital print to allow, for example, a flexo white to be laid down followed by a flexo spot color, or cold foil, or lamination.
DPro 3 has the option of full- or semi-rotary die-cutting and can be fitted with a sheeter stacker and a crush knife assembly for slitting. Capable of 77ft/min (23.4m/min) and with no click charge, the press has an efficient inbuilt UV LED lamp and has no clean-room requirements. Easy to operate with the RIP accepting all existing PDFs at the click of a button, DPro 3 will handle PS stocks, BOPP, PET, and PP with equal ease.
Mark Andy will be running live demos on the DPro 3 at regular intervals throughout the show, and Tom Cavalco, John Vigna and Kenjiro Celaya from the sales team as well as Trisha Smith from the marketing team will be present on the stand.
Nazdar, which manufactures in the US and UK, promotes its inks for a full range of narrow web applications: UV and LED flexo, UV offset, UV letterpress, durable UV coatings, and water-based flexo, and UV and LED rotary screen inks, as well as UV and LED overprint varnishes and adhesives. Nazdar also manufactures screen printing and inkjet inks and coatings for a broad spectrum of specialty graphic applications.
Mike Harjung, vice president of narrow web at Nazdar Ink, said: 'The inaugural Labelexpo Mexico event provides a great opportunity for businesses in the label and packaging industries to learn more about Nazdar and the excellent solutions we provide. We look forward to meeting with visitors in Mexico City to showcase why our inks and coatings are used across the globe.'
Nilpeter shows its FA-17 flexo press at the show. The press features reduced waste and shorter job changeover times, as well as higher performance in terms of production speed and registration.
It is operated by iPad, which provides total mobility and allows the operator to record job information in the press's memory, increasing productivity and reducing operating errors.
The automation ensures the performance of the press and its optimal performance for short runs, without adding additional costs to the production process.
The FA-17 is a multi-substrate press. At Labelexpo Mexico, it will be equipped with eight printing units with UV curing, and a rail system for the application of value-added processes such as cold stamping and lamination. The press will run shrink sleeves with cold foil applied in-line.
Phoseon Technology will display its latest UV LED curing systems for flexographic printing, including the Nexus One UV LED curing system and Nexus Tower.
Nexus One UV LED curing system significantly advances the flexographic printing process. The Nexus One's UV LED curing lamps deliver significant dose output for increased print speeds. Phoseon's Nexus Tower provides a configurable power and control system for Nexus One, which offers a fully integrated product for both new presses and retrofit upgrades.
Representaciones Pfeifer promotes its products for the flexo, rotogravure and packaging industries, including Asahi photopolymer plates, CBG and PrimeBlade doctor blades, Tesa mounting tapes and Cadence cutting blades. All products supplied by the Mexican company include after-sale technical service.
Sermaflex is a Mexican company that manufactures dies, rollers, cutting tables, gears, ink trays and other tools used in flexo printing. It also offers maintenance and cleaning services for dies and anilox rolls.
Shenzhen Zolo Packaging Technology, founded in 2009, specializes in the development and production of security VOID labels and materials, tamper-evident security tapes, hologram stickers and holographic films, self-destructive stickers and materials, and other types of security packaging products. The company's Security Tape is a tamper-evident packaging tape, which can be used in anti-theft and anti-counterfeiting applications for product boxes, shipping cartons, pallets, letters, bags and more. Once the tape is removed, the hidden message 'OPEN VOID' / 'VOID' is revealed and left on the application surface. The tape surface will be destroyed and no longer sticky because the glue transfers onto the application surface completely.
Sun Digital, HP Indigo's exclusive channel partner in Mexico, promotes HP Indigo's digital technology and its own brand of finishing equipment, Suntek.
With HP Indigo technology converters can produce any type of label and packaging, from self-adhesive labels to sleeves, in-mold labels and flexible packaging.
Suntek PRO and Suntek Pro Max have a modular design so that they can be adapted to individual needs.
Symbio shows its portfolio of sustainable products such as biodegradable labels, 100 percent recycled PET labels, and dissolvable labels. These labels not only help to reduce waste and carbon emissions but also promote a positive corporate or brand image.
Biodegradable labels are an excellent choice for those who want to reduce their environmental impact. These labels are made from materials that can decompose naturally and do not leave any harmful residue.
100 percent recycled PET labels are made from recycled materials, which reduces the need of virgin materials and decreases the carbon footprint of production.
Dissolvable labels dissolve easily in water, making them ideal for reusable containers and reducing waste.
Todaytec, a Chinese thermal transfer imaging material manufacturer, is present through its Mexican subsidiary BTW (Barcoding The World).
Todaytec has established wholly-owned subsidiaries in the USA, UK, France, Canada, Mexico, India, Brazil and Vietnam, to provide products and services to customers worldwide.
The company will bring its latest technology and ribbon products and will promote products that meet local market demand.
Thermal transfer ribbons can generally be divided into wax ribbons, wax-resin ribbons, resin ribbons, wash care ribbons, etc. TDW108 is a standard wax ribbon by Todaytec, which has been recognized by global customers for over ten years due to its excellent printing effect, comprehensive applicability to different media, and economical price. TDM242, a cost-effective wax-resin ribbon, has the advantages of low printing temperature, excellent scratch resistance, high darkness, and strong adaptability to different media, and is widely used in logistics, retail, pharmaceuticals and other industries.
TDR345 is a high-performance, cost-effective resin ribbon with high printing darkness, excellent media adaptability, and outstanding alcohol resistance, making it widely used in the electrical, equipment and electronics industries.
Unilux, a manufacturer of stroboscopic inspection systems, shows the newly launched UniPrint inspection system.

UniPrint is a print monitoring system that the company says offers 'similar features to comparable vision systems at a more affordable price'. The most significant innovation comes in the ability to inspect standard and UV-visible inks and coatings with a single system.
Unilux provides regional service and support, replacement parts in stock for fast delivery, as well as easy to access online training to ensure that operators are empowered to use the full capabilities of the system.

'For decades Unilux inspection strobes have complemented web monitoring systems by offering a macro view of print quality,' said Mike Simonis, president. 'We are excited to expand our inspection offering by also providing the more detailed micro view, with all of the features you would expect to reduce waste, backed by the service and support only Unilux can provide.'
UPSoftware demonstrates SisPro, a combination of software and hardware that allows the planning and control of all production phases in a packaging plant. It is a set of tools specifically designed to control all operations on production lines, integrated into a central server.
SisPro connects via sensors to all types of converting machines that process materials in sheets, rolls or by cycles. From these sensors, data is collected automatically and in real-time about the work in progress. All this data is centralized and made available to production operators. In addition, SisPro allows a connection with the ERP system for the input and output of information, in order to avoid the duplication of information loading.
The installation of all SisPro tools provides greater process efficiency, more information available and a reduction in manufacturing costs.
Uteco promotes its Onyx Go central impression (CI) flexo press, which was launched last year.
The Onyx Go is claimed to offer the fastest printing speed in the short-run flexo segment at up to 400m/min, which enables users to print up to 50 million square meters annually across three print widths: 820, 1,020 or 1,320mm.
It also provides the fastest changeovers in the ultra-short and short-run flexo segment at under three minutes to set up printing pressures and register, 'enabling users to gain up to 240 extra hours of production/year compared to competitor solutions', says the company.
The Onyx Go has been designed as a multi-ink (water- and solvent-based), multi-material (plastic films, aluminum, paper, cardboard and laminates) and multi-industry (food and beverages, pharmaceutical, health care, personal care home, office and industrial) CI flexo press.
Uteco's Active Pack consists of three packages: Active Start, Active Ink and Active Dry. Active Start automatically recognizes printing plates and sets the printing pressure and register. The system transmits the printing set-up information to other machine components such as the drying and inking systems and ensures repeatability across different jobs.
The Active Dry system optimizes energy consumption by regulating the drying power according to the printing characteristics. It is complemented by the Active Ink dosing system, which has been positioned on the side of the CI drum to optimize the ink flowing into the circuits.
Vemax will present its VRR HD 430 and VRR TA V380 inspection slitter rewinders, suitable for labels, films, tags, laminates and flexible packaging.
The VRR HD 430 has a wide width and is driven by servo motors both in the unwinder and in the rewinder. It is compatible with any 100 percent inspection system on the market.
The new VRR TA V380 system features an automatic changeover head rewinder with double disc-type shafts driven by a servo motor, with a stop for automatic change and cutting, and precision in repeatability.
Wilson Manufacturing promotes its range of custom-manufactured engraved cutting dies, flexible sheet dies, magnetic cylinders, print tooling, accessories and more. Among the products on show will be a magnetic cylinder with a flexible die sheet.
The company's machine-sharpened cutting dies are held to the tightest tolerances and Wilson offers proprietary coatings and processes to supply long-lasting tooling for even the most challenging applications.
The product portfolio includes vacuum and ejection tooling to manage slugs and waste during die-cutting as well as accessories such as the Scrap Recovery Attachment to ensure the die and the web stay clear. Its flexible cutting dies are produced on state-of-the-art CNC equipment for precision and reliability as well as fast turnaround time.
For more information and to register for the event, visit https://www.labelexpo-mexico.com
Stay up to date
Subscribe to the free Label News newsletter and receive the latest content every week. We'll never share your email address.