Read later
Fedrigoni receives gold medal from EcoVadis
Manufacturer of specialty papers for packaging, publishing and graphics and self-adhesive materials, Fedrigoni has received gold medal from EcoVadis for its commitment to sustainability and has launched FedLab innovation hub within its Paper division with the aim of developing advanced eco-friendly paper for plastic replacement.
FedLab will pool together resources from all company departments, as well as from the ecosystem, through partnerships and collaborations with other companies and startups. This innovation hub will be tasked with the development of sustainable paper products that are alternatives to plastic in numerous applications, such as food, cosmetics and luxury e-commerce goods packaging.  
EcoVadis, the international provider of business sustainability scorecard has ranked Fedrigoni among the best global companies in terms of environment protection and social responsibility initiatives (only 5 percent of rated companies received this status in 2021).  
'FedLab is an incubator of ideas and innovation where we will be brainstorming for solutions that cater to customer needs and contribute to their green transition. In this hub we will make our specialty papers increasingly performing and at the same time sustainable,' said Micaela Di Trana, marketing and R&D VP of Fedrigoni Paper and head of the initiative.  
'This hub brings together the best skills and the most advanced technology, inside and outside Fedrigoni, and puts them at work to benefit new development projects on innovative products, applications and business solutions that involve all company departments, third parties, universities, businesses and startups. That is the case of the recently formed NewCo with Parma-based Tecnoform (which holds 30 percent of the joint venture) aimed at producing internal trays for luxury packaging in thermoformed, biodegradable and environmentally friendly cellulose, using a patented proprietary technology. We are constantly looking for innovators, people who have identified a problem related to paper packaging and have come out with a compelling idea to solve it. People who believe in the "next paper generation" like we do.' 
Plastic-to-paper is the process aimed at introducing new paper products that are effective alternatives to plastics in terms of strength, water repellency and hygiene. They are also made with renewable and recyclable raw materials, using fibers that replace cellulose or that come as much as possible from recycling. One of these alternative fibers is Icelite CleanCut, the paper developed in collaboration with EasysnapÒ for the production of monodose packs for liquids – once made in plastic, now paper-based - that can be opened with only one hand, breaking the pack in two, and are recyclable.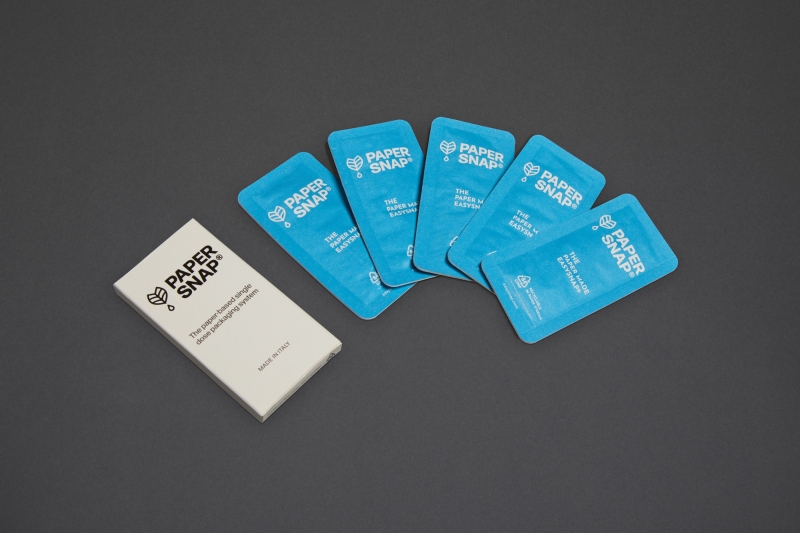 Another example is the Splendorgel high barrier technology, an 'ultra-water-resistant' and recyclable paper that is ideal for any tag used in humid places, menus, signs, advertising, or outdoor posters exposed to rain, plant labels.  
Fedrigoni's commitment to making its products, processes and supply chain ever more sustainable was made official in the company's latest 2020 Sustainability Report. Here the Group has presented its ambitious roadmap towards 2030 to reduce its environmental impact, increase its portfolio of advanced sustainable products, create a safe and inclusive work environment and contribute to the prosperity and wellbeing of the local communities where the company operates.  
'Our commitment to sustainability and the ESG goals is a value chain effort that empowers our company and the market,' said Chiara Medioli Fedrigoni, chief sustainability and communication officer of Fedrigoni Group.  
'And we are proud to be recognized by a specialized third-party observer like EcoVadis for a long-standing commitment that has been further accelerated in the past 24 months. We chose to work hard, both internally and with our customers and suppliers, turning the hardship of the pandemic into an opportunity to refine our strategy for the future and we thank our entire ecosystem for partnering with us in this challenge. FedLab is a container of solutions created to make life easier for our customers, including industries where we do not operate directly, but where we are ready to offer ideas, projects and prototypes that others can then modify and make their own, always with a view to enhancing the value chain.'