One of the biggest label converters, Skanem, has been using Fujifilm's Sericol flexo inks for over 30 years to deliver consistency, quality, strength, and vibrancy to the company's narrow web production.
Skanem, an international label converter with over 100 years of experience in self-adhesive, liner-less, and smart labels, alongside flexible packaging film, has a global reach, with production sites in the UK, Scandinavia, Poland, Asia, and Africa. It offers its customers a full service, including portfolio optimization, warehouse management, logistics, and design. 
Since the 1990s, Skanem's Cardiff branch has relied on Fujifilm's Sericol inks and expert knowledge to produce striking products while adhering to its environmental beliefs.
'Worldwide, Skanem produces millions of labels every day for over 3,000 customers,' commented Paul Morgan, ink technician at Skanem Cardiff. 'Manufacturing all of these products for so many brands means we need the most reliable equipment and the best quality inks in our production sites to ensure we're delivering what our clients expect of us.
'In the Cardiff branch of Skanem, we specialize in labels for over-the-counter pharmacy products, beers, wines and spirits, household cleaning products, skincare, and cosmetics – we also provide labels for the motor industry. We started using Sericol inks around the mid-90s when we were using screen printing primarily. Then, as our facilities in Cardiff expanded, the company realized we needed an ink supplier in the UK that could deliver a quality ink within just a matter of days – in 2007, we turned to Fujifilm's Sericol JD flexo range of inks as a solution and haven't looked back since.
According to Morgan, the benefits of UV cured flexo inks are critical to Skanem's operations. 
'With our customers expecting their branded colors to be perfectly reproduced, we know we can put our faith in the JD flexo ink range – the color consistency, strength, and vibrancy in each and every print is excellent and so important to our operations. It has also allowed us to create bespoke color matches the first time, rather than after several submissions, which cuts the speed to market in the label development process. These inks offer our customers a wider color palette, higher quality metal effects, solid whites, and by using denser ink pigments, allows for less ink usage overall, which is better for the environment.'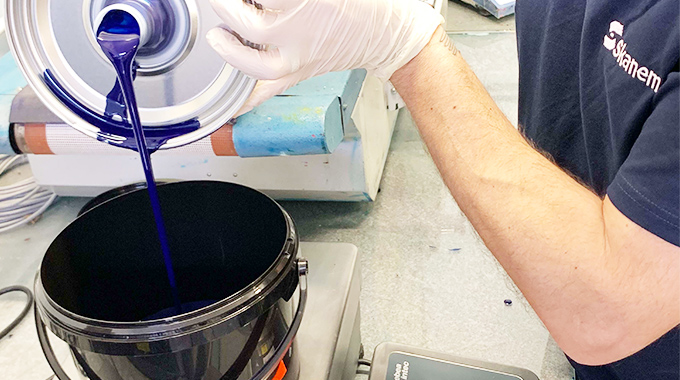 Ian Furmage, production manager at Skanem Cardiff, added: 'To protect the environment is our responsibility and at Skanem we offer our Sustainable Labels, Designed for Recyclability program, where we utilize every opportunity to help our customers to achieve their sustainability goals through the selection of the correct raw materials, design optimization, production processes, and logistics. The whole emphasis is to ensure our customers design their packaging with recyclability in mind. Our principles are clear, but they wouldn't be anything without our suppliers, who must also fit in with our ethos. Fujifilm's Sericol inks are always delivered with minimal packaging, meaning there is very little wastage. The metal and plastic tubs the inks arrive in are easily stacked and simple to recycle, saving space and reducing the number of collections required.'
Skanem and Fujifilm now celebrate over three decades of a successful relationship. 
'They have been fantastic over the years,' added Morgan. 'From the initial introduction to their screen-printing ink range back in the 1990s to the world-class Sericol JD flexo ink range they deliver today, we have formed a great relationship with the tech support team who are always on hand to provide help. I remember when I joined Skanem many years ago, I wasn't very knowledgeable when it came to flexo, but the support I had from Fujifilm was superb and still is to this day. Occasionally, I will get a customer request that requires a particular ink that we don't stock, but a quick call to the Fujifilm support team solves the issue – they advise the best route for me to take to achieve the required result. We have full confidence in Fujifilm's products, as well as the sales and support teams. We have a great relationship, and I would highly recommend working with them.'
'We're delighted to see how Skanem has been utilizing our flexo inks for a variety of industries. Their relationship with us, stretching back almost 30 years, has enabled us to build a great partnership, and we're looking forward to using our flexo range to help them in other areas of their business,' concluded Steve Wakefield, marketing manager at Fujifilm Speciality Ink Systems.