Mercian Labels acquires first Screen L350 SAI E in UK
Mercian Labels has installed Screen L350 SAI E UV inkjet label printer. The L350 will replace one of the printer's two digital toner lines and do the bulk of its digital printing jobs. It will also take some shorter run jobs from its existing flexo lines.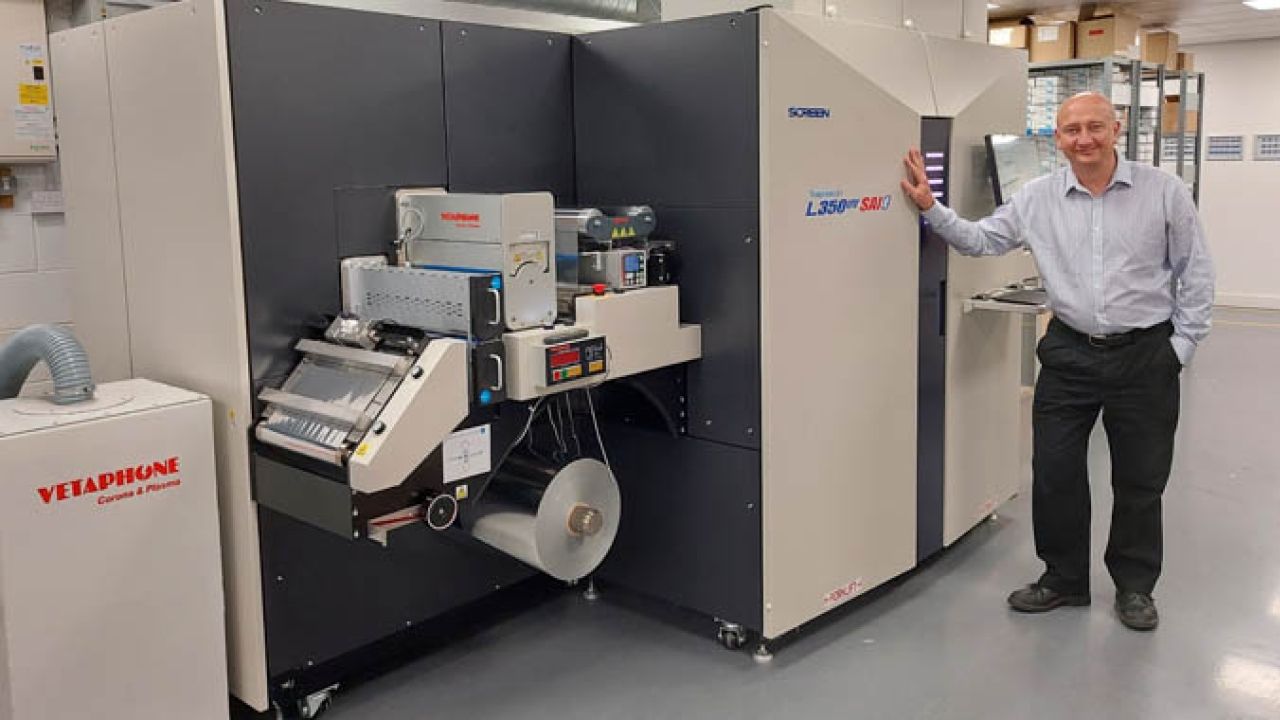 'The installation is a seminal moment in our journey to become a world-class manufacturer in self-adhesive labels,' said Mercian Labels MD, Dr Adrian Steele.   
Mercian Labels is a multi award-winning designer and manufacturer of self-adhesive labels, operating since 1969. With 65 employees working from Burntwood, Staffordshire, Mercian Labels serves around 1,200 customers in the UK and abroad, in sectors ranging from food and beverage, to high-volume variable data, e-cigarettes, chemicals and smart indicator labels. 
The L350 SAI E's potential for automation was the most important reason Mercian Labels chose it. 'Far-reaching automation was an absolute deal-breaker for us – our speed and service is why our customers keep coming back,' Steele added. 
'We've been using an automated JDF workflow integration between our digital print engines and our CERM ERP system for the past five years. The major productivity benefits from extensive automation are clear: the auto-plan batching and organization of print jobs leads to maximal production time with minimal waste production. The system's estimation of printing time is extremely accurate when compared to the actual print times and material usage reported from the integration.'  
The L350 has a print range of up to 330mm, with speeds of up to 60 meters per minute. The time between changing and resetting the machine is zero, as there's no need to clean the SAI in-between jobs, the company claims.  
'Our customers know us for our ability and determination to turn a job around in industry-beating lead times, so anything we can gain in that area is very important,' Steele said.  
Mercian Labels also selected the SAI E – from among Screen's range of digital label-printer options – for its color gamut.  
'Although the six-color SAI E has one color less than the SAI S, we were very impressed by its wide color gamut with the new ink set. My colleagues have also been very impressed with the uptime and the reliability of the L350 SAI E. Screen brings a detailed and thoroughly Japanese approach to product design, which fits very well with our passion at Mercian Labels for world-class lean manufacturing.' 
Steele highlighted that Screen was very thorough and reliable in the installation and training process. 
'Screen has confirmed its strong reputation in the services it delivers with us. So far, the L350 SAI E has been an excellent platform choice, and UV inkjet is proving to be complementary to our existing dry toner and flexo capabilities.' 
Stay up to date
Subscribe to the free Label News newsletter and receive the latest content every week. We'll never share your email address.