Winpak first to install CrystalCleanConnect in North America
North American packaging company adds Asahi platemaking system in-house to reduce costs and lead times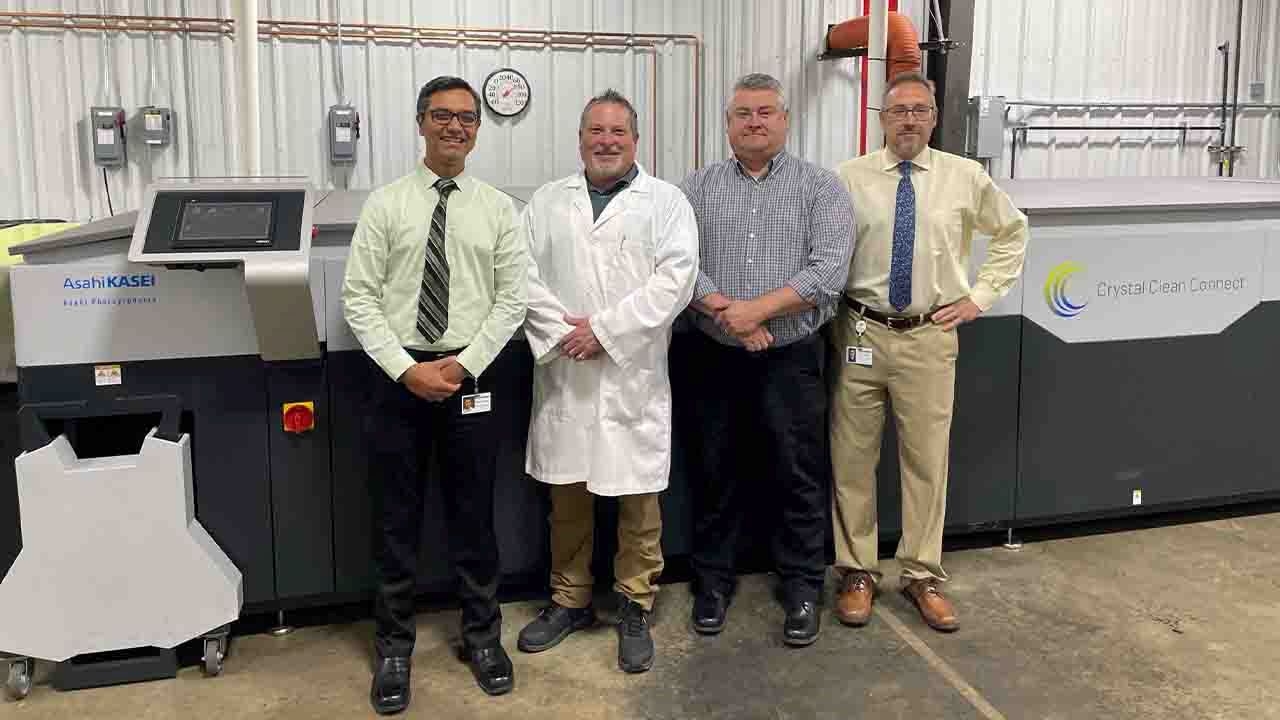 North America-based packaging company Winpak has become the first in the United States to install the Asahi Photoproducts CrystalClearConnect automated flexo platemaking system at its Winpak Films business unit in Senoia, Georgia. This automated system was co-developed with Esko and Kongsberg.
With CrystalCleanConnect, press-ready plates are prepared in a single step, reducing operator interventions normally required in a 12-step traditional plate production.
Winpak is a USD 1.2 billion packaging company that manufactures and distributes packaging materials and related packaging machines. The company uses solvent-based inks in the production of wide web flexible packaging. Its products are used primarily for the protection of perishable foods and beverages, including thermoformed cups and lids, flexible films, meat trays and covers, and other packaging comprised of flexible and rigid substrates. The company manufactures several products for healthcare as well. Winpak operates twelve production facilities in Canada, the United States and Mexico.
Winpak Films was looking for an efficient and sustainable means of producing flexo plates in-house to reduce costs and lead times. Wikoff, Asahi distributor partner, recommended CrystalCleanConnect.
Vishal Khushalani, general manager at Winpak Films reported that the outsourced plates were solvent-wash, and he wanted to bring platemaking in-house with an Esko plate imager, Asahi AWP water-washable plates, an Asahi plate processor, and a Kongsberg cutting table, all operating as independent units.
When the company was outsourcing plates, in addition to the environmental impact of solvent wash plates, customer lead times were between one to two weeks. With initial platemaking configuration in-house, it is able to produce a plate every 45 minutes to an hour.
The initial reasons Winpak chose CrystalCleanConnect included sustainability features of water-wash platemaking process, user-friendly features that make it easy to operate and integrate into existing printing processes, minimize waste by reducing makeready time, material waste, and ink consumption and support provided by Wikoff and Asahi Photoproducts, both pre- and post-sale as well as during the implementation process.
The new setup improved both print quality and press productivity.
Bringing platemaking in-house allowed Winpak to reduce costs and lead times in platemaking, and control both quality and scheduling. Khushalani reported that CrystalCleanConnect helped to automate and simplify what could have been a steep learning curve with bringing in plate production as a new manufacturing process for the company.
He reported that the technology reduced platemaking time from one hour to 15 minutes. The first plate out takes about an hour, but then it produces a press-ready plate every 15 minutes after that. 'We thought going from a week to 45 minutes was great. And now we are at 15 minutes per plate after initial setup. From a shift perspective, where we previously made 10 or 12 plates per shift, we now produce 24 to 30 plates per shift, and it requires less labor do to so, just one operator for the entire process.'
Khushalani is also pleased with Asahi AWP CleanPrint plates' ability to deliver high quality print results; excellent dot reproduction, sharpness and fine detail; and a significant reduction in press stops for plate cleaning due to Asahi's CleanPrint technology, which features improved ink transfer and ensures consistent quality throughout even long runs. The durability of the plates also ensures press efficiency since there is no need for frequent plate changes.
Asahi AWP CleanPrint plates are water washable, and certified carbon neutral.
Stay up to date
Subscribe to the free Label News newsletter and receive the latest content every week. We'll never share your email address.