Avery Dennison launches premium bottleneck label line
New adhesives technology solves brands' neck label woes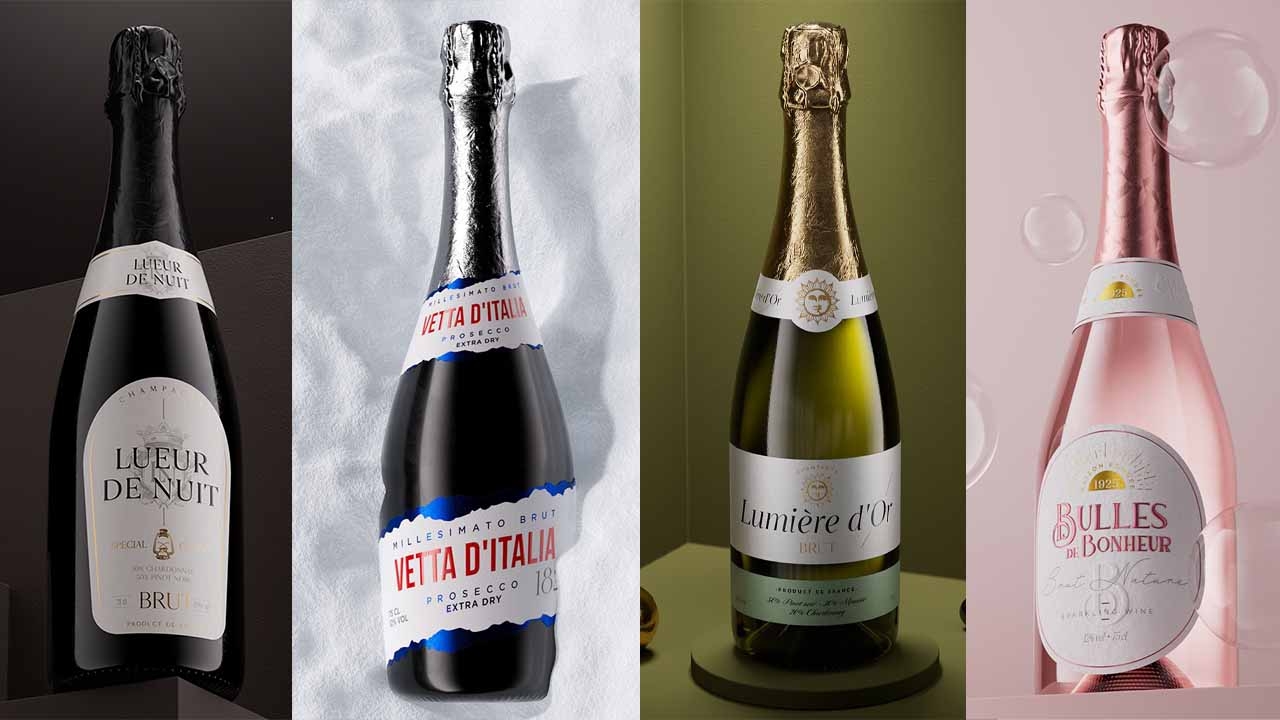 Avery Dennison has released its new Neck Label Collection for the drinks industry as it tackles the common problem of 'neck label detachment'. The range is available now across the wine, spirits and beer industries in Europe and is specifically aimed at premium products that are often chilled in ice buckets such as champagne, prosecco, spumante, and cava.
When a label around a curved surface such as a neck bottle wrinkles, cups or falls off entirely. There are many factors that can lead to neck label detachment. For instance, the way paper is manufactured can cause 'memory effect', which is when paper labels that are applied to curved surfaces, such as bottle necks, tend to return to their original flat shape, increasing the risk of detachment. Inappropriate or insufficient adhesives can be another cause, which is why label designers and manufacturers must select a high performing adhesive suited to neck label applications. So commonplace are these issues that some brands have chosen to forgo the neck label altogether in favor of neck-label-less bottle designs.
The new Avery Dennison Neck Label Collection is the result of two years of product development, comprising extensive trials with some of the most prestigious champagne brands. Avery Dennison's high-performing adhesives allow the same paper grammage to be used for both the front label and neck label. This provides premium brands with reassurance of label-attachment - even when the product comes into contact with water, ice and the condensation caused by the temperature fluctuation in and out of the fridge.
Why does this matter? Bottleneck labels provide brands with more design space. The space can be used to improve brand recognition, showcase logos and emblems and in some cases provide valuable product information. Furthermore, it's the only element of a bottle that is visible when immersed in a bucket and becomes the brand ambassador when not on the table improving a product's visual appeal and brand recall with consumers.
Vladimir Tyulpin, Avery Dennison's Premium Solutions Segment leader said: 'Every once in a while you come across a truly game-changing innovation for the label and packaging industry – and this is it. The world of premium drinks, particularly sparkling wines, is one where every detail matters. Having a neck label that can showcase your brand ensures greater consumer appeal and product stand out on shelf, making it impossible to substitute your brand with any other. We have spent several years testing and advancing this collection and our team of experts is looking forward to helping brands to elevate their packaging appeal.'
The Avery Dennison Neck Label Collection includes more than twenty different varieties. The collection includes materials that are made from 100 percent recycled pulp and some feature an AD rPET liner which can be recycled and reused via the AD Circular program.
Avery Dennison has also announced the extension of its AD Procerta services across the wine and spirits industry. The AD Procerta service provides organizations with assurance that materials will perform under the toughest of conditions by subjecting labels to more exhaustive testing than those set by FINAT, the European Association for the self-adhesive label industry. AD Procerta utilizes various testing methods to ensure that label materials for the drinks industry meet challenging requirements. For instance, its 'ice bucket' test evaluates the label's ability to remain intact and flawless after immersion in ice—a critical factor for champagne packaging. In addition, observation of the potential color change of the paper takes place after specified intervals, ensuring that the label remains legible and aesthetically pleasing throughout the product's life.
Stay up to date
Subscribe to the free Label News newsletter and receive the latest content every week. We'll never share your email address.