Labelexpo Europe 2013 exhibitor preview: Finishing and converting systems
Labels & Labeling previews new products and companies in finishing and converting at Labelexpo Europe 2013: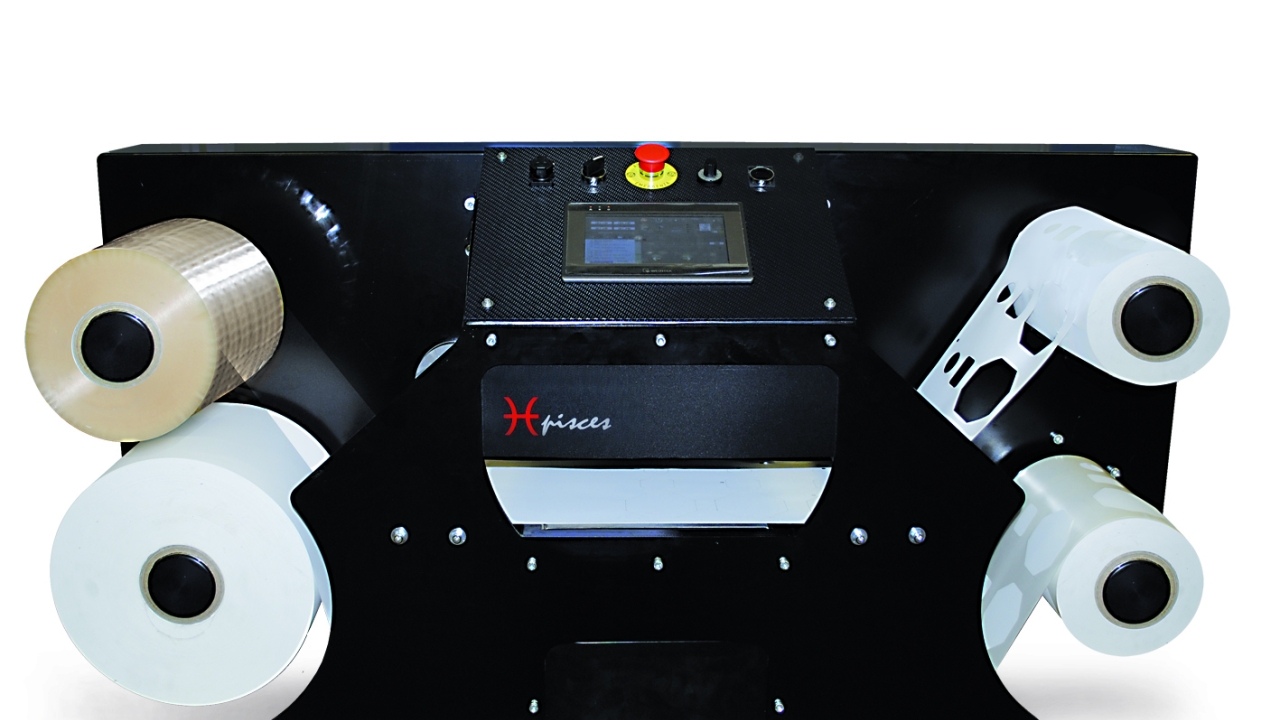 AB Graphic
AB Graphic International displays two laser-cutting lines, one stand-alone and a system integrated into a Digicon Series 2 platform. Both will use ABG's new Digiflow and Digilase software, which identifies and loads job parameters automatically. The machine is capable of reporting live production activity to an MIS system every 30 seconds through JMF files. Two new slitter rewinders will also be displayed for the first time with integrated vision systems manufactured within the AB Graphic International group. New features for the Vectra automatic turret rewinders include an automatic core loader. Also on the stand are new vision inspection systems and dedicated pharmaceutical rewinders and a booklet label machine. In-line finishing systems will be displayed on the HP and ETI booths.
Ashe Converting Equipment
Launches a new glue-free, 4-spindle turret rewind range. An off-line model with automatic label stick down will be running throughout the show. Also promotes the entry-level Opal EC inspection slitter and blank label production on an Opal 420 converter.
Bar Graphic Machinery
Launches two new systems. The 160m/min Elite Digiflex is a semi-rotary or full-rotary die-cut to re-register slitter rewinder, developed to convert and finish pre-printed digital, inkjet or flexo media. This highly flexible system can print and apply additional coating in register in one or multiple passes. Other features include automatic print positioning and die registration to reduce set-up waste. The 550 wide Elite Multiflex is a multiple substrate inspection slitter rewinder capable of handling a wide range of unsupported and supported films down to 11 microns.
Berhalter
Demonstrates the new B 500 die-cutting system for in-mold labels (IML). Eight synchronized but individually controlled servo drives allow high precision print-to-die registration. The foil tension is automatically monitored and regulated and IML labels down to 40μ can be processed. A non-contact die-cutting process with a punch/die plate system avoids adding static charges. The company has implemented a fully automatic RFID tool identification system, which enables users to switch quickly and securely between different
Brotech
Introduces the Eurotech FSS label inspection slitter rewinder with AVT 100 percent inspection, operating at speeds up to 250 m/min. Widths of 330mm and 430mm are available with rewind and unwind diameter up to 750mm. Also new is the Eurotech SDF digital label converting and finishing system, with semi-rotary and full-rotary die-cutting mode, and semi-rotary and full-rotary flexo for spot vanishing, laminating, cold foiling or UV varnishing. Both UV and hot air dryers are options.
Cartes
Cartes highlights its GT modular finishing system, with and without integrated laser die-cutting, and with options including silkscreen printing, hot stamping, embossing, flexo varnishing and flatbed die-cutting. Features include automatic centering.
Collano
Presents a new UV curing system for pressure-sensitive hotmelt adhesives. Collano collaborated with UV lamp specialist Heraeus to develop a system that can yield 85 percent energy savings over conventional UV curing methods. The service life of Soluva UVC-Hotmelt Modules is exceptionally long at 10,000 hours. These solvent-free products adhere to a wide range of substrates and are suitable for self-adhesive coatings, even on heat-sensitive labelstock.
Color-Dec
Announces new, fully automated equipment to cast PU resin onto printed labels. The 660W is a dual axis machine with a 400 x 300mm vacuum working table and integrated degassing. It is controlled by a CNC console with integrated PLC for program storage. DomesXYW software is included. The two axes permit casting resin into both regular shaped labels (oval, square, etc.) and complex shapes such as lettering, up to a minimum width of 8mm per letter. Accessories include palletizer and drying system.
Daco Solutions
Shows the Daco D350 single rewind die-cutting machine fitted with one meter unwind and auto cut and apply system. The latest 350mm PLD350 semi-automatic rotary die-cutter has a new drive mechanism, stronger die station and a heavy-duty auto cut and apply head. The DTD250 table top die-cutter has been upgraded with a back scorer.
DPR
Introduces its new laser die-cutter. Working in both roll-to-roll and sheet mode, the unit is designed to cut a wide range of substrates including coated paper PP and PET. Fine control of laser power makes it possible to obtain half/full cutting, marking, braille, progressive numbering and barcodes.
Delta Industrial Services
Will run a challenging polyurethane film on a Delta Mod-Tech custom converter, including multiple rotary die-cuts and lamination. Other options include semi-rotary, full-rotary and laser-cutting.
Erhardt+Leimer
The new ELCAM Pattern Guiding System allows the rewinder operator to check the print is exactly referenced to the slit position. The system can simultaneously measure and control the position of the printed image in relation to the die. It can be integrated into any digital E+L web guiding system and therefore permits accurate positioning during different stages of production. The ELCAM's camera-based Matrix and Missing Label Detection System (MMLD) replaces conventional arrays of ultrasonic or optical sensors with a quick teach-in process. In case of a defect the event is sent via a digital interface to the machine controller that stops the web in exactly the right position on the splicing table. E+L also presents a new camera-based system that detects defects in the transparent coat of varnish applied to labels after printing.
ETI Converting
Launches a more compact version of the Cohesio modular coating and lamination system. The Mini-Cohesio uses 50 percent less space, has a 30 percent shorter web path, a faster setup and is more affordable. The system is designed to convert labels, unsupported film or paper web previously printed in flexo, offset, gravure, digital or other printing processes. The 330mm (13in) web width Mini-Cohesio will be equipped with the Pellicut technology, with the ability to die-cut down to extremely thin release liners. The featured application will be a reverse gravure pre-printed beer label being silicone and adhesive coated, as well as die-cut on an 18 micron (0.75 mil) PET liner – converted in one manufacturing process from raw material to finished product at a speed of up to 150 meters per minute (500 fpm).
GEW     
Introduces new power supply technology to complement its energy efficient E2C UV curing lampheads. Designed for use in ambient temperatures up to 50 deg C (120 deg F) in tropical conditions, the new high-efficiency power supplies operate on any voltage between 360 and 500 Volts at 50 or 60 Hertz, tolerating voltage swings in this range with no effect on the system's UV output. The power supply is also immune to damage from mains spikes or dips outside of this voltage range, as well as dropped phases and shorts-to-ground. The power supplies are housed in compact, stackable rack enclosures with full power distribution for six lamps.
Gonderflex International
Gonderflex International recently acquired the Rotoworx digital label converting and finishing line, and launches the new Rotoworx 330 semi-rotary die-cutting machine, with a flexographic unit performing spot or flood coating with redesigned UV and IR dryers. The unit also features a new enclosed doctor blade system and equipment for cold foil lamination. Optionally, it can be fitted with rotary sheeting station, shingling conveyor, inline booklet labels production, semi-rotary hot foil stamping and rotary screen printing.
Grafisk Machinfabrik
Displays the new FB330 flatbed hot foiling and embossing station, which can run inline or offline and uses low cost brass or magnesium dies. A 400W drop-in laser die-cutting system for GM's popular series of DC330 converting line is also on display. The laser system is compatible with Esko's PLT/HPGL file format and features a substrate database. The laser system can be fitted with a barcode reader for automatic job change and a serial number writing software package. The DC330mini compact converting line can be seen with a new automatic knife and die cross register setting system for increased cutting accuracy. A standard DC330mini can be seen converting digital print on the Epson booth next to GM.
Grafotronic
Introduces a 4-color, 80 m/min bi-directional inkjet press made in cooperation with Masterprint Europe. Includes two flexo units for priming and varnishing and a combined semi-rotary/rotary die-cutting unit. The machine is fully modular, with options including lamination, inspection and sheeting.
Hönle AG
Introduces a range of new LED UV systems, including LED Powerline HP (High Power) and LED Powerline AC (Air Cooled). The LED Powerdrive is a high-powered, efficient driver for operating LED units, including comprehensive monitoring and diagnostic functions as well as an instant reaction PLC interface. Hönle shares the stand with web offset specialist PrintConcept – UV-Technologie, which demonstrates an inert UV curing system for low-migration inks.
IST
Introduces the IST/ITL compact Solidcure 2 LED UV system for narrow web label printing. ITL LED units are also being used for final cure or pinning on inkjet presses. Also demonstrates established 120 W/cm MBS-6 UV curing system.
ITW Foils
ITW Foils introduces EcoCast inline Holography, in which effects are applied directly to printed sheets on press by means of a reusable holographic film and a UV varnish. This process creates an illusion with no actual transfer of material. UV cast boards and papers contain no film, so they are recyclable and compostable assuming other components are too. The production process does not emit VOCs and because there is no actual transfer of a foil or material onto the substrate, the film can be reused several times. UV casting films are available in a variety of diffraction patterns and can be customized for brand identity and security applications.
Labeltech
Shows an IT450 inspection rewinder mounting the new FuruPlus MMLD inspection system, designed for converters printing different sized label formats on the same reel and finishing on a single rewinder. A dual counter permits the rewinding of two different label quantities and can automatically detect defects on different sized labels. Labeltech also launches a stand-alone rotary die-cut unit, including die-cut to register function, for finishing printed webs. A Furu inspection system is integrated just after matrix separation to stop the machine after a label error is detected. This unit can work offline with its own unwinder or inline fed by a printing/coating machine.
Lartec
Demonstrates full range of flexible die systems.
Lemorau
Shows the latest version of its EB-260 die-cutting machine. Available at web widths of 250 and 330mm and running at speeds of up to 200 m/min, the EB-260 features an automatic web tension control system and semi-automatic rewinding. Dual rewinding allows different labels of varying diameters to be handled at the same time. Die-cut to register is available as an option.
Luster
Shows the LabelRoll-330T off-line inspection rewinder able to inspect a large wide range of defects including 3D.
IST
Introduces the IST/ITL compact Solidcure 2 LED UV system for narrow web label printing. ITL LED units are also being used for final cure or pinning on inkjet presses. Also demonstrates established 120 W/cm MBS-6 UV curing system.
Martin Automatic
Showcases latest versions of the established MBS splicer and LRD rewinder. The MBS now incorporates ultrasonic sidelay sensors and spiral grooved rollers for unwinding and splicing clear film structures, and touchscreen operator panel. The standard LRD transfer rewinder now accommodates 800mm diameter rolls and an LRD compatible touchscreen with parameter recall. The optional inline slitter is enhanced to offer lateral adjustment of the slitter and anvil roller assembly and an optional articulating arm automatically delivers smaller finished rolls through the side of the unit for easy removal.
Matho
Demonstrates a new, more compact baler press from the Cuttopress family, for edge trim and matrix waste extraction from one or more production machines.
Newfoil
Major new additions to the Newfoil range include a high-speed servo range of hot stamping, embossing and die-cutting machines with output speed of 18,000 impressions per hour, equivalent to 75 meters per minute. All settings are entered on the touch screen and recorded for future use and for data logging. Also new is a servo flat screen press with UV drying, built to work in conjunction with the high speed finishing system. When used with UV Braille type inks, a 3D embossed effect can be simply produced without expensive hard tooling.
Pantec GS Systems
Promotes Swift and Cheetah foil saving and hologram insetting systems and Rhino flatbed hotfoil embossing system.
Prati
Launches the STARplus stand-alone glueless turret rewinder, designed to work inline with any printing press for processing blank or pre-printed labels. The unit will work with the latest thin materials, such as UPM Proliner and Avery PET23 and PET18 micron liners. It features automatic spindle change and ID labels for closing the rolls. The new SA dual turret semi-automatic rewinding system is mountable on the latest generation Saturn and Jupiter models, eliminating the need to change stop for finished reel removal. The Saturn machine can be equipped with an inline rotary die-cutter.
Primera
Shows for the first time the new LP130 Laser Marking System. The laser either ablates or phase-changes a wide range of specialty label substrates. The unit is built to be used on the desktop or workbench, and operates like any other Windows-based printer. Also on the stand is the established CX1200 Color Label Press and FX1200 Digital Finishing System to laminate, digitally die-cut, remove waste, slit and rewind.
Rotocontrol
The company's new DT340FC digital label finishing line features automatic knife positioning and an integrated automatic 4-spindle turret. Standard model has integrated flexo printing station and semi-rotary die-cutting.
Rotoflex
Introduces the Tracker inspection rewinder with a horizontal web path, complementing the existing Rotoflex vertical systems. The company's VSI and VLI systems are also shown.
Spartanics
Spartanics demonstrates the L-350 laser-cutting system showcasing converting options such as lamination, slitting and on-the-fly job changeover. Showcases the NW140 UV digital narrow web press powered by JetINX running inline with the Spartanics X-140 laser station at speeds of over 80 m/min. On the Durst stand, the Tau 330 UV inkjet label press will be operating inline with Spartanics' laser-cutting system.
Spilker
Shows S-CON Starline 350 line combining cutting, embossing and laminating processes, and S-CON Vert 350 with the newly developed Labelshifter Plus, which allows easy stripping of very difficult shapes. It offers digital adjustment of the longitudinal cutter.
Tools & Production
Displays rotary die-cutting equipment, shear slitters and male/female punching capabilities for industries including  transportation tickets, tea tags and envelopes and EDP labels.
Tresu
Showcases its new iCoat 30000 coater for sheetfed digital cartons, enabling selective varnishing using interchangeable coating agents. It will be exhibited at the HP Indigo stand in hall 9, working alongside the new HP Indigo 30000 printer. Also demonstrates a range of doctor blade, enclosed chamber, automated ink pump and viscosity control systems and promotes the Flexo Innovator press as an alternative to CI and sheetfed machines in package print applications.
Uviterno
Shows latest generation SRK-light UV curing system, air cooled with more efficiency in UV output. Also new is the ACS high-power UV radiation head with no exhaust air.
Read the full preview in Labels & Labeling, issue #4 2013
See the full exhibitor list here
Stay up to date
Subscribe to the free Label News newsletter and receive the latest content every week. We'll never share your email address.