German label converter Vollherbst has launched SUSTAINLabel, an environmentally conscious labeling technology developed for the wine market with the practical application embraced by major brands such as Nederburg and Inverroche Gin.
According to Vollherbst, markets are showing an increased preference for sustainable and eco-conscious products; however, switching to sustainable practices is a complex transition. On the one side, there is an increasingly competitive market, necessitating eye-catching labels with multiple embellishments and great designs. On the other side, the market that is increasingly environmentally conscious demanding greener packaging without understanding the constraints this puts on the creative output of labels.
'Certain processes, embellishments and adhesives in wine and spirit labels are harmful to the environment. These include the substrate or material, which is the main component of the label constituted of paper and foils, the carrier tape - a component of self-adhesive labels that prevents the label from sticking to other surfaces – as well as adhesives and inks that could include harmful raw materials,' commented Matthias Vollherbst, CEO of Vollherbst. 
South African brands have the additional challenge of factoring additional CO2 emissions into their sustainability balance sheet: whether products are assembled in Europe and then shipped as a finished label to South Africa or whether local suppliers import the raw material from Europe and assemble it locally the carbon footprint remains.
'This is a problem for which we were driven to find a workable solution. We don't want any label supplied by us to cause harm to people, nature, or the environment,' added Vollherbst.
SUSTAINLabel is an innovative technology that offers wineries access to various eco-friendly and cost-effective labeling alternatives. Vollherbst offers these technologies in each step of the labeling process, such as SustainMaterial, SustainProduction, SustainOrdering, SustainDesign, and SustainStory.  
'By individually analyzing labels in detail, we are able to develop a unique SUSTAINLabel solution for wineries,' said Vollherbst. 'In this individualized process, Vollherbst expertly analyses the potentially harmful components of a label, and then present solutions for resource-saving label-production.'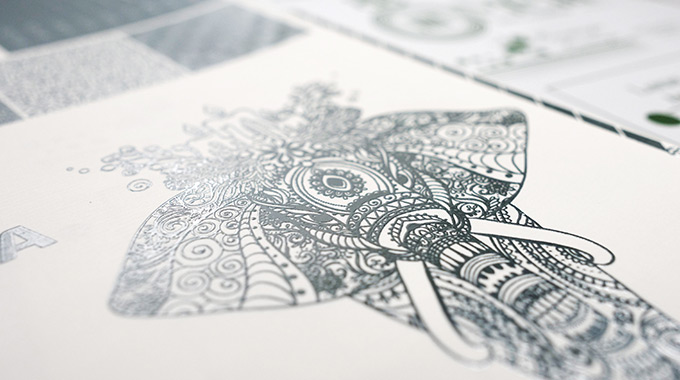 Vollherbst is the world's first print and labeling company (specializing in wine and spirit labels) to test EcoLeaf, a sustainable finishing method that only uses the required amount of metallization to transfer metallic pigments to the labels, without the further use of foil stamps, and this is a solution winery can incorporate when making a switch to resource conservation. 
Vollherbst also has access to various wood-free and recycled papers that are much more sustainable than traditional materials. This option has been embraced by prominent South African gin brand, Inverroche, and Nederburg, as part of their sustainability mandate.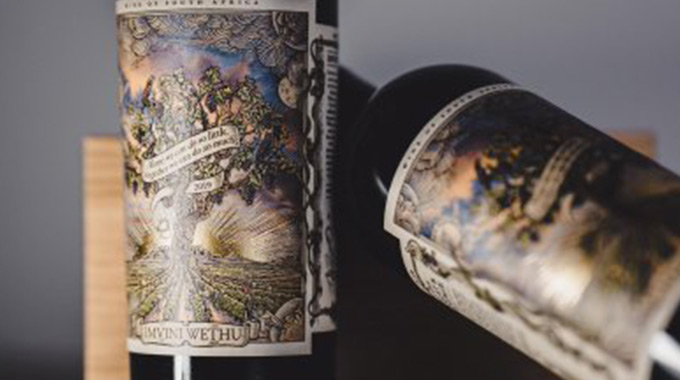 Vollherbst, as part of their SUSTAINStory process, was also integral in the development and printing of the labels for Imvini Wethu, a non-profit wine brand that donates all proceeds to the Cape Winemakers' Guild's Protégé Program.
'We advise clients what elements can (and should) be omitted for resource-efficient production. There will still be resources we take from the environment for label production. To balance this, our company offsets any residual carbon emissions produced by label production in-house by supporting environmental projects,' explained Vollherbst. 'Similarly, the latest printers and print technology at Vollherbst allows labels to be printed in a single run, which also significantly reduces a label's associated carbon emissions. The result: a label with a reduced impact on the environment and which compensates for the harm it still might cause. 
'Even as a low-emitting sector, this industry's impact on its most important resource cannot be ignored – and wineries need to collectively adopt sustainable practices, from vine to packaging, to contribute to a healthy and viable future. We recognize the importance of a realistic approach to sustainability. It is not about throwing money at the problem, it is about doing what you can in an authentic, transparent and traceable.'
Vollherbst is the first labeling company to receive the Fair'n'Green certification, an established system in Germany that measures and rewards businesses based on their ecological, economic and social responsibility practices. These practices include solar energy from panels installed over a decade ago, a switch to green electricity, and fully digitalized core processes.