Read later
Xeikon to launch new technology for full digitization in print
Xeikon has launched new digital printing technology in the last year and plans to launch new services to add to Xeikon's Solutions and Services (XSS) and aXelerate programs.
Among the new launches last year were digital production presses.   
Xeikon Cheetah 2.0 dry toner technology is now cloud-connected with man/machine and machine/machine interfaces where the machines are in constant communication with each other, driving and monitoring print jobs with full automation. Earlier this year, Xeikon introduced two new models: the CX30 and the CX50 entry-level dry-toner presses. Important to note that with each cloud-connected technology, operators can monitor print manufacturing from anywhere on the shop floor by viewing the interfaces/dashboards 24/7 on a smartphone or any other device.   
New Panther 2.0 UV inkjet models will include the Xeikon PX2200 and Xeikon PX3300, replacing the PX2000 and PX3000.   
Xeikon's Label Converting Unit (LCU) series, formally named D-Coat, are also cloud-connected with machine/machine interfaces. Options include entry-level, wide web, narrow web and high-end as well as modular offerings.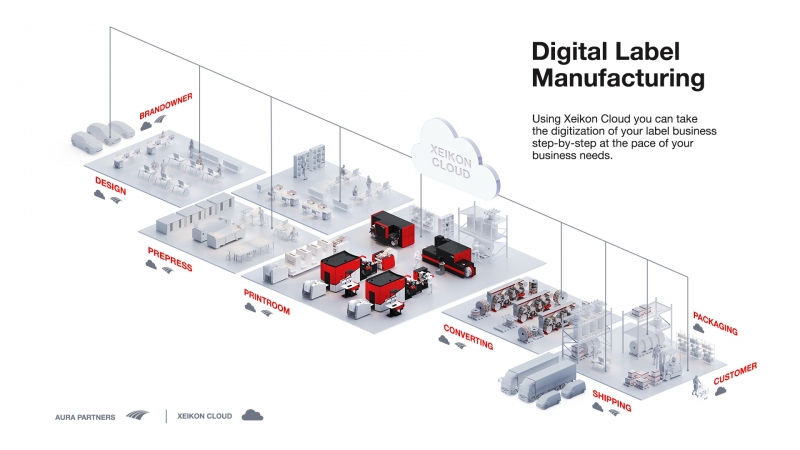 Xeikon is announcing new services to add to Xeikon's Solutions and Services (XSS) and aXelerate programs.  
In real-time, Xeikon Business Services (XBS) can translate data in the cloud from machine to machine and provide necessary and in-depth information on a dashboard that is available on any smartphone or device. With Xeikon XBS, printers and converters can check the performance of any press or piece of equipment at any time 24/7. XBS will be launching soon in North America.  
Xeikon Performance Services (XPS) will be included as a standard for the first six months with all press investments. This software will highlight and visualize any key feature that needs adjusting, including maintenance issues, training schedules or applications check. This service will be offered to support customers in their digital start-up phase. It will also provide Xeikon with the information needed to help their customers become operational faster when embarking on their digital journey. XPS will be offered first in North America.   
Xeikon's XCS Pro 2.0 is a cloud-connected breakthrough in color management, it is an automated toolbox. Extra capabilities include full automation for 'on-the-fly' profiling, color profile monitoring and adjusting. It is now possible on a Xeikon press to automatically recalibrate the color profile when an issue arises. The operator is alerted automatically, and the problem is automatically escalated to the production manager if it persists. Importantly, XCS 2.0 can now be used for making color profiles on flexo press, offset press, screen printing with digital or any competitors' press.   
A fundamental and key component of the workflow is Xeikon's X-800 Digital Front End (DFE). The X-800 unifies every facet of Xeikon's digital portfolio. The label version of the X-800 will now include Xeikon Vari One variable data workflow and combine it with Panther durable haptic printing and with Xeikon's FEU (Fusion Embellishment Unit). The X-800 will drive both the Panther and the Cheetah series of presses towards digital transformation.