In an extract from the Label Academy book 'Flexible packaging', Mike Fairley and Chris Ellison examine the various types of flexible packaging which can be converted by label printers using narrow or mid web presses.
Flexible packaging can be defined as primary packaging without any fixed shape that is designed to hold products, goods, solids, liquids, creams, pastes or powders. 
A range of factors need to be taken into account when designing flexible packaging for a particular application. How will the products be inserted? What protection is required? Will the packs have to lay flat? Will they need to stand up on a supermarket shelf? How will they be opened or emptied? Do they require a re-closable feature? How are the packs to be sealed or closed? Do they require an easy carry handle or feature? What about hanging holes? How will they be transported?
Providing added-value features can significantly enhance the value of a flexible pack. Such features can include flip-top caps, pumps, gussets, squeezability, easy-open features, notch options, dispensing possibilities, pre-made straw holes, self- heating pouches, aseptic pouches, child-resistance, tamper-evidence, pourable spouts, zippers, and tear-off pull tabs. 

Flexible packaging types will often overlap: pillow sachets, pillow pouches and pillow bags are all essentially the same, for example. The difference comes in the size of the pack. Pillow sachets are generally quite small and can be printed and produced on a narrowand mid-web press, while pillow bags (depending on size) are more likely to be produced on mid- and wider web presses. Sacks and other larger sizes are not the kind of products capable of being produced on narrow or even mid web presses.
More recent developments in flexible packaging have included the evolution of spouted packages. Spouted pouches are reclosable, which makes them a good match for grab-and-go products. The pouches can be made with die-cut handles for better portability. In addition to being customizable, reclosable, and portable, spouted pouches offer great flexibility in the types of products they can hold, including food, beverage, condiments, dry mixes, pet food, granulates, and powders. 
Which flexible packaging formats are most suitable for label converters looking to expand their product portfolio?
Wrappers and wrapping 
Of all the flexible packaging types, Twist wrapping is one of the most easily recognizable. Its major advantage is that the ends can be easily unwrapped or untwisted to enable the consumption of small pre- formed confectionery items such as toffees and other types of candy products.
Pre-printed wrappers and decorative wrapping bands are an effective way to provide pack visibility and identity. In many cases products are completely over wrapped in paper, foil or film in a process called Flow wrapping – a horizontal packaging technique used for wrapping both single and multi-pack applications with a continuous flow of wrapping material – so as to form an airtight seal. 
Flow wrapping can be applied to various sized products, but it is most commonly used for smaller items that are either sold individually, or as part of a collection of items in a larger package. The wrapping may be clear or printed to meet different brand and display needs. 

Flow wrapping, sleeve wrapping, food wraps and confectionery wraps are optimum solutions for the growing market for all kinds of snacks. 
Films used for confectionery product wrapping cover the full range of base materials available and are very much dependent on the brand owners' desired retail requirements. These range from highly decorative basic polyethylene bags, to laminated polypropylenes and metalized materials that lend themselves to outer bags, inner wraps and provide shelf-life for ingredients such as nuts. 
Non-food flow wrapping is an extremely versatile packing method that is adaptable for use with many products, including flow wrap for the encapsulation of irregular sized or solid products in clear or printed film e.g. dry, solid products such as sponges, cutlery, cloths, razor blades, soap bars, and even medical devices, hardware and industrial components. 
Flow wrapped items can be presented in either a clear or printed film. Clear flow wrapping is an effective way to package small items inside larger packages, for example free gifts, while printed, full-color flow wrapping is a great way to promote promotional items to their best advantage. If required, holes or slot cut outs can be created to enable flow wrapped packs to be hung on point of sale hangers. 
Flow wrapping has also become increasingly popular for the packaging of promotional items, such as individual portion samples of food or beauty products for door drops, or free gifts for packaging inside cereal boxes. 
Sleeve wrapping is when single or multiples of the same products are wrapped in paper or film, with both ends open. Common uses for sleeve wrapping are for soft drinks bottles or cans, as well as where multiple units are wrapped together.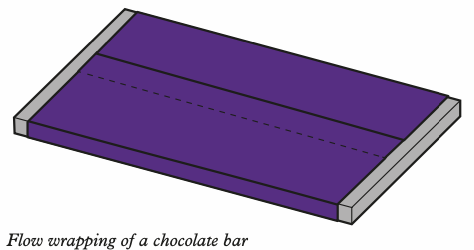 Pouches
There are numerous sizes, formats, styles and shapes of flexible packaging pouches that can be produced by label converters. Pouches can be quite simply described as small bags that are most usually constructed by sealing one or two flat sheets along the required edges. There is generally no clear distinction between a pouch and a sachet other than a common understanding that a sachet is much smaller. 
The most widely used of all the flexible packaging pouch products are pillow pouches and stand-up pouches, with the former expected to achieve the highest gains due to their increasing acceptance and much wider usage in the food, beverage and dairy industries. Low cost, high sealing ability and cost-efficient transportation are some of the key properties of pouches that are positively influencing increasing product penetration. 
However, there are many other types of pouches in wide usage, from two, three and four-sided pouches, re-closable pouches, zipper pouches, pourable pouches, spouted pouches, retort pouches and gusseted pouches. The most commonly used of the pouch types are described in more detail below.

Pillow pouches. A pillow pouch is essentially a bag or pouch in the form of a tube that is sealed at both ends. They are most commonly produced on vertical-form-fill-seal (VFFS) machines (which will be described in Chapter 5) and are characterized by seals across the top and bottom of the pack and a longitudinal seal going down the center of one of the faces. 
Pillow pouches are used for the packaging of a wide range of food liquid products, pasteurized or sterilized, including milk, fruit juices, cream, sauces, soups, water, etc, in sizes containing from 30ml to five liters, and running at filling and sealing speeds up to 200 pouches per minute. 
Non-food applications for pillow pouches are as diverse as liquid detergents, distilled water, oil, washer fluids, liquid soaps, shampoos, pet foods and vegetables. 
Some of the other types of pillow pouches include the three sided-seal pouch. This is a pouch that is formed by folding the web material into a U-shape and then sealing the three open sides. The pouch may be made with a gusseted bottom. Three-side- seal pouches are typically made on horizontal form-fill- seal machines.
Four-side-seal pouches are pouches produced with seals along all four edges. Four-side-seal pouches can be made from a single stock or the front and back can be different stocks, as long as they have heatseal compatibility. These pouches are most commonly made on multi-lane pouch-forming machines where 16 or more pouches can be placed across the width of the web. 
Gusset pouches are produced to incorporate a fold in the sides and/or bottom of the pouch, allowing it to expand and provide a 'stand-up' feature when contents are inserted. However, incorporating side gussets will increase the overall pack size, making it too wide for printing on a narrow- web press. Although gusseted pouches may seem to serve a similar function to stand-up pouches, their construction is quite different. Only the front face, and the back faces either side of the seam, are decorated.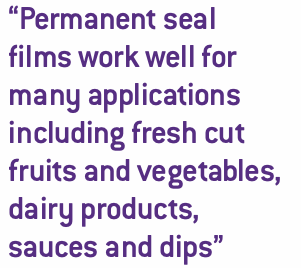 Stand-up pouches are essentially a laminated film bag, typically made of plastics or a blend of plastic film and aluminum foil, that is able to stand-up on a shelf or display area. They can be decorated front and back with high quality color printing, logos, or exciting designs, so the potential to really make an impact on retail shelves is very high. Stand-up pouches are excellent options for both dry food packaging and for a range of liquid products.
Made from a continuous web of material, the first step after the film is printed and supplied comes in the stand-up pouch manufacturing process when the material is passed through a set of ploughs that fold a W-shape gusset into the bottom, so it can stand up. 
Single or re-fill stand-up pouches in particular, are being used for an increasing range of products, from liquid detergents to beverages and lubricants – and this is expected to continue to grow rapidly. 
Stick packs or stick pouches are narrow tube- shaped flexible packaging paper or laminate pouches with a fin seal running from top to bottom on the back of the pack and sealed horizontally across both ends. They are commonly used to package single-serve powder beverage mixes such as fruit drinks, instant coffee and tea, sugar, sweetener and creamer products. They are easy to open and simply require tearing at the top to enable the contents to be tipped or poured into bottle, cup or mug for use. Tear notches or laser scoring options for opening may also be incorporated.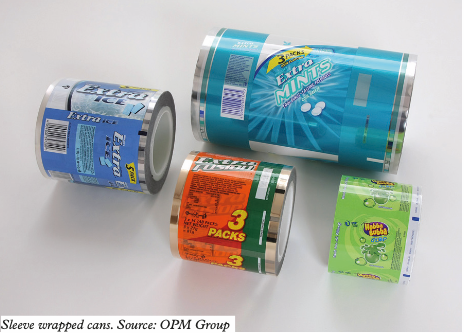 The popular retort pouch is a flexible laminated food package that can withstand thermal processing. The choice of materials for the manufacture of retort pouches is very important. The material must have sound structural integrity and be able to withstand retort temperatures generally around 121 deg C, as well as normal handling conditions. A hermetic seal is achieved in retortable pouches by the fusion of two heat-sealable layers (such as polypropylene) to each other. 
Zipper pouches consist of a flexible plastic pouch with a molded-in-place sealing device wherein a projecting rib or fin is inserted into a mating channel to effect a closure. This will add to the overall pack size. Zipper seal pouches can be repeatedly opened and closed as often as desired. The contents stay fresh and optimally protected. The Zipper pouch represents supreme convenience for the end-consumer, being convenient to handle, re-closable, and easy to carry thanks to lightweight packaging. They are easy opening, and preserve the flavor and texture of the contents. 
Spouted pouches are a lightweight and convenient alternative to holding liquids, pastes or loose materials which are mostly packed in conventional bottles, canisters or buckets. Quite simply, a spout with screw cap is integrated in the top fold or corner of a pouch, offering both convenience and reclosability. Compared to rigid containers or boxes, spouted pouches are lighter in weight and more sustainable due to the reduced amount of material used. They can be easily filled and transported cost-efficiently as the pouches are space saving and offer more packs per unit. Handles can be incorporated on the back of the pouch to provide easy handling, even when holding as much as five liters.
Spouted pouches offer a large communication area on each face, which is ideal for branding and eye-catching designs. High-quality printing in up to eight or ten colors and maybe special inks (e.g. metallic) ensure an attractive appearance for potential buyers at the point of sale. 
Sachets
As mentioned earlier, a sachet can be defined as a small pouch – ideal for the printing of shorter runs by narrow and mid web label converters.
A variety of materials can be used for sachet production, including paper, aluminum foil, paper backed foil and PET foil. Individual packs can be designed and printed in a range of colors to reinforce branding, as well as displaying all the required regulatory and product information. 
Different size and shape variations of sachets can be filled with an ever-increasing range of products, including powders, tablets, capsules or liquid.
Sachets are produced as two basic types: a fin seal type which is a face-to-face seal on each side of the pack and a pillow style which has a crimp seal on the top and bottom edges, together with a flat seam running down one side or on the back. 
The majority of machines used for these types of operations, are of the vertical form fill seal type, although horizontal form fill seal equipment is sometimes employed.
Sachets are often the first choice for packaging many food, medical, cosmetic and household products. The distinct advantage is that each individual sachet provides the consumer with a new, clean and fresh product each time. The aim is to promote and supply products in convenient, distinctive and affordable portions, so that the consumers get to know and like the brand. Sachets are also ideal for sampling.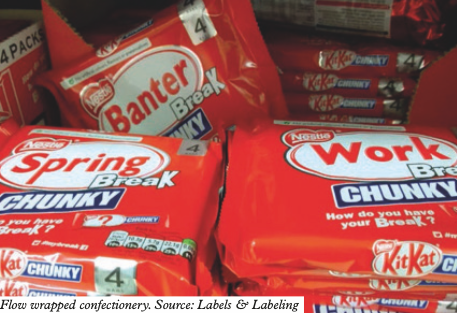 For easy point-of-sale dispensing on hanging displays sachets may be produced with easy-tear notches, and incorporate hanging holes or slots on the top edge.
Correct selection of sachet laminates offers a number of advantages – appealing design and enhanced graphic presentation opportunities (predominately printed by flexo, or digital for short runs, test marketing, etc), and to provide long product shelf life, high puncture resistance, sterilizability, simple handling and easy opening and, importantly, a low weight, which means minimum wastage. 
Applications for sachets are today as diverse as creams and gels, impregnated hand, face or spectacle wipes, liquids, pastes, sauces, creams, personal care and hygiene products, veterinary treatments, powders, granules, medical patches, haircare products, tissue wipes, and a variety of applicators in sachets, such as swab sticks. 
Lidding
Lidding films, made from aluminum lacquer coated and extrusion coated foils, foil/film, paper/film and paper/film/foil laminates are commonly used to seal and protect products such as yogurt, cream, soft spreads, cheese, jams, ready meals, seafoods, cosmetics and veterinary products that have been packed in tubs, jars, bottles, plastic or metallic trays. In addition, they provide an ideal marketing platform and an important decorative and branding function. 
Most lidding films are designed to be peelable to allow easy access to the pack contents, although peel and reseal, permanent seal and also rigid lidding may also be used for some applications, the latter for ice creams.
Peelable lidding films are used to seal to a variety of trays and containers and are ideal for many applications including dairy products, dips, sauces, processed meats, salads, microwaveable meals, and more. Both high barrier (for extended shelf life) and non-barrier lidding materials are available depending on the requirements, as well as permanent seal (also known as weld and lock seal) and peel and reseal lidding films that can keep food on the go and prepared foods fresher for longer than products that do not have re-sealable lids.
Multi-use peel and reseal lidding films are designed for rigid or semi-rigid HDPE and PE thermoformed trays and cups and conveniently peel and reseal up to ten times to ensure safe storage and product freshness.
Permanent seal films work well for many applications including fresh cut fruits and vegetables, dairy products, sauces and dips. High-clarity films are available in low-barrier, standard-barrier, and high-barrier structures. 
Lidding may be supplied by the converter in daisy chain, die-cut and roll formats. 
Daisy chain flexible lidding, in which each lid is connected in a single continuous chain connected with a lid tab, is commonly used to seal small diameter containers. The lid rolls are unrolled on the packaging machine, sealed, and individually cut with a single cut in the tab area. A wide range of material structures are used, including aluminum, polyester and paper polyesters. 
Daisy chain lidding – printed or unprinted – is widely used for portion control and single-serve packaging, from dipping sources to creamers and dressings. The processing stages of this type of lidding will be familiar to label converters, involving printing, inspection, die- cutting, waste removal, slitting and rewinding. 
Die-cut flexible lidding is pre-cut (including a pull tab) to virtually any shape or size of container by the converter. The lids, which may be aluminum, aluminum laminate, co-extrusion, heatseal lacquer or plastic materials in various thicknesses and sealing layers, are subsequently loaded in stacks on fill/seal packaging machines and dispensed as the machine runs. No cutting is required on the fill/seal machine.

Die-cut flexible lidding is used on products within the convenience food market, such as pasta, noodles, breakfast cereals, yoghurt and ready meals, as well as commonly used to seal larger diameter containers running on high-speed fill/ seal packaging machines. They offer high puncture and tear resistance. 
Rollstock flexible lidding is provided in rolls (web) and then cut on the packaging machine. Materials are available for all application requirements from basic structures to sophisticated high-barrier constructions, including laminate, co-extrusion and heat-seal lacquer technologies. Rollstock lidding is most commonly used to seal containers running on fill/seal, and form/fill/seal packaging machines. 
Design and construction 
As can be seen from the various flexible packaging images, there are many different ways of constructing bags, pouches, sachets and lidding, many of which are suitable for narrow and mid web converting. A key constraining requirement for the label converter is the press web width in relation to the lay-flat total open pack size. For narrow web presses this may only be one pack width across the web (typically around 310-330mm). Mid web presses may achieve two packs across the web with smaller packs. It should be noted that the incorporation of zipper and reseal features will have an impact on the pack design and reduce the available print/ promotional area. 
---
To sign up to L&L's new subscription service, which allows unlimited access to all Label Academy book content and master class recordings, go to labelsandlabeling.com/label-academy