Read later
AKO Flexo sets up production unit in India
Gujarat-based flexo press manufacturer AKO Flexo is setting up its production unit in Mundra seaport for sales in India and overseas.
The company already has a manufacturing plant in China that will continue to operate for the local demand. The new India plant will be operational by March 2023.
Starting in 2014, AKO Flexo is a flexo press and label finishing equipment manufacturer. The company is jointly owned by three partners in India, China and Canada who have more than 40 years of industry expertise each. The manufacturer has over 80 installations in several countries, including the US, Italy, the Middle East, Africa, Canada and India.
The company's R&D and design center are based in Canada, with a manufacturing unit in China. AKO imports 80 percent of its raw material from Japan and Europe.
Ashish Patel, CEO of AKO Flexo and one of the partners in the company, has been working in the printing and packaging industry since 1986. He started his career in the industry with a humble print shop which gradually grew into a profitable printing and packaging business Gujarat Print Pack Publications, by 1995. Patel purchased his first flexo printing press in 2000. His son, Shail Patel, joined the family business in 2014 and heads the printing and packaging business.
Patel met with the Chinese partner during an industry exhibition and joined hands with him in December 2019. He says the company could have sold more presses if it wasn't for the pandemic.
'Both of our partners are very excited to start manufacturing in India. We will have a good future if we manufacture here. Manufacturing in India also gives them confidence that we are a family that can provide immediate support and service,' he says.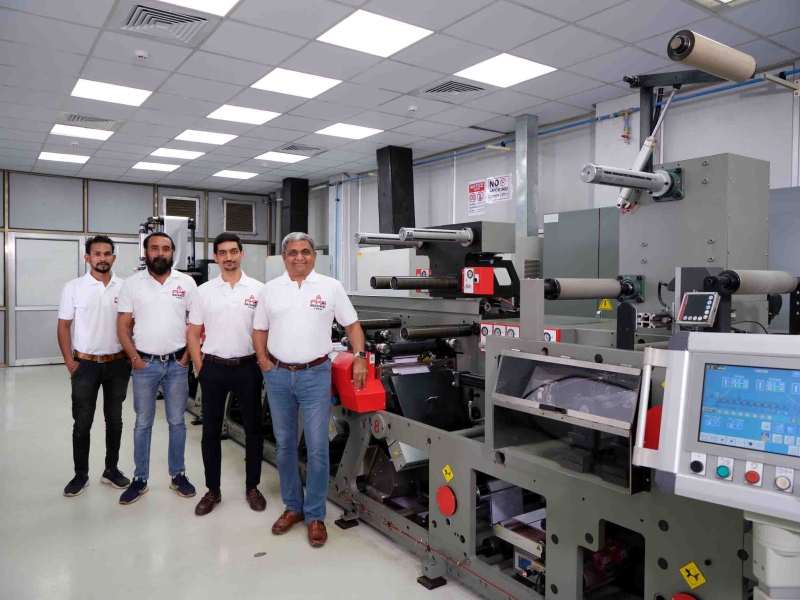 The new 20,000 sqft production unit is currently under construction and will facilitate exports from India.
'We have highly skilled five engineers in Delhi and Mumbai. All machines in India were installed by them without the support of the Chinese team due to travel restrictions,' Patel says.
The company has invested 3 million USD in the India plant. Around 1m USD is already invested, and the rest will be invested once the factory is set up.
The development will take place in two phases: assembling quality control and fine-tuning machines and adding automation capabilities.
AKO will also focus on marketing from India. It already has a demo center in India for the purpose. By the end of this year, the manufacturer will have installed eight to 10 flexo presses in India. AKO has sold eight flexo machines in India in 2022. Out of the nine machines installed, five are already in production.
The raw materials suppliers' presence in India and China also plays in favor of AKO.
AKO will manufacture full servo-driven flexo presses in the new plant run by a new team. The Chinese counterpart produces flexo presses and other equipment, including hot melt coater and label finishing machines.
Its flexo presses come with inline units for roto gravure, rotary screen, and turret rewinder. The company is developing flexo and web offset combination press which will be launched next year.
The combination presses can be customized for specific applications. The company has installed its combination press at one of the largest converters in China.
'We see a bright future for combination presses for laminates and shrink sleeves. We receive more demand for them, including flexo roto gravure and wide web presses,' Patel adds.
AKO currently offers 520m wide presses and is developing 650mm presses which will be available by March 2023.
'Our machines are as good as any European brand. We provide features that no one else is providing at the moment. The build quality and consistency are just as good as European machines at a reasonable price,' Patel claims.
The company has a few patent technologies, which he believes give its products an edge in the market. 'These features are something you wouldn't find on any Indian or European machines.'
For example, he says, the ink chamber system is temperature controlled to resolve viscosity problems. And semi turret rewinder comes standard on its machines.
The company will participate in Labelexpo India 2022 from 10-13 November 2022 at India Expo Mart and Centre, Greater Noida, Delhi NCR, India. It will display its 330mm 8-color flexo printing machine with add-on features.