UK-based commercial printer Print-Leeds has opened a self-adhesive label division after investment in a Screen press, ABG finishing equipment and Cerm MIS.
The pandemic presented the global population with a series of challenges. We have been asked to stay safe, adjust our lifestyles, isolate and convert face-to-face relationships with our family and friends into virtual meetings to mitigate potential health risks. 
Many of us have started new hobbies and taken on new projects. However, Rod Fisher, managing director of Print-Leeds, went a step further – setting himself a year-long challenge of putting together the finance and the team to take a new self-adhesive label division to market. 
'Adding self-adhesive labels to our offering is the obvious progression for the company,' says Fisher. 'It's been a real lockdown challenge for me, organizing the finance and recruiting the team, and when Covid-19 hit, I didn't think I'd be able to achieve it. I thought my plans would be delayed. Given our impressive infrastructure, experience and expertise, we are ideally placed to make good in-roads into the self-adhesive label market.'
The new division represents further evolution for Print-Leeds – which started as a repro house before moving into printing in 2001 and label production in 2013 – and the perfect accompaniment to its offering. The company is renowned for its wet-glue labels, which it supplies to the food and beverage industries, and has operated a digital printing division since 2009. 
In 2017, the company invested in a new GBP 2.5 million Heidelberg XL106 7-color press with coater, to run alongside its existing Heidelberg 7-color UV litho press. This was part of a planned GBP 5 million investment to double the company's production capacity, streamline production, provide greater flexibility and bring in-house the all-important contingency option to produce wet-glue labels, composite tube wraps, litho box laminates and UV litho work.
Currently, Print-Leeds is the sole supplier of labels to brewing giant Marston's, which recently merged with Carlsberg UK. The company also prints labels for other household beverage brands such as Fentimans, cider producer Aston Manor and The Black Sheep Brewery. It is one of the largest printers of wet-glue labels in the UK, producing more than 200 million per year. However, Fisher says: 'Self-adhesive labels can be applied much quicker and on a wider variety of products. It was important to invest in the technology to serve this growing need. Many clients were asking if we could also print self-adhesive labels digitally for shorter run productions.'
Pioneering investments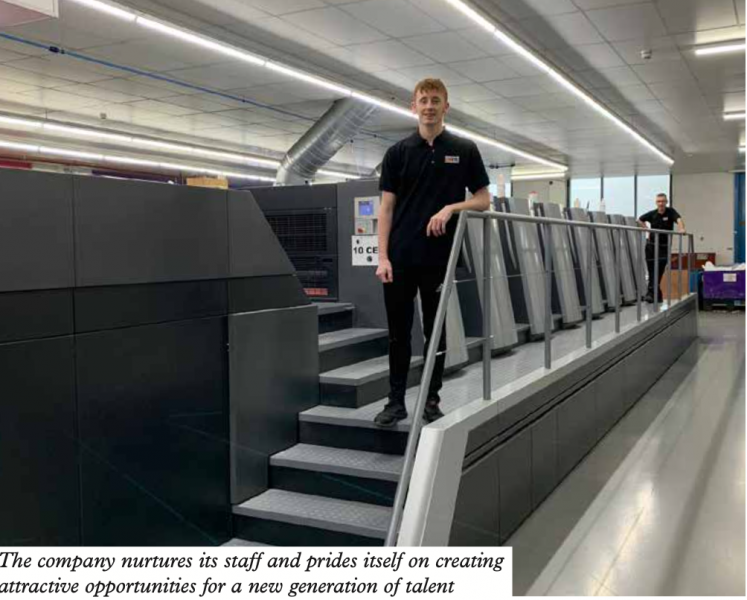 After looking at many digital label presses and a variety of finishing equipment, the company invested in a Screen LS 350 SAI inkjet press, offering an almost limitless combination of options to fully customize labels of all shapes and sizes using a full spectrum of colors. The Print-Leeds' Screen LS 350 SAI digital press specification includes impressive features, such as a 333mm print width and seven colors, including opaque white. It gives a premium print resolution, with operating speeds of up to 60m/min.
'We have a long-standing relationship with Screen. We trust the staff we deal with, and that's worth a lot,' explains Fisher. 'The SAI S 7-color has delivered with the same top-quality service we expected. Since it was installed just before Christmas, we've done numerous quality trials for different customers. Everybody is happy with the vibrancy of the colors. 

'On top of that, the SAI S 7-color can achieve a much wider range of Pantone colors thanks to its very wide color gamut. Many beer labels have special colors, so we will be able to meet the growing demand of craft brewers and big brewers alike. The set-up times are so much quicker. When we print wet-glue labels, we have 500 to 1,000 sheets of waste. That makes sense for a long run, but not for the shorter ones. With the SAI S 7-color, we are looking at a waste of only 15 meters. The machine is already opening up new avenues for us in other sectors such as cosmetics and the car industry.'
The new press was quickly followed by investment in an A B Graphic Digicon 3 finishing machine, tailored to the company's requirements to allow embellishment of labels with tactile varnishes and other special effects. The Print-Leeds' bespoke Digicon 3 includes a flatbed screen printing module to add value with relief varnishes or vibrant screen inks, a delamination and relamination module for double-sided labels, two flexo modules, and an autoslit module to keep time-consuming make-ready times to a minimum.
'The investment in Digicon Series 3 is an important factor in making that happen, allowing us to create a clear and competitive advantage from the outset,' says Fisher.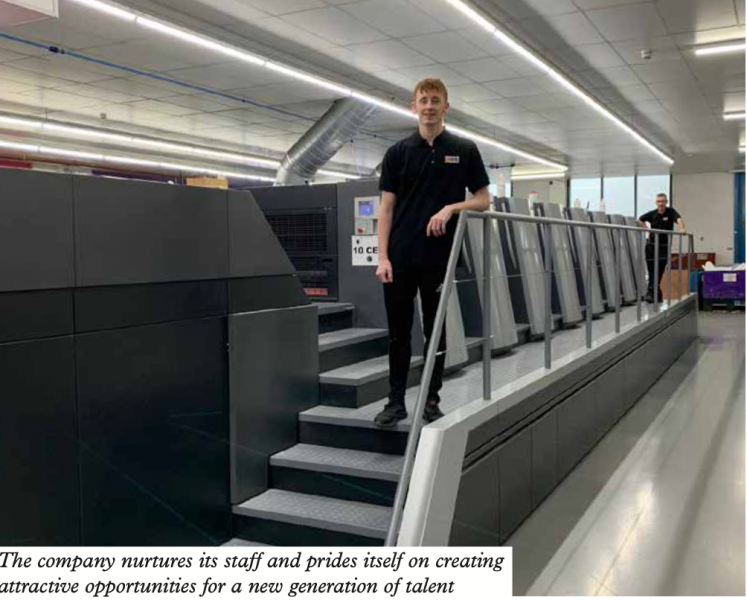 Mark Hyde, ABG's sales manager, elaborates on their shared vision: 'We are delighted to supply Print-Leeds with the Digicon Series 3. As a new customer, hopefully, this will be the first of many items of ABG finishing equipment. We fully share their drive and commitment to always delight the customer, and we look forward to following their progress in the future.'
The investment in the new label division also included innovative internal systems. In 2021 Print-Leeds bought a Cerm MIS system, which has introduced several operational improvements, starting from initial inquiry through pre-press to printing, delivery and invoicing.  
'Over the years, I have made a point of investing in new equipment, so we are the most technically advanced printer,' reveals Fisher. 'This technology means we can print the best quality products for our clients. I don't believe in the cheapest being the best – it's the same with whatever you buy. Our clients stay with us because we print a high-quality product and provide superb customer service.'
Fisher's words are backed up by his investment history. The company's Screen LS350 SAI is the first in the UK, as was its Heidelberg 74 UV press a few years ago.
Expanding team
The company has made several appointments during the Covid-19 pandemic to strengthen its team, as label production has ramped up since the first lockdown announcement in March 2020.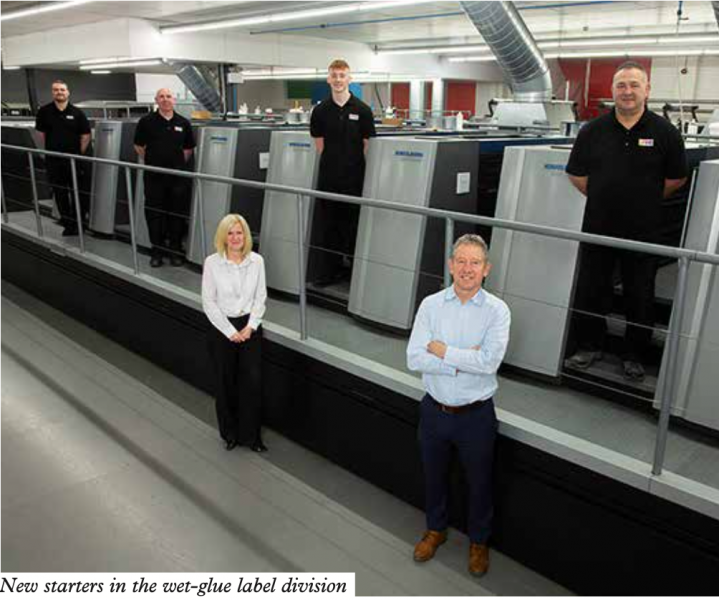 'On the labels side, we've been lucky to get more work and employ some highly skilled people from the industry,' remarks Fisher. 'We've been open and producing the whole way through. At the beginning of the March lockdown, we furloughed a third of the staff, but everyone returned to work over the summer. We have been operating using the government's health and safety guidelines with strict social distancing. We moved four years ago to a 30,000 sq ft factory which has meant we've plenty of space to keep our staff safe.'
The new division has created six new roles – three new salespeople, one new IT and estimating position, and two technical staff deployed to operate the equipment. Malcolm Bunn, who has a wealth of knowledge and experience in the self-adhesive labels market, has joined the firm as sales director, with Chris Whitehead and Jerry Dugdale joining as sales executives. Sam Nightingale-Smith has joined IT and Estimating and spearheaded the transition to the Cerm management information system.
Print-Leeds is a company with a conscience. It nurtures its staff and prides itself in creating attractive opportunities for a new generation of talent. 
'We have a policy where we try to bring a lot of young people in. I give talks to Leeds University students, trying to give them advice on how to join the printing world, how exciting it can be,' says Fisher. 'Most of them do not think of printing as an exciting career path. We've been able to take on another apprentice – it's great to bring young people into the business straight from school. Jake is a real asset – he loves machinery and engineering, and with us, he can work on the latest Heidelberg machines and learn the technology.'
Ambitious plans 
'Covid has brought with it all sorts of challenges. Parts of the business have steadied while others are still trying to get back on their feet,' answers Fisher, when asked about the company's future. 'As well as printing labels for the food and beverage industries, we also produce print for retail, travel companies, events and exhibitions, which have not recovered yet.'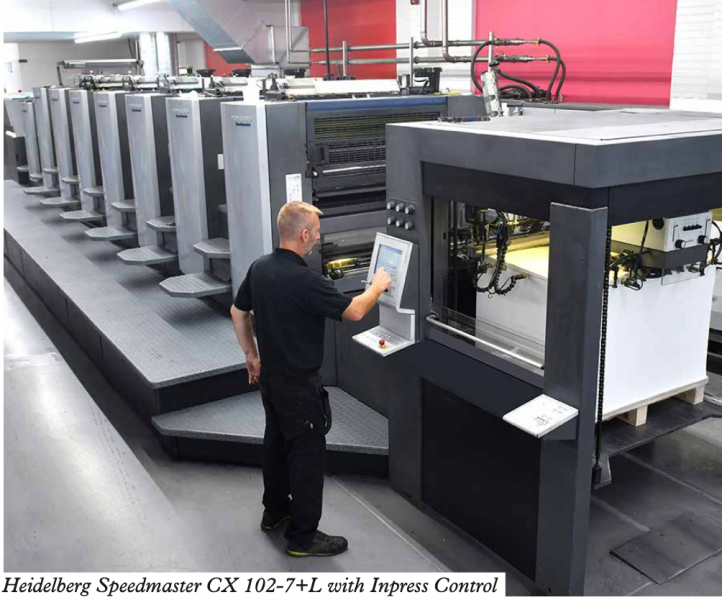 With its 30 employees, Print-Leeds has a turnover of GBP 4 million. Despite the pandemic's impact, Rod Fisher plans to double the company's size within two years. 
'We expect the economy to bounce back after the pandemic, and we've made all the investments to be ready for it. I already have an ambitious plan for this year. We are going to diversify again. Everybody knows us as a beverage label printer, so we are trying to print in other sectors. I enjoy business, and I enjoy the cut and thrust. We have a lot of energy within the company to continue developing.'