Labelexpo Americas 2022 - show floor sales
Labelexpo exhibitions have a reputation for a significant number of equipment orders being signed and initiated on the show floor. The Americas edition was no exception.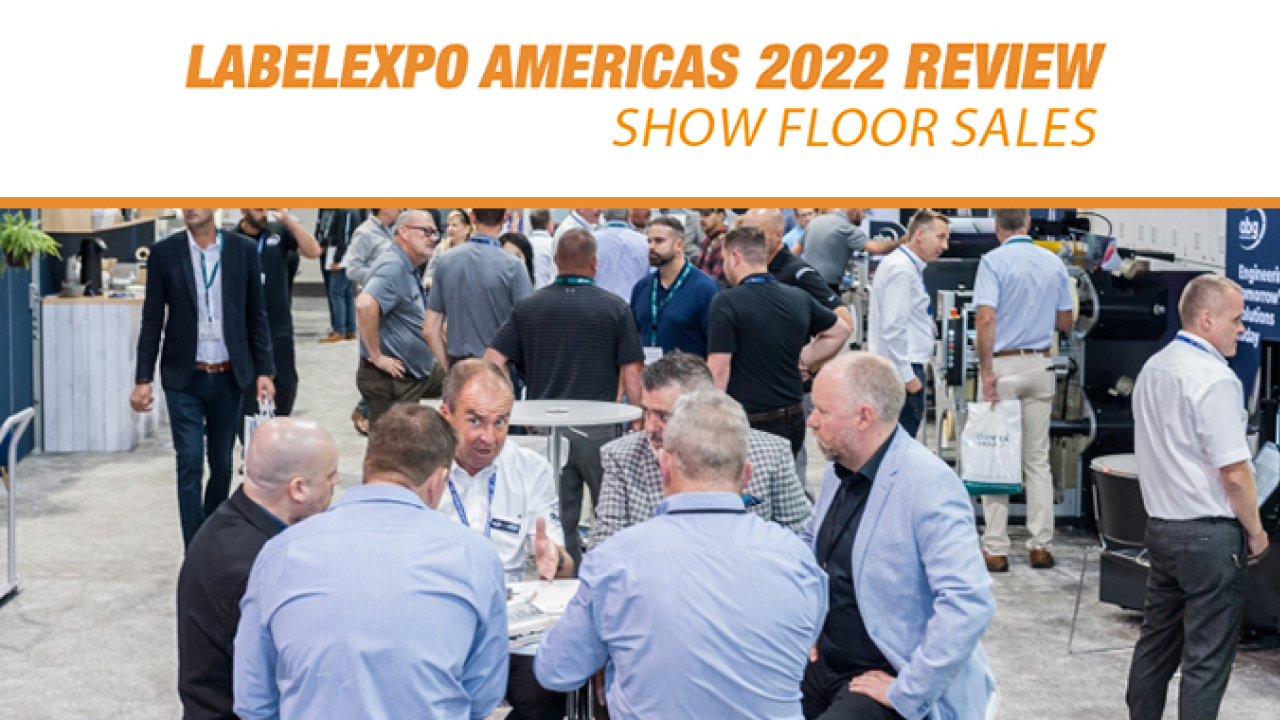 HP Indigo's label production portfolio allows converters to capitalize on the growing advantages of digital printing. And it was clear from the event that an increasing number of industry professionals were looking to do just that. In fact, throughout the show, 16 letters of intent for the HP Indigo V12 digital press were signed by 11 customers in North America and five in Europe.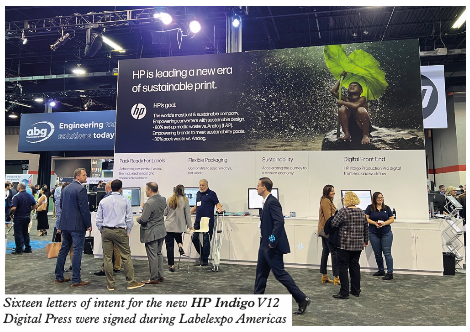 'Labelexpo is a selling show, and this year's event did not disappoint,' says Bryan Topham, marketing manager for labels and packaging at HP. 'It was the first big label event in a couple of years. It was evident by the energy and excitement within our booth that this community was ready to get back to business and HP was there to deliver. HP does not share sales information; however, I can say we have signed multiple letters of intent for our new HP Indigo V12 digital press. We have been selling label presses to commercial printers entering the label market and are working with several existing customers to add additional presses to meet their growth demands.'
In line with 'digital transformation' the Mark Andy's stand was dominated by digital and hybrid technologies. According to the company, label converters commented on its continued strong profile in the label market, saying that it would be influential in their future investment plans. Under discussion were the first pilot installations of the new Digital Pro Max press as well as many other sales leads for hybrid inkjet-based presses.
'This year was one of the most successful Labelexpo Americas we've participated in,' says Tom Cavalco, executive vice president of Mark Andy. 'It was the first global event devoted to label market since Brussels in 2019.  We felt the enthusiasm of visitors who appreciated the opportunity to meet in the real world.'
Xeikon America, a division of Flint Group, returned to Labelexpo Americas to introduce Titon technology, a new toner formulation.
'Labelexpo was truly encouraging and rewarding. For the first time, in some many Labelexpo editions, you felt a positive vibe from label converters across the Americas,' says Filip Weymans, VP of marketing for Flint Group Digital. 'We are already looking forward to Labelexpo Europe.'
Danish finishing equipment manufacturer, Grafisk Maskinfabrik (GM) showcased six machines, highlighting the company's latest innovations for converters in the narrow and mid-web segment. GM's lines on show were featuring Industry 4.0 compatibility and cloud connectivity for future-proofing investments. 
GM set a new record for sales at Labelexpo Americas this year. The sales included Canadian Cambridge Label and Altura Packaging, which invested in a GM DC330Mini compact finisher and finalized the deal during the show.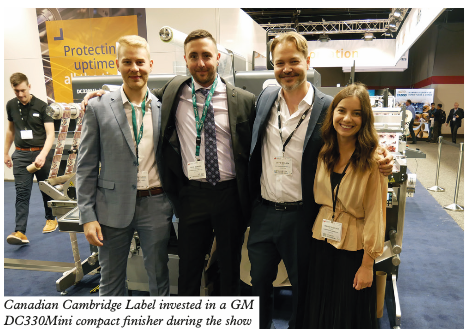 'We are extremely grateful to our new and repeat clients who like the high quality and latest innovations in our products,' says Uffe Nielsen, CEO of GM. 'This year we also had the pleasure of speaking at the master classes on digital embellishment and automation. We spoke about strong trends that help drive the label world towards less waste and meet the environmental expectations of modern print facilities. We are proud to see our finishing solutions displayed at four major manufacturers of digital presses - the label world is all about good relations and partnerships. We are looking forward to doing it all again in Brussels next year.'
UV curing specialist GEW reported that the company's return to Labelexpo Americas was also triumphant. GEW's new air-cooled UV LED curing system, AeroLED, was of particular interest to many visitors and contributed to GEW's stand being a hub of activity. 
'With energy costs soaring globally and showing no signs of easing, we have found a dramatic increase in the level of inquiries about our LED systems and the energy savings they bring when compared to conventional UV,' notes Robert Rae, managing director of sales at GEW. 
The company also reported that many of its UV curing systems were operating at the show, with GEW lampheads running on most of the leading manufacturers' presses. 
'Bearing in mind the lower-than-usual number of working presses at this year's event, we were delighted to see an impressive range of GEW lampheads at work. We had 19 full UV systems in operation across nine different press manufacturers. This represents by far the highest number of UV systems on show by any supplier and is a testament to the quality and dependability of our equipment,' comments Marcus Greenbrook, director of international sales at GEW. 'It was great to be back meeting customers and industry friends again after four years. We didn't know what to expect with this being the first Labelexpo for some time, but for us, this was a great show, and our new AeroLED product launch was warmly received with great interest.'
Hybrid Software Group enjoyed brisk business at Labelexpo Americas 2022. It was, in fact, the first major industry event where all the companies in the group exhibited together to demonstrate new products that they had announced before the show, generating a record level of interest in the booth.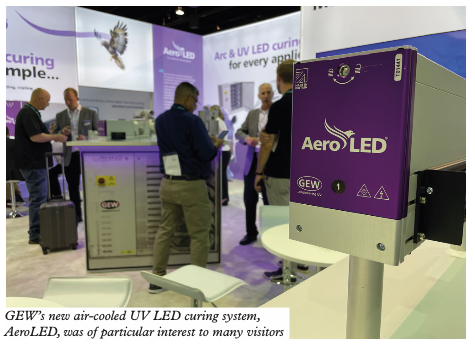 'There was a real buzz on the show floor and a newfound confidence that things are back on a firmer footing after the disruption caused by the pandemic,' says Mike Rottenborn, CEO of Hybrid Software Group. 'Our booth was busy throughout with back-to-back demos. We often rang the "closing bell," booking more than 690,000 USD in business from label printers in Latin America and the US. Interest from OEMs in our SmartDFE solution for industrial inkjet printing was very high, and we expect orders from our OEM partners in the next six to nine months as new digital presses begin shipping in volume.'
Sporting a newly refreshed branding, ABG wasted no time re-connecting with customers, partners and friends and showcasing innovations and technological updates to its extensive portfolio.
Of particular interest was ABG's flagship machine, the Digicon Series 3, displayed for beverage specification, including Big Foot and Flat Bed Screen. With the Digicon and a DigiJet running the same samples during the show, visitors could see the differences in finishing capabilities between the two machines. The SRI3, showcased with new functionalities, was also highly popular, as was ABG's DigiLase for roll-to-roll, individual pieces and A4 sheets, complete with its new decal option. 
'This really was the best Labelexpo Americas ever for ABG,' commented ABG's global sales director, Matt Burton. 'Not only did we re-connect with so many friends across the industry, but we also had a bumper show in terms of sales and deals. It was particularly satisfying to see the extent of our hard work and enterprise since our last Labelexpo back in 2019 really paying off.'
Many visitors flocked to the Dantex Group's stand to witness the launch of its next-generation Pico UV inkjet digital press series. Developed over the last two years, the range includes the PicoColour HD 1200, PicoJet 1200, PicoJet 1200i, and the flagship high-speed model with Dantex's SuperWhite and DecoTactile technologies included as standard.
'Labelexpo, in terms of digital press leads and sales, was our best ever,' comments Ben Danon, CEO of Dantex Group. 'Our sales drive has never been so strong, and we are ramping up the production capacity to meet the industry requirements.'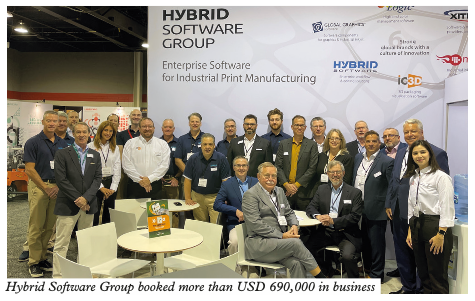 South Korean manufacturer Anytron presented an integration of digital printing and laser die-cutting with its 13in in-line label press Any-Jet III for the first time since its launch in 2022.
'Customers interested in our new press were looking for a compact, easy-to-use machine, which would bring them a high return on investment. Most commercial printers were looking for opportunities to diversify their production and enter the label industry. Our customers can expect time, labor and resource savings and they can deliver labels to end users faster than any other label converters,' states Amy Choi, marketing manager at Anytron. 
Mexico-based converting machinery Dimatra presented a new model of its label inspection and slitter rewinder machine for 100 percent inspection and high-speed slitting as well as the range of its sleeve seamers and cutters.
Eduardo Flores, sales manager at Dimatra, is pleased with the outcome of Labelexpo Americas show. 'It has been a great experience to bring our machines to the exhibition for the first time, and we will certainly do it again at Labelexpo Americas 2024. We sold two of the three machines that we presented during the show. We also generated multiple potential sales to companies in different countries that we hope will be confirmed in the next two to three weeks.'
Epson showcased a wide range of products, including the new SurePress digital label presses, ColorWorks on-demand label printers, and SureColor wide-format printers.
'Our North American sales team and their Latin America colleagues were busy on the Epson show floor from open to close all three days. On the last day, we even had one customer still talking SurePress business as the booth was being dismantled. To me, that said it all,' says Victor Gomez, director of industrial labels at Epson America. 'The conversations on the show floor revolved around the real business issues that converters are grappling with today. They weren't there to hear the usual feeds and speeds. For example, given industry-wide shortages, they wanted to know how the Epson SurePress design could help them minimize media waste. Or, with the trouble everyone's having with recruiting and retaining talent, how will Epson automation lessen claims on scarce labor resources in their shops. These were substantive conversations beyond the smokescreen of specs and brochures. That's hard to do unless you're in front of the press, demonstrating the points they care about as you go along.'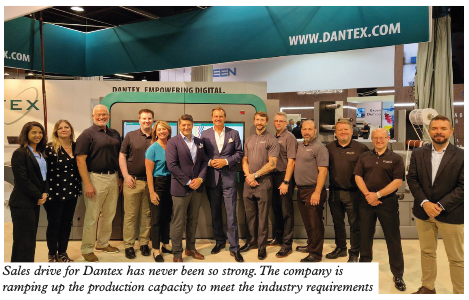 Cartes has reported the success of the tradeshow, as the company collected a wide range of leads for its Italian and New Jersey locations.
'Our stand was always full of visitors from all over the American continent, confirming this as one of the most interesting territories in new developments,' explains Enrica Lodi, sales and marketing specialist at Cartes. 'There is a clear market trend to opt for automated and user-friendly equipment to ease operations and reduce make-ready timing, as well as material waste. Altogether, we create the best match for real, fully automated label finishing.'
Konica Minolta unveiled the new AccurioLabel 400 5-color label press for the first time in the United States. The new device garnered tremendous interest from attendees, with a considerable amount of on-site sales and many more leads expected to convert to sales. The press, built off the company's flagship toner product, incorporates its IQ-520 technology along with an optional fifth color station with white toner, adding a whole layer of capability Konica Minolta hasn't had on the label side of the business until now.
Spanish manufacturer Lemu Group exhibited its new off-line digital finishing and embellishment system MA-350, incorporating robotic roll packaging and complemented with a GTU glueless turret rewinder.
'I can confirm that we sold the glueless turret rewinder with automatic slitting knives setting capability and the end-of-line automatic packaging line to Data Label in the US. This equipment was at the show,' notes Jokin Iruretagoiena, sales director for labels at Lemu Group. 'Besides that, we started serious conversations with different customers to sell the MIDA embellishment we were showing at the show. We hope we will close the deal in a couple of weeks.'

Tectuprint, a Spanish engineering company with more than three decades of experience in the narrow web graphic sector, exhibited at Labelexpo Americas show for the first time. 
It showcased its Semi-Tec 350 hybrid modular, semi and full rotary machine for conventional or digital finishing with flexo module and the option of inkjet printing.
'We were quite cautious with our participation in the show as we did not have any previous experience. We found many attendees who spoke Spanish were visiting our stand. Hopefully, we will be able to confirm a sale soon. Still, with our experience in mind, we have already reserved a prominent space and are looking forward to the next edition in two years,' comments César Barajas, CEO of Tectuprint. 
Labelexpo Americas was also very fruitful for DPR Labeling, an Italian manufacturer, which debuted two new roll-to-roll digital converting machines for mid to high-volume label production.
'This edition of Labelexpo Americas in Chicago for our US company DPR Labeling has been just great, we have been able to close sales with customers we were already in contact with and wanted to see our equipment in action, and close sales with new customers met for the first time during the show. We also have extremely hot leads where we are confident of closing in the next few weeks,' comments Michael Panzeri, vice president of DPR Labeling. 
'We were excited to finally attend Labelexpo after some very uncertain years,' says Mark Hopkins, president of iSys Label, a developer and manufacturer of short- and mid-run digital label printers. We talked to integrators, converters, and brand owners and have verbal sales for a half dozen Horizon presses. We also re-established some legacy partnerships with our resellers, who are all waiting on our demo release.'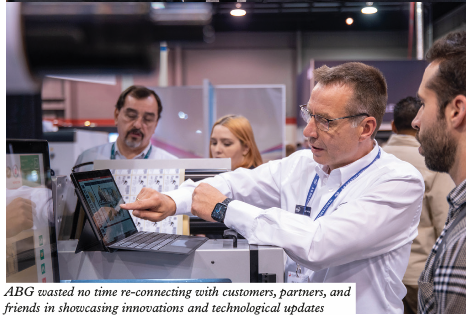 For many businesses, Labelexpo shows are a fantastic networking opportunity, with great conversations and leads that will keep turning into sales long after the show.  
'We were blown away by the sheer number of visitors to our booth and the international makeup of our leads,' says Nick Knezic, president and general manager of KOR Engineering. 'We revived the tradition of meeting our partners and left the show with significant deals and potential prospects. There is no doubt that label printers should return to this show. We are already looking forward to the next Labelexpo Americas in 2024.'
Swiss die-cutting machinery specialist Berhalter could not share any information about potential sales initiated or finalized during the show since its customer journey is an average of five years. However, Angela Büchel, marketing assistant at Berhalter, told L&L it was refreshing to use this platform to meet personally with the company's existing customers and generate new contacts.
'We had a lot of great conversations with customers who showed interest in increasing production throughput with their new and existing lines, which are benefits of the equipment we manufacture. There are a lot of ongoing discussions, and we feel confident the results from the show will be well received,' concludes Derek Wheeler, vice president of sales at Quantum Design. 
Stay up to date
Subscribe to the free Label News newsletter and receive the latest content every week. We'll never share your email address.