A year after its launch, atma.io manages 22 billion items. It can calculate their carbon footprint, indicate the waste saved during production, and help to minimize it even further. 
When Avery Dennison Smartrac launched atma.io one year ago, the vision was to connect the physical and digital worlds by giving each item managed by the platform a unique digital ID, providing end-to-end transparency across the supply chain. 

More than 22 billion items are currently managed by atma.io across the apparel, retail, food and healthcare segments. Six of the top 20 apparel brands globally by revenue and four of the top 10 quick-service restaurants use it daily, drawing multiple and potentially unlimited benefits.  
'Every second, 300 new items are added to atma.io and join the billions it already manages. This is helping to drive savings and sustainability through traceability,' says Max Winograd, vice president of connected products at Avery Dennison Smartrac and the brains behind the platform. 
Having clear visibility through the supply chain has become even more critical during the pandemic, which has disrupted many organizations' operations. Covid-19 disrupted the manufacture of vital components, shipping routes and port capacity and added inflationary pressure and supply shortages. The problem was further compounded in the UK by Brexit, which led to severe labor shortages in sectors including manufacturing and logistics. Identifying where items are at any point in time, and when they are likely to arrive, can help organizations respond to challenges and implement strategies to help avert any crises. 
Extending transparency to sustainability
Traceability offers an unmatched ability to demonstrate to consumers, shareholders and investors where products, and their individual components, have come from, enabling them to comply with tight regulations and an increasingly ethically and environmentally conscious public.
The UN Global Compact Leaders' Summit showed that half of companies globally say that supply chain sustainability and transparency have grown in importance since the pandemic. This, in turn, means that many organizations are increasingly looking to ensure that items are produced and sourced responsibly, drawing on a supply chain that is committed to operating in an environmentally sustainable and morally responsible fashion.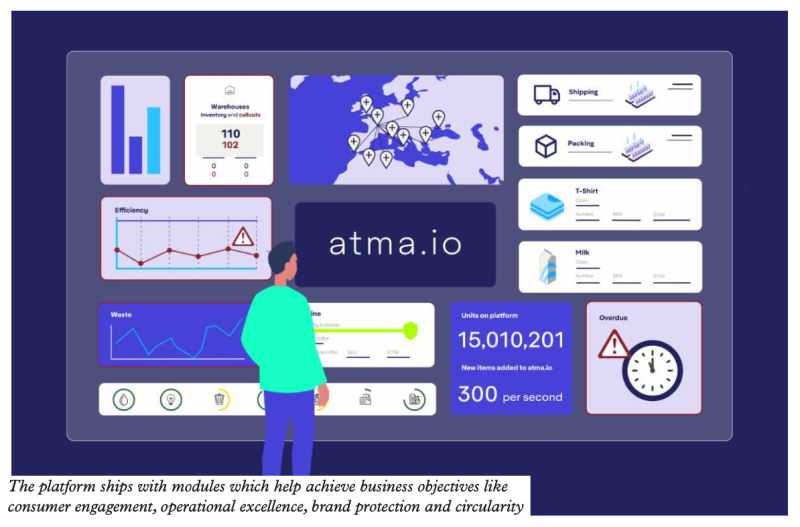 According to Winograd, to take targeted action, we must be able to measure and monitor it. 'We're seeing a tremendous amount of activity around trying to measure what's actually happening today, and then monitor it and take action to reduce carbon emissions in the future,' he says.
The Higg traceability program – a global collaboration between Avery Dennison, FibreTrace and TrusTrace – was the perfect answer for Winograd's ambitions. 
'We're thrilled to partner with these organizations, all of whom are committed to advancing transparency and sustainability, and each of whom brings unique capabilities needed by the industry,' comments Jason Kibbey, CEO of technology platform Higg, which enables consumer goods companies to measure, manage and share the social and environmental impacts of their value chain.
FibreTrace is a transparency technology business combining physical and digital traceability with the power of authentication, aiming to empower the global textile industry to reduce its impact on the environment.
TrusTrace offers a platform for supply chain transparency and traceability within fashion and retail and has quickly become the foundation for some of the most ambitious sustainability programs globally, including a global sportswear brand Decathlon. 
The Higg program aims to put into motion global brands' efforts to track the hidden impact within their manufacturing processes, ensure fiber integrity and understand, communicate and accelerate product sustainability. It is designed to give consumer brands the ability to identify and share the supply chain provenance of billions of items with their upstream value-chain partners and highlight and disclose sustainability information on their own and other e-commerce platforms to the public and other stakeholders.
'Higg is laser-focused on aggregating quality environmental, social and governance data to provide a single source of truth for consumer goods industries. Partnering with best-in-class traceability innovators is critical in helping our customers make better-informed sustainability decisions,' adds Kibbey.
'In collaboration with the Higg platform, we are helping reimagine supply chains for the greater good by combining item-level traceability data from atma.io and environmental and social impact data from Higg,' says Winograd. 'This gives brands and retailers a complete view of their supply chain and an opportunity to provide accurate sustainability insights to consumers and other key stakeholders.'
FibreTrace brings a significant advantage to the program because the technology is implemented at raw fiber source, tracing and verifying it throughout the global supply chain in retail, in addition to collecting primary farm data that is third party verified, adding a new layer of data and depth.
'Without transparency, we can't improve the impact of the global textile industry for future generations,' comments Shannon Mercer, CEO of FibreTrace. 'FibreTrace combines physical and digital traceability for verification of a fibers' sustainability credentials with Higg's ability to incorporate data across every facility in a supply chain. It empowers brands to make the best practice sustainable decisions right from the start.'
Higg's traceability partners will enable blockchain technology to support the tracking and tracing of a product's chain of custody, streamline certification claims, and address material movement, supplier data, consumer engagement and brand protection. The collaborative approach seeks to provide immediate, verified insights to Higg users. It allows brands to fulfill better the public's expectations, the satisfaction of corporate sustainability goals, and the oversight of regulatory agencies.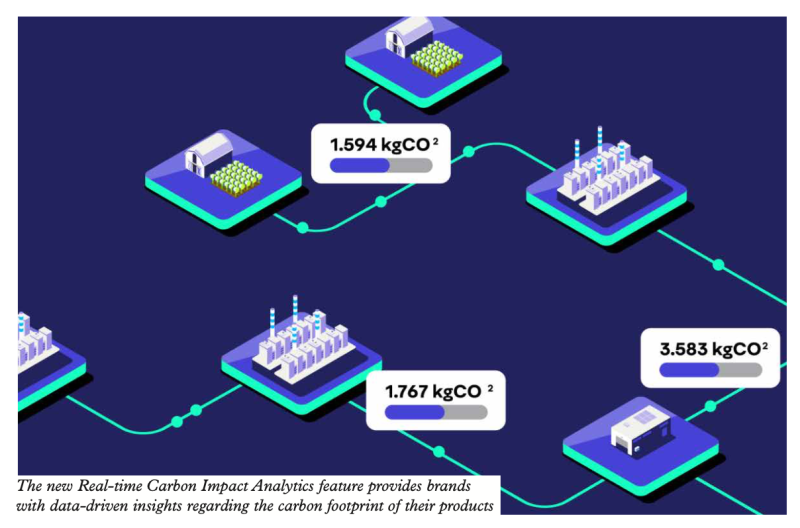 As part of this program, critical social and sustainability data from Higg will also be made available for direct integration into partner platforms, creating more robust technologies for their partners and customers.
'Sustainability cannot exist without traceability, which is why TrusTrace is on a mission to bring true transparency to brands who really want to know what they sell,' says Shameek Ghosh, CEO and co-founder of TrusTrace. 'In collaborating with Higg, our technology can be leveraged to drive more sustainably conscious and socially responsible decisions across the global supply chain while simultaneously equipping the TrusTrace platform with key data from Higg to help our customers make better, more informed sourcing decisions. It's a win-win for all involved.'
Calculating and advising
Following atma.io's recent win in the FDA food traceability challenge and the announcement of its partnership with Higg, the new Spring 2022 release focuses on sustainability and waste elimination.
atma.io's new Real-time Carbon Impact Analytics feature provides brands with data-driven insights regarding the carbon footprint of their products, including Scope 3 emissions and beyond. This powerful tool captures data from every stage of a product's journey, from raw material to consumer, and can help firms as they work to comply with forthcoming EU 'Digital Product Passport' regulations and the existing US Food Safety Modernization Act. 
Third-party manufacturing environmental impact data, including those provided for the apparel industry by the Higg Index, also factors into these insights. This data is then used alongside atma.io's powerful artificial intelligence to deliver verifiable end-to-end visibility of the brand's emissions at an item level across the supply chain. By 'making the invisible visible', atma.io helps enable brands to take actions to reduce their carbon footprint and achieve their sustainability goals. 
The new atma.io Real-time Waste Elimination Tool uses artificial intelligence and machine learning to analyze and alert on anomalies and inefficiencies across the supply chain. This includes information about the overdue movement of products at a pallet level or even isolated individual items within a warehouse that are close to perishing or otherwise lost. These features help ensure action can be taken quickly and proactively to improve the efficiency of brands' supply chains, minimize product loss and provide adequate stock to meet customer demands.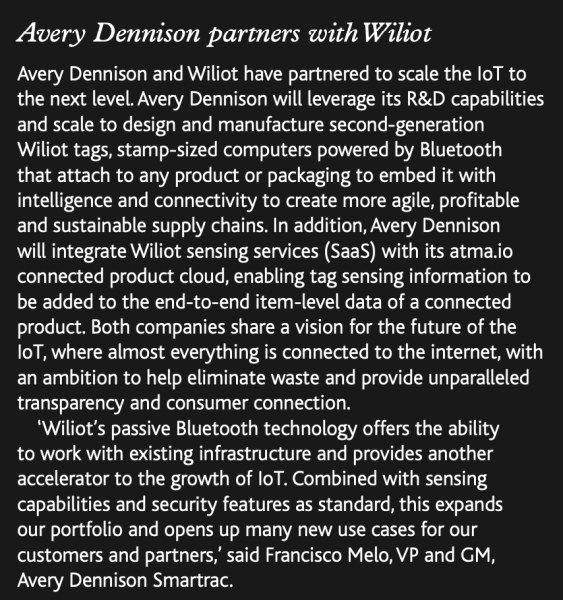 The precise item-level data will provide customers with valuable new insights vital to their environmental, social and governance commitments. 
For example, by identifying items such as food or pharmaceutical products that have been held longer in a distribution center, are nearing expiry, or have a temperature variance, the platform can make alerts to help mitigate those risks – including minimizing spoilage, reducing loss, waste and greenhouse gas emissions – and in turn maximize sales.
'The atma.io Spring 2022 release will empower businesses to get meaningful insights from data that has often been in silos, allowing them to make informed decisions in real-time that can dramatically transform their business agility and accelerate their performance across the bottom line, people, planet and profit,' states Avery Dennison Smartac's Max Winograd.
The platform ships with many modules which help achieve business objectives like consumer engagement, operational excellence, brand protection and circularity. Crucially, however, Avery Dennison does not have all the answers to every unique circumstance, which is why the platform is open to customers, third-party developers, partners and even competitors to build their own modules within atma.io via a new app store.
This openness unlocks every connected product use case imaginable, and developers and partners now can build on top of atma.io's end-to-end platform and unlock new channels for growth. 
atma.io will also continue to add new features and unlock even more value by connecting products to the platform.
---
For further info: 
For further information, go to: www.atma.io