Lucky Saint's iconic label design
Lucky Saint, UK's dedicated alcohol-free beer brand, seeks to stand out in the market by offering a product that excels in taste and craftsmanship. Akanksha Meena reports on behind‑the‑scenes of how the brand's bold and iconic label design came to life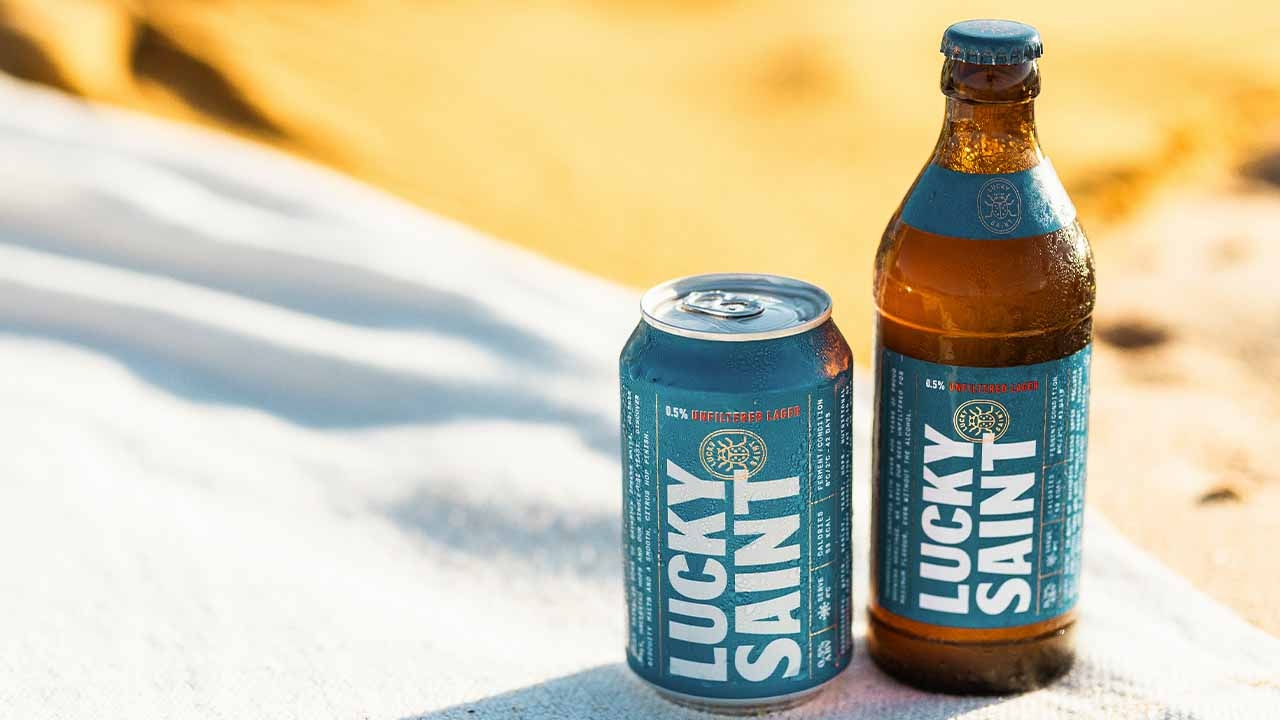 Megan Taylor, head of creative at Lucky Saint, a Bavarian-style alcohol-free lager, shares the story behind the iconic blue label design of the lager. 
The company worked with design agency Otherway, which
has a strong background in branding. The primary goal of the design was to create an iconic brand that stood out in the crowded alcohol-free beer market. The agency looked at brands for inspiration such as Guinness, which excels in doing one thing exceptionally well. Lucky Saint wanted to create a modern and contemporary design that reflected the product's traditional brewing methods and heritage.
Modern design for modern product
The label's colors were inspired by the alcohol-free beer market, where blue is a dominant color. The company wanted to incorporate blue into its label while maintaining a modern and contemporary look.
'I think it's because it's psychologically more of a "clean"
color. But we obviously wanted to sit alongside, rather than do something completely different,' Taylor adds.
The label also includes a mission statement on the reverse side that highlights the brand's philosophy of moderation. The company wants to create a sense of pride in drinking alcohol-free beer.
'Even though we're brewing with heritage and traditional
methods, it's a modern product that is solving a problem for
modern times,' she explains.
'Because it's a Bavarian beer, it's just brewed exactly the same as any other full-strength Bavarian lager. And then we use a process called vacuum distillation to take the alcohol out at the end. And so I think we definitely wanted to mention that on the label as well because it's super important to us. Some other alcohol-free beers are not really brewed, they're carbonated water with flavorings
added.'
The brewing process sets the product apart from the rest. Being a premium product, embellishments such as foiling for example were non-negotiable for the brand.
The company's target audience is foodies and tastemakers,
people who care about the quality of their food and drink. The company wants customers to feel proud to have Lucky Saint in their fridge.
One of the most interesting parts of the Lucky Saint brand story is the inspiration behind its logo. When Luke Boase, the founder, was first brewing the beer, a ladybug flew onto the bottle he was working on. After researching, he discovered that a ladybug is a sign of good luck. Lucky Saint has since used the ladybug with gold foiling as a premium touch, featuring it prominently on its label.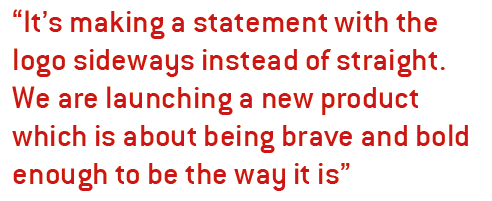 The brand's logo is placed sideways on its bottles and cans. 'It's making a statement with the logo sideways instead of straight. We are launching a new product which is about being brave and bold enough to be the way it is. So we need to be confident in the conviction that we think it looks really great. And it seems to work. There are instances where we do use the logo the other way around, but on product packaging, it's always this way,' Taylor says.
There is definitely a consideration for having a front label and a back label. Since the product is unfiltered for more flavor, the brand wants customers to be able to see the clarity of the liquid through the bottle.
The bottle currently features a neck label with a ladybug logo.
The choice of bottle shape reflects the brand's desire to stand out and offer something unique, rather than just sticking with the standard 330ml bottle shape. The label contains quite a bit of text.
As a new product, it's important for consumers to learn as much as they can about it.
'However, it can be challenging to strike a balance because we have a lot to say but there is limited space. Prioritizing the most important information becomes crucial.
Furthermore, as we expand our exports to Europe, there will be additional limitations on what we can include on the label due to legal requirements and restrictions. We may need to reevaluate the amount of tone, voice and copy we can incorporate,' Taylor adds.
'Nevertheless, we believe that having some extra copy on the label adds a touch of fun and helps consumers better understand and connect with our brand. It allows us to showcase our personality and what we stand for. Having all the relevant copy on the bottle label contributes to this overall experience.'
Replicating Lucky Saint blue on cans
Trying to replicate the blue on Lucky Saint labels on cans was not easy.
'I think you always have the silver shining through, which is nice. We've done like a lot of work and to be honest, we're still working on it now to try and make it feel a bit more punchy on the shelf.'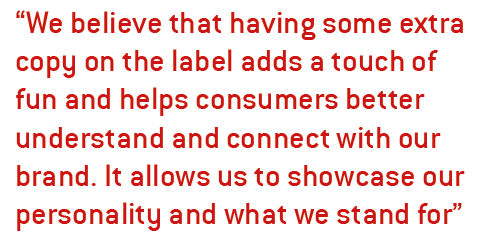 The can was developed as an on-the-go product variant while bottles were more suited to be placed in a restaurant or a fridge at home.
Taylor has previously worked with breweries that use printed cans and so she is aware of the limitations of this format. 'I think there's a lot of things you can do with applying more ink onto the can, but obviously, that has its own issues such as cost. It's something that we're definitely still working on now. But I'd say the color is the number one thing that's the most difficult about can printing. Also making tiny, tiny type is a lot harder. So, when we have to increase the amount of information on the can, that's going to become slightly more difficult.'
The typography employed is striking, ensuring that the name catches attention before revealing the nature of the product.
Standing out on store shelves is crucial, and the bold contrast of blue and white creates a visually impactful presence. Features such as foiling and a distinctive bottle silhouette help it stand apart from the rest.
With the lager brewed and bottled in Germany, the market
response has been great.
When it comes to Lucky Saint's brewing process, the brand prioritizes the creation of a delicious alcohol-free lager rather than attempting to replicate the exact taste of a traditional lager without alcohol. This approach has resonated well with its customers, as the brand is actively catering to a market that has often been overlooked.
Stay up to date
Subscribe to the free Label News newsletter and receive the latest content every week. We'll never share your email address.