Ahmedabad-based Chiripal Poly Films has expanded operations to south India with a new manufacturing facility in Hyderabad. Spread across an area of 30 acres, the new plant will be equipped with a state-of-the-art 10.4m BOPP line from Germany, expected to be installed in April 2021, and an 8.7m BOPET line to be installed in March 2022. 
'These two lines will have combined production capacity of 100,000 tons per annum,' says Sumant Singhal, CEO at Chiripal Poly Films. 'The new plant will also house three metallizers ranging from 2.85m to 3.65m web width and production capacity of 35,000 tons per annum.'
The company's headquarters in Ahmedabad already runs two BOPP lines, one BOPET line, four metallizers and one off-line coater. With this expansion, the combined production capacity at both plants will reach 218,000 tons per annum.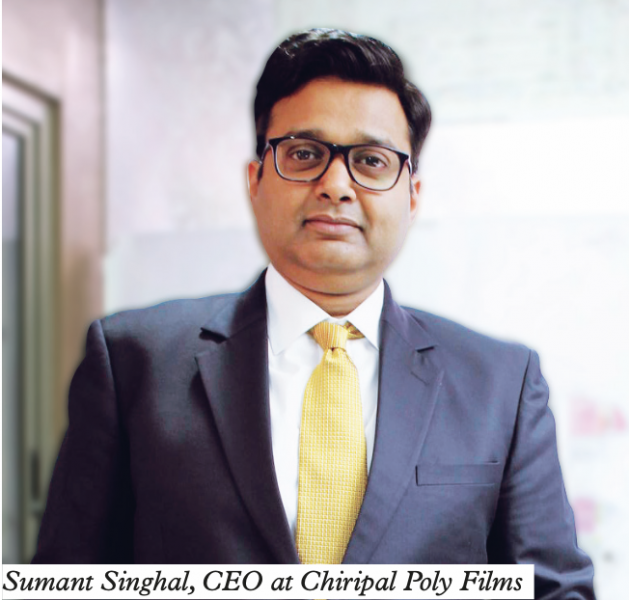 Elaborating on this investment and choice of new location, Singhal says: 'Given the geographical location of the new plant, and considering there are no film lines in south India, our objective is to tap potential markets in southern and eastern India and increase our presence in the country. And we want to increase our specialty films portfolio targeting not only exports to western Europe, and North and South America, but also the domestic market.'
Considering the 10.4m width of the new BOPP line, the company intends to orient the production to thicker films. 'The line will be capable of producing 10 to 70 micron BOPP films. Further, it will have a flame treatment facility which will allow us to guarantee retention of dyne level for longer period which would help us serve our customers efficiently,' explains Singhal.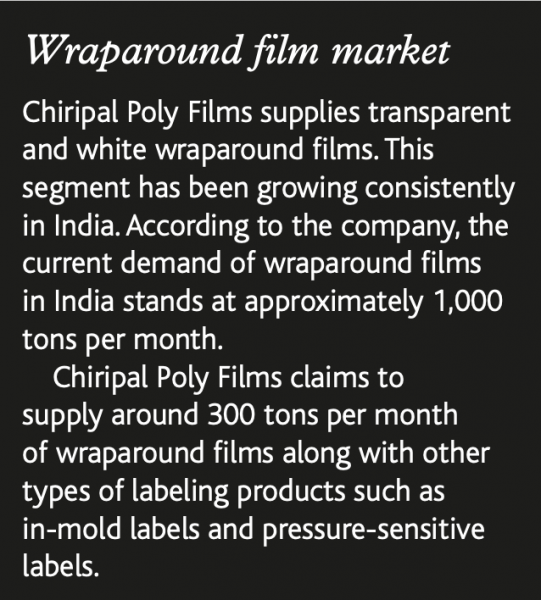 Chiripal Poly Films has tried to carve a niche by offering customized products to its clients in recent years, alongside manufacturing standard products. Singhal says: 'It is a very thorough process. It takes a lot of effort to understand the customer requirements in terms of the end application, the processes it would pass through, the printing inks, methods, machinery, among other factors. Once it is understood, with the help of our experts, we offer the product which would best suit the needs of our customers. So far, this strategy has worked effectively for us and with new capacities and facilities we would be in an even stronger position to serve our customers and provide them with customizable products.'
Market trends 
Chiripal Poly Films observes that the pandemic has had an impact on consumer behavior which has resulted in more sustainable products. 'In our industry, the pandemic has certainly impacted the price and availability of raw material which has resulted in keeping excessive stocks due to prevailing uncertainty. Excessive increase in freight cost due to limited availability of containers with shipping lines has also triggered the prices,' says Singhal.
'As far as coating technologies are concerned, the market is shifting towards linerless, mono-layer labels and alox coated material. This coating segment is also becoming more environmentally friendly by focusing on water-based adhesives instead of solvent-based. In line with sustainability, there is a shift in the Indian market from PVC to PET-G.
'During the pandemic, beverage consumption decreased significantly. Regarding the final applications of wraparound films, the demand for carbonated and overall beverages decreased and bottled cooking oil remained stable.'

For the consumer, the pandemic has accelerated the digitalization wave, boosting e-commerce, and increased health awareness. 'From March to May 2020, during the first peak of the pandemic, we saw panic buying make a seasonal increment on the demand of packaged food and personal care products. Moreover, it was a year of identification and realization, in the sense that people learned to identify real needs and prioritized healthcare and wellness over other luxury segments. While household cleaners and soaps, health vitamins hair color and coffee became popular choices for consumers, products like sun cream and cosmetics saw a double-digit decline,' concludes Singhal.