Acme Rolltech doubles production
Ahmedabad, India-based Acme Rolltech has added a second ALE engraving machine to double its production capacity for anilox rolls and sleeves.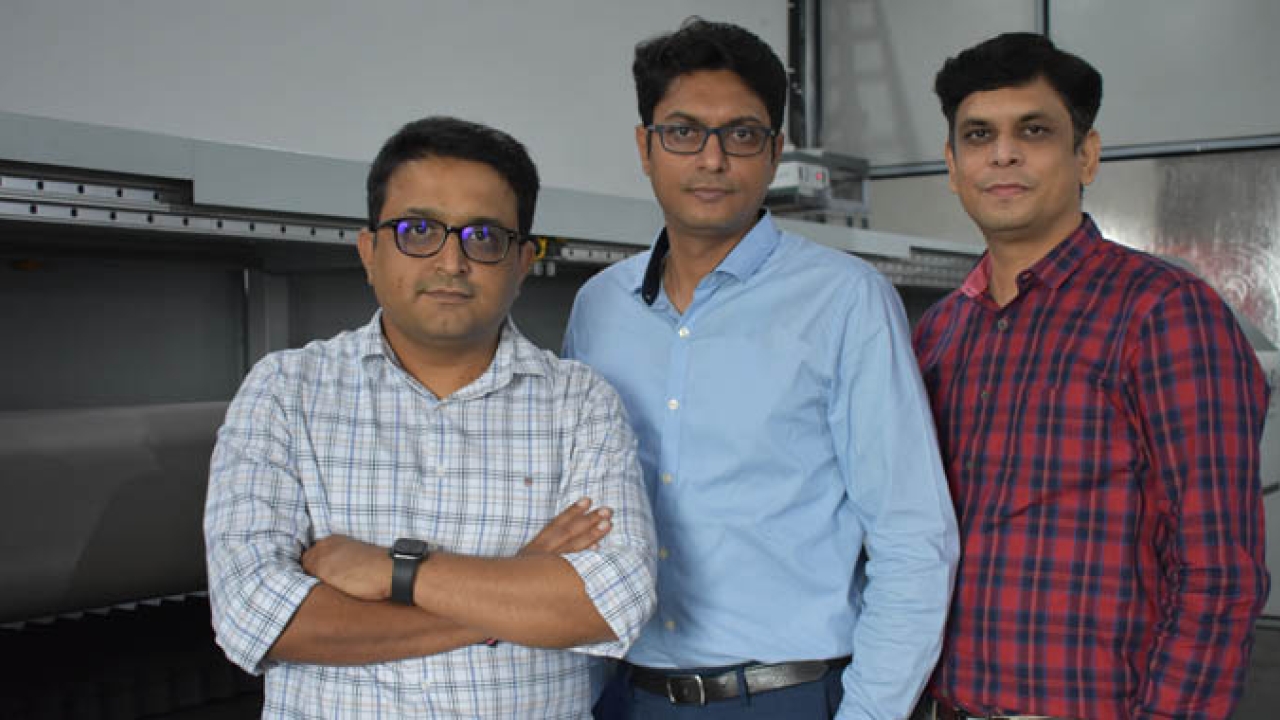 Started in 2019 by three childhood friends, Acme Rolltech claims to be the first Indian company to manufacture ceramic anilox rolls and sleeves in India. The company provides its products to narrow web flexo, offset, corrugated, stack flexo, CI flexo and film coating line segments.
Sandeep Sharma, director of Acme Rolltech, says: 'Our USP is quality and service lead time. Previously, anilox rolls in India were imported from Europe, the US and China, so the lead time was 45-60 days or more. We provide our products within 15-20 days.' The new engraving machine was supplied by UK-based Applied Laser Engineering. The order was placed in 2021 and the machine is now at the company's plant in Ahmedabad. Acme will also add new equipment for pre- and post-processing.
The new investment will allow Acme Rolltech to double production from 200 to 400 anilox rolls a month. Half of that total goes to narrow web labels and the rest is split between the other segments.
'We ensure that customers get a similar quality to what they get from European and US suppliers. We provide better lead time and pricing in India. We have created market for ourselves and are seeing a lot of growth opportunities. We have identified new segments and look to target them for future growth,' Sharma says.
Expansion is the need of the hour and with the new capacity we are covered for the next two years
Acme has introduced two new products – anilox rolls for high opacity white ink to replace screen printing and a raised embossing effect. Additionally, Acme plans for the new machine are to introduce next generation heavy deposition coating rolls for films and paper flexo and offset coating applications.
Sharma believes that the pandemic was a blessing in disguise for the company. Before Covid, anilox rolls were imported into India from China and Europe, which was disrupted by the pandemic-related logistics challenges. This allowed Acme to acquire new customers who could no longer import the aniloxes. Acme now plans to add further products that are not currently manufactured in India, parallel to its product line in the print and packaging industry. The company might announce another expansion plan by the year end.
'Expansion is the need of the hour and with the new capacity we are covered for the next two years,' he says.
Indian market trends
According to Sharma, the trend of decorative products and added value is on the rise in India.
'Value added products cost more with screen units. But what if you could do it with an anilox? Both of our new products are selling like hotcakes. Customers who have screen units and those who don't are both buying from us.'
As raw material costs increase, end users are pushing converters to maintain the same price but requiring the same special effects. Sharma says Acme's new anilox can provide close to screen-like results (85 percent of the opacity) at a lower cost.
The increase in shorter runs, driven by a surge of e-commerce companies and increasing numbers of SKUs, is a concern for flexo printers because they need to generate more flexo plates.
'Generally, converters are not able to recover costs of new plates from the end user. Anilox as a consumable is more expensive. That's why we help our customers and guide them to achieve the results
they want with fewer aniloxes. We have done it for many clients. They are happy with the results achieved.'
There is also a spike in unsupported substrate jobs such as shrink sleeves, pouches and ice cream cones. 
'In the past, out of 100 printers, only 20-30 did unsupported jobs along with labelstock such as shrink sleeves and pouches and the rest did purely labelstock products. In the last 3-5 years, this has switched. Seventy percent of converters are now printing unsupported labels along with regular labelstock and now only 30 percent are using purely labelstock. Most of them are now providing shrink sleeves or pouches. I know a few printers who have added dedicated flexo machines to print unsupported labels,' Sharma says.
The reason behind this, he explains, is a growing demand post-pandemic for short runs of unsupported film products. Conventional print businesses are unable to profitably service this market, opening up opportunities for flexo label printers to offer short runs with a faster turnaround.
'This is a reason why label printers are now doing unsupported jobs. Going forward I see most label printers housing flexo presses only for unsupported jobs.'
In three years, the company has established its customer base across India and exports to more than 15 countries including Mexico, Germany, Indonesia, Poland, Turkey, South Africa, Kenya, Dubai and France. The manufacturer supplies its products directly in India and has distributors for exports. It is actively looking to recruit partners in Thailand, Bangladesh and China.
Stay up to date
Subscribe to the free Label News newsletter and receive the latest content every week. We'll never share your email address.