Read later
Label Tech modernizes manufacturing processes
The installation of a Label Traxx MIS has 'transformed' how the Irish converter uses data. James Quirk reports  
'Manufacturing can be challenging for lots of reasons,' says James Costello, managing director at Label Tech, based in Dublin, Ireland. 'Label Traxx takes the guess work out of what we do, and simplifies the challenges that need to be overcome.'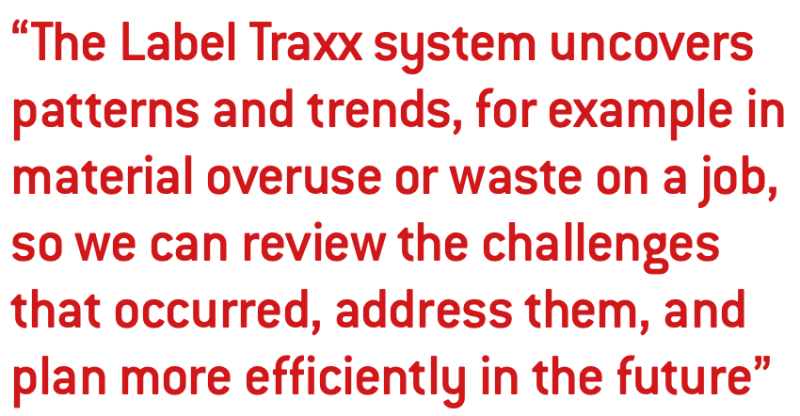 Label Tech is the largest privately held label manufacturing business in Ireland. Launched in 1992, today the converter supplies many prominent international food and beverage, health and beauty, nutrition, retail and logistics brands with self-adhesive labels. 
Label Tech uses Label Traxx print production management software, designed to support the specific nuances of label manufacturing, to make its converting business more efficient. The software brings more visibility to everyday processes and streamlines label production workflow.
'We wouldn't have been able to grow the business in the way we have, or be able to service our customers in the way we do today without Label Traxx,' adds Costello. 'And it's quite a simple tool to use.'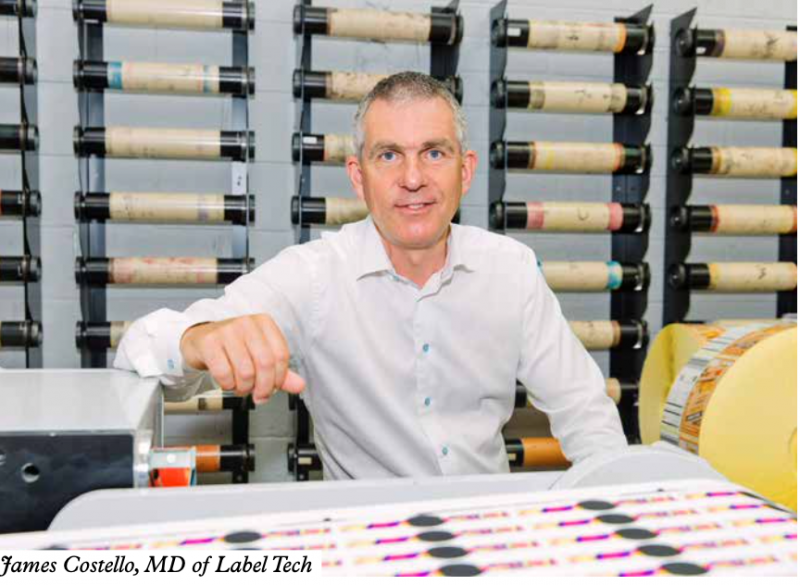 Prior to installing Label Traxx, the converter used a homegrown MIS system that wasn't developed for label production, behaved clunkily and was outdated. Print production software was always something under review for investment and improvement. 
'Label Traxx has transformed how we manage data, and gives us comfort in managing the business with real, live access to our daily sales and margins, stock usages, shipped orders, and so much more,' says Costello. 'The correct data at the right time makes such a positive impact in how we run our business.'
Crucial production workflow management
The system commands strong data collection at the earliest stage with estimating. The more information included in an estimate, the better. Quality input is key to quality output. Once the estimate is loaded into the system, it takes only seconds to move from an estimate into a sales order and job ticket.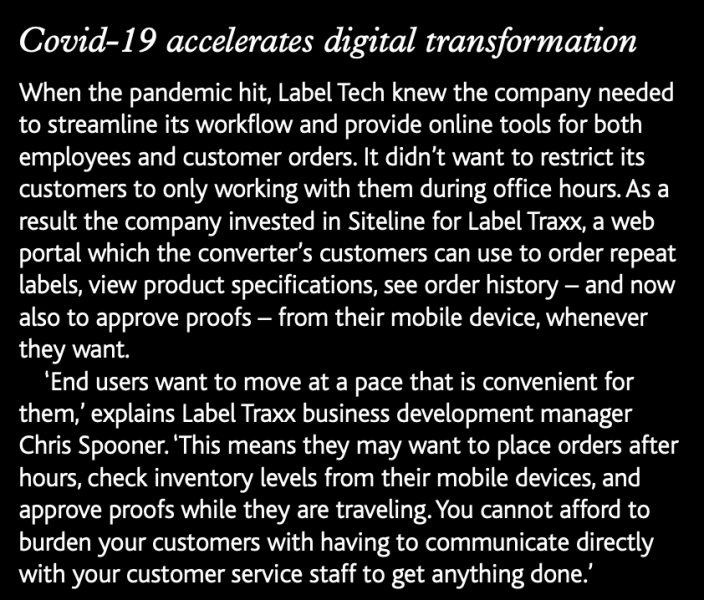 Label Traxx connects to Esko Automation Engine with a JDF link to create artwork files based on how the labels will be manufactured from the die record and unwind position. The enhancement also produces the step and repeat needed for flexographic plates or print files for the digital presses. Approval status is communicated in the product section of Label Traxx with the status options of out for approval, approved or edits required. 
Every production order is tracked, giving high level visibility to converted work, jobs outstanding and what's left in queue for the next shift. The software is installed at each print asset – two HP digital presses, and three Mark Andy flexographic presses – along with a vendor encoder wheel to log many details for each job, including run speeds, time spent on press, changeover and uptime, material usage and issues, if any.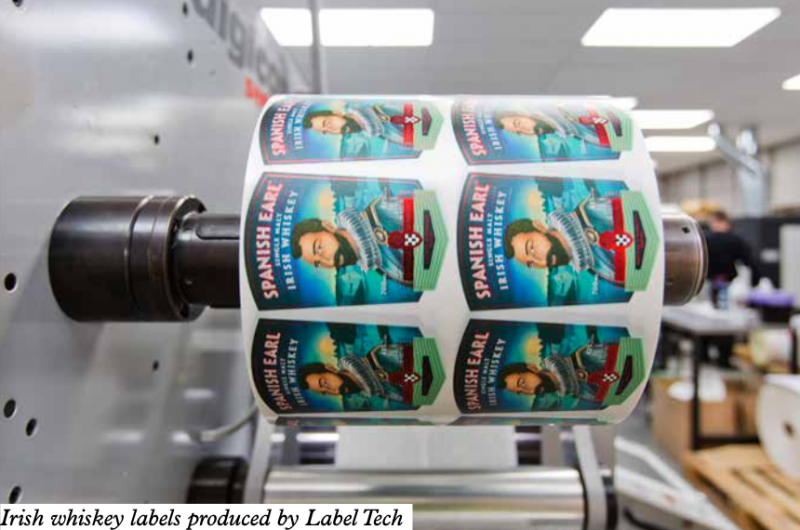 The MIS provides traceability to the master roll when a single master is used on multiple jobs. This real-time raw material consumption data improves inventory accuracy with minimal personnel intervention. 
Label Traxx software is directly connected to the systems of raw material suppliers Avery Dennison and UPM Raflatac for streamlined order placement. When material rolls and other supplies are delivered, they are scanned and received into the converter's database. From that point on, when Label Tech moves rollstock through the plant, the inventory is accounted for with iPod scanners. The traceability reduces the time required for locating inventory and for validating stock levels. 
Ultimately, once a job is completed, the actual job costs can be effectively compared to estimate assumptions for management and users to quickly confirm gross profit actual. Says Costello: 'The Label Traxx system uncovers patterns and trends, for example in material overuse or waste on a job, so we can review the challenges that occurred, address them, and plan more efficiently in the future. This capability helps us insure we're very efficient, and can maximize our own potential and output.'  
Forward momentum via automation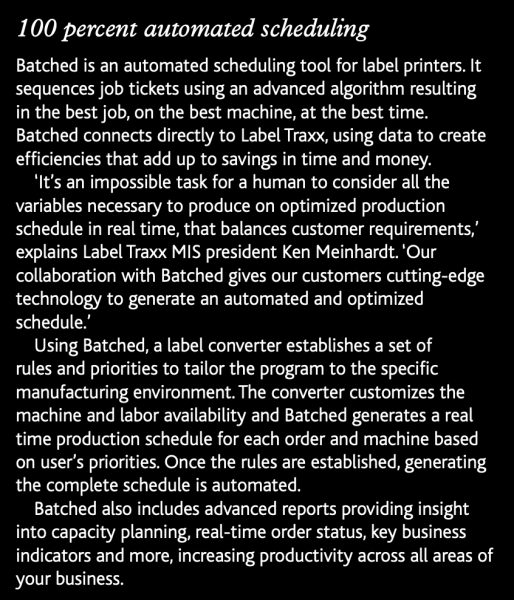 Label Tech intends to convert its top customers to use Siteline, a web-based order placement module. Siteline allows label customers to place repeat orders, that directly appear as a job ticket, and to track order history and job status. While web-based purchasing is not considered a key strategy to Label Tech's business model, Costello believes the capability is critical to have as a supporting tool and benefit for customers that want to have a closer level of engagement to their label orders.  
'Siteline offers an easy interface, is a great tool, and is the way the world is moving towards,' says Costello. 'We found it to be very helpful during the pandemic.' 
Label Tech will soon automate its scheduling process using the optimization approach to planning with Label Traxx's integration to Batched. Users set rules, and Batched uses an advanced algorithm to tailor planning that's best for the prescribed priorities. The entire schedule generation becomes wholly automated. The converter expects this automation advancement to directly improve profitability with cost and time savings, and increased throughput.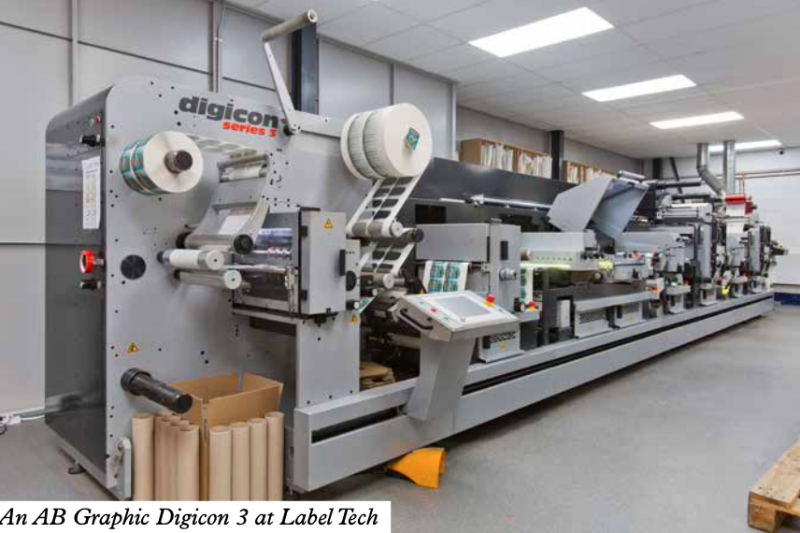 Eventually the converter will have Siteline tie-in directly with production planning, extending its workflow automation to the point where a customer can obtain an immediate order confirmation and shipping date as a standard. The new Siteline artwork approval development will simplify the complexities of artwork approval with a full audit log of amendments cutting out lead time to getting on-press. 
'The automation Label Traxx brings to improve the efficiency of our business is impressive,' says Costello. 'Today, expectations are such that as buyers, we expect immediate confirmation on our orders. By adopting these automation tools, the software will immediately classify details of the job, determine how long it will take to produce against the capacity and schedule of our equipment, and calculate when it will be delivered. Time gets brought forward. It's fantastic.'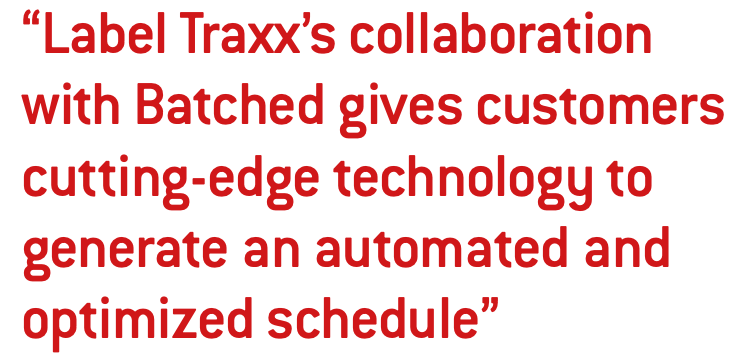 As a part of moving into a fully streamlined digital workflow, Label Tech will shift away from paper job tickets to digital job tickets including all instructions for operators and team members to complete jobs and pack-out orders according to customer specifications. 
'With Label Traxx, we are constantly reducing steps in the process to be more productive in our business and to make us more competitive,' continues Costello. 'There's so much there in the data and the developments keep coming.'
---
For further info: 
For more information, see www.labeltech.ie and www.labeltraxx.com