Indian label converter Monarch Graphics has set up a second production unit with a new Gallus Labelmaster press alongside slitting, die-cutting and inspection equipment.
Established in 2006 by Pavail Jain, father of techno-commercial director Bhrigav Jain, Monarch started as a small team of 10 including the father and son.
Monarch's initial infrastructure revolved around a used single color offset machine converting tags and a flatbed die-cutting machine for blank label conversion, along with a used intermittent Iwasaki letterpress machine to print barcode labels.
In 2011, Monarch invested in a 7-color Orthotec letterpress machine. In 2015, it acquired its first Gallus ECS 340 9-color flexo press with a rotary screen unit – a rare configuration at the time in
Delhi NCR, Bhrigav Jain says.
The company devoted itself to mastering the flexo process, implemented ERPs and gained certifications. It invested in custom training programs from Gallus to learn new printing processes and
achieve the best out of its technology.
In 2021, the company decided to expand with a second production unit and invested nearly 1.09 million USD in its 18,000sqft in Noida that houses its second Gallus press along with slitting, die-cutting and inspection equipment.
The new manufacturing facility will enable the company to meet the demands of current and future customers, more than double production capacity, and create new jobs within the company.
Jain plans to produce complex labels and reduce wastage with the new set-up. He says that it has been designed for a lean manufacturing process and to address manpower challenges. The floor layout has been designed to foster internal communication and eliminate unnecessary wastages by streamlining the production process.
Second Gallus
Before buying the Gallus Labelmaster 440, Jain visited multiple flexo press manufacturers and traveled extensively to understand their products.
Why another Gallus? Jain says that buying technologically proven products has always been a push from his father, who has never compromised on technology. 'There were several reasons for Monarch to opt for another Gallus press,' he says. 'We have adapted to the machine and its UI and had complete confidence in machine manufacturing process and its stability at higher speeds. Seeing an open machine, how it is configured and its accuracy, was crucial.' In addition, he cites Monarch's relationship with Gallus a contributing factor.
Earlier, the plan had been to invest in a hybrid press that could perform both digital and flexo functions. At one point, Jain considered investing in both digital and flexo presses for his new plant but it was not an economically feasible option.
'At Labelexpo Europe 2019, I saw a few applications that only the Labelmaster was showcasing and which really fascinated me. We decided to buy a good flexo press with not too many bells and whistles and not for the glory shot, as they say in cricket.'
The 10-color Gallus Labelmaster is equipped with multiple in-line converting options such as rotary screens, dual cure drying systems and auto registration, special print units for in-line embellishments
along with several converting options.
Monarch is running both short and long runs on the press with an average run length of 1,500-2,000 meters. 
'The Gallus team made the installation really smooth and today I am very happy I made this decision. It is helping us to reduce a lot of waste and at the same time to be innovative,' he says.
Adding new products is the goal of the organization. The next two years will provide a base for what we produce after 2025. This plant will fuel growth for the coming five years
Monarch has obtained G7 certification on the new Gallus press and is working to maximize standardization of its processes in the quality of products.
'G7 is a difficult process to achieve in flexo printing and by doing that we are hoping to fully stabilize the process. We fully understand the machine and its capabilities. We are stabilizing the process in day-to-day printing so that we can provide them G7 print.'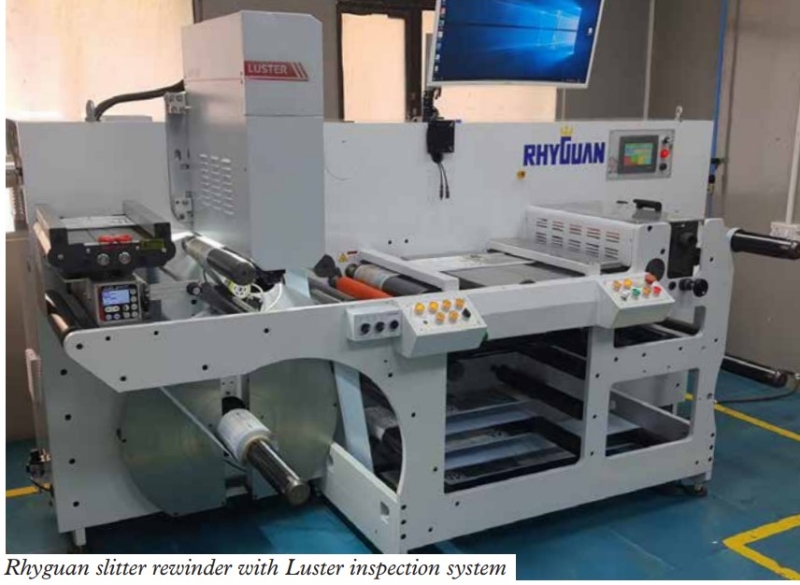 The Luster inspection system has enabled Monarch to eliminate human errors. The machine detects errors such as missing print data and shade variations, and inspects variable data.
It also invested in UV inkjet head to print variable data on labels. 'We have further ancillaries from reputed companies such as JM Heaford and RotoMetrics,' adds Jain.
The company aims to have annual revenue of 5.4 million USD by end of 2024. To achieve this, Jain is looking to enter the in-mold and shrink sleeve segments and invest in more converting equipment. The company is considering investing in another flexo press in 2023 to target new label sectors.
'Adding new products is the goal of the organization. Lots of our customers have requirements for in-mold and shrink sleeves. The next two years will provide a base for what we produce after 2024. This plant will fuel growth for the coming five years.'
Jain hints that considering his experience with the press manufacturer, he might go for another Gallus press. 'Having a similar machine is always useful from the training perspective of staff. And the relationship with the manufacturer is important for quick service in times of crisis and support of the entire local team present in India.'
Monarch will increase its exports to the US and Europe for high end decorative labels. The company currently exports 20 percent of its products.
If you don't have the right team, you don't have the confidence to expand further
'We are equally proud about our ethics and quality to go with 15+ years of being a part of this industry; we feel we have a great future ahead,' says Jain. 'We focus on lean practices that enhance labels and cut down wastage. I firmly believe, after working with a few Japanese customers and knowing Japanese label converters, we too can adopt a lean 6 Sigma approach and not compromise our values of differentiation. Every company has a process that suits
its workers. I think we have been able to find it, but it is a work in progress.'
Jain prides himself in assembling a young driven team. 'If you don't' have the right team you don't have the confidence to expand further and take up new challenges.'
Monarch has rebranded its logo to symbolize the ever-evolving nature of the company with a global footprint. 'Our logo is inspired by the ubiquitous and magnificent winged beauty, the monarch species of butterfly.
'The rebranding and our new website are all about how we are doing our business in the next five years and our decisions are in line to achieve that vision. The Gallus Labelmaster marks the start of Monarch 2.0, which is about being efficient, colorful, sustainable, lean, agile and fast.'
Jain highlights that Monarch has been known to create unique PS jobs, and that customers approach the company with special and challenging work. 'We have been converting lots of non-PS jobs to PS jobs.'
The company services more than 20 verticals and uses some 25-30 different PS raw materials. It also provides a flexo prototyping service for several customers and intends to add a digital prototyping machine soon. 
The company saw a temporary surge in sanitizer and pharma label jobs during the first wave of Covid, and Jain says that demand cannot be estimated in the current market circumstances. 'We are
part of a global supply chain and everything cannot be "Indianized". The global supply chain will impact everyone on micro levels. On the label side, we shall continue to experience an uptick in raw
material prices and availability challenge. There shall be continuous supply shocks and uncertainty around Covid variants that shall exist till 2024. Hence, we all would need to be positive and wait for the stable times again.'
However, he is thankful for the fact that his team and their families were not impacted by Covid as the company operated on almost every day during the multiple Covid waves in an organized manner.
'We identified group of responsible employees to work on the shop floor who were willing to work in an extremely secured environment which created confidence in the team and they could rely on each other in trying times. I made sure my presence was there to assure them we all shall sail through this. It made me realize the importance of leadership qualities,' he adds.
Jain says that the free hand to make decisions in the last decade and extensive global travel contributed to his learning experience, particularly in technical aspects of the business. His background in finance helped him to take control of the reins during the Covid crisis.
Sustainable production
Jain believes that sustainability can be achieved through several means. 'Sometimes sustainability is misunderstood. Switching completely to paper or eliminating foils is not the answer. You don't need to use foil or varnish on the entire label and print it in eight colors, especially in front and back labeling applications. Reduction in set-up costs, energy costs and optimal use of foiling areas adds to being sustainable through wastages reduction.'
Monarch tries to print its complex labels in CMYK and prints with lower ink gsm for sharp graphics, reduced ink and energy usage With the addition of the Labelmaster 440, Jain has been able to print labels in four colors that he says his customers assume would need six-to-eight.
Monarch prides itself in providing embellished labels without a sharp rise in cost. 'We believe that the labels should be aptly priced, so the materials chosen are not expensive and don't hamper customers from buying a new product.'
The industry is seeing the entry of new label converters which is leading to increased competition, according to Jain. There is intense competition in the 'easy-to-manufacture' label segments such as
pharma, liquor, barcode and e-commerce, backed by availability of low-cost flexo machines and ancillaries.'
Jain explains that new entrants to the industry look to provide multiple printing applications using several technologies. However, each print process requires pre-press expertise, standardization and
trained manpower and the willingness of management to exploit it. This results in redundancy in the market, underutilization of assets and standardization in print technology. The market has evolved this way due to the small number of players ready to 'exploit' a print technology, he says.
This is often discouraged due to the unwillingness of customers to pay more for value addition and high equipment costs.
Another trend he highlights is the changing legislations for labels in India. 'There are new legislations coming into the Indian market for example for tire, chemicals and food labeling.'
Brands are now adopting variable data or authentication features directly printed on labels for anti-counterfeiting and customer loyalty programs.
Another upcoming tech is inkjet-printed labels, he says. New brand owners are buying desktop digital label printers in roll form to print labels in-house on pre-cut blank labels.
Transparent labeling or full disclosure labels are picking up in the American and European markets. 'But once you do full disclosure labels there is too much information so this brings AR (augmented reality) and intelligent labels into play along with multilayer and booklet labels.'
RFID enabled labels and printed electronics are the next segments for labels which will require standardization of processes and dust-free environments, Jain explains.