★
You are viewing this content as a subscriber
Label press configurations and ancillary equipment
Explore the different print processes and terminology used in various label sectors
This article examines the main types of printing equipment used for the production of labels. In particular it will identify the different types of press configurations used in the sector, whilst highlighting some of their key benefits. 
There is a wide range of ancillary equipment and processes that are fundamental to the successful production of labels and that deliver significant additional benefits. 
The aim here is to provide a valuable insight into all of these whilst at the same time clearly explaining the terminology used. 
TYPES OF PRINTING PRESS
There are a number of different press configurations used in the label industry. Most self-adhesive labels are supplied in the reel and are therefore produced on a reel-fed press. A smaller quantity of self-adhesive labels are manufactured in sheet form and these are produced either on a sheet-fed press or on a reel-fed press and then subsequently cut to the correct sheet size from the reel. (See Figure 2.1).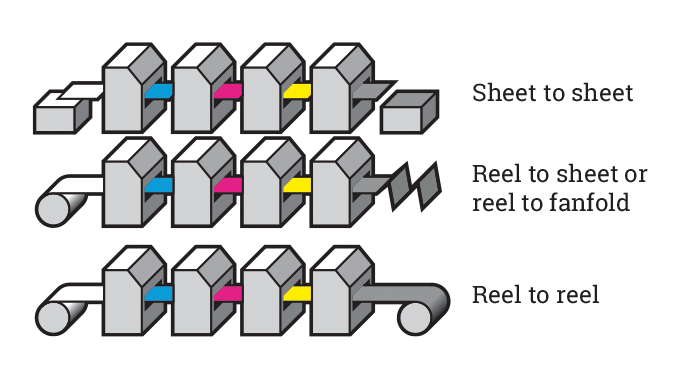 Reel supplied self-adhesive labels are printed, embellished and converted on a reel fed press (also known as a web-fed press) and produced as an in-line operation.
There are a number of different press configurations used in the manufacture of self-adhesive labels and this article explores some of the most popular ones.
Press configurations are determined by a number of considerations:-
The type of printing processes required.
The type of substrate to be printed and converted (paper or filmic)
The range and weight of the substrate to be printed and converted
The substrate characteristics
The factory space requirement
Type of label product to be manufactured (multi-layer, printed adhesive etc.)
The majority of web-fed label presses, regardless of configuration, would be equipped with all or some of the following pieces of ancillary equipment.
In-feed reel stand or multiple stands - Flying splice unit
Web edge guidance unit
Web tension control
Corona discharge unit
Web cleaning unit
Static control unit
Print units  
Inter-deck drying units
Die-cutting unit or units
Register control system
Sheeting unit
Matrix removal unit
Slitting unit
Outfeed rewind unit
Outfeed 'turret' auto rewind unit
Web turner bars
Each of these ancillary items are explained in detail later here.
Figure 2.2 Shows a typical layout of a modern reel-fed press and the location and position of the ancillary equipment used (highlighted in purple).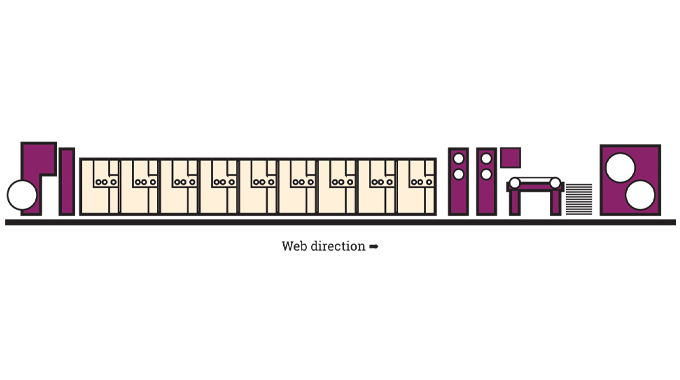 Stay up to date
Subscribe to the free Label News newsletter and receive the latest content every week. We'll never share your email address.