Cliart installs ThermoFlexX imager
Cliart, one of the leading packaging design agencies and pre-press specialists in Brazil, has invested in a ThermoFlexX 60 digital imager with Woodpecker surface screening technology to improve production efficiencies.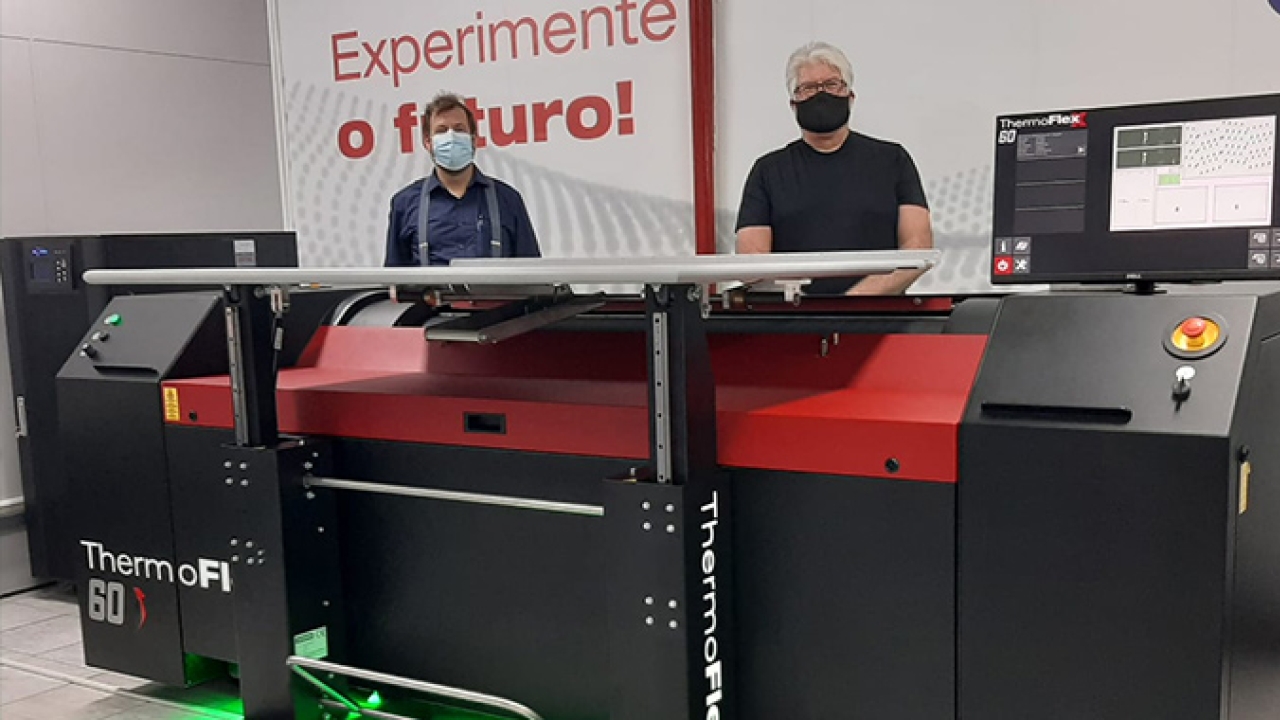 São Paulo-based Cliart, was founded in 1985 by Ezequiel Fernandez after working in the graphics industry since the mid-1970s. Having initially focused on offering layout creation, films for platemaking, plus zinc and rubber plates, the company brought in new equipment to expand its services into photopolymer plates in the early 1990s. Since then, Cliart has remained at the forefront of the flexo market with investments that have included nyloflex NExT LED exposure technology. Just recently, the company chose to invest in a ThermoFlexX imager with Woodpecker surface.
'We have built a great partnership with XSYS over the years, in particular with Davi Cardoso, the business manager here in Brazil,' commented Fernandez. 'We trust its technology. However, before making our final choice, we still carried out numerous tests to make sure the ThermoFlexX and Woodpecker solutions delivered on their promise.'
Cliart's goal for the latest investment was to provide increased print quality and faster delivery times to its customers who are producing flexible packaging for the food, pharmaceutical, general and personal hygiene, animal feed and other sectors. 
'We had a lot of success with the nyloflex NExT equipment, and it was naturally our expectation that the ThermoFlexX technology would be impressive,' added Fernandez. 'We could see that it would be a big step up in our production in terms of higher quality and a more efficient workflow.
'After numerous jobs and tests, we have observed a real improvement in print quality in terms of ink laydown, both in halftone and solid areas, for all our clients. The most significant result was a 22 percent gain in coverage compared to our other imaging equipment.'
With its 5080-DPI resolution, the ThermoFlexX 60 imager chosen is helping to meet the exacting demands from brand owners. Designed for the flexible packaging market, it can process large plates up to 1067 x 1524 mm (42 x 60in) making it the perfect fit for Cliart, as its customers can be found mainly in the mid and wide web market. 
Since the installation, Cliart has found that plates imaged with ThermoFlexX screening technology deliver superb highlights with a smooth transition to 0 percent, while solids and line-work display excellent detail. By specifying Woodpecker technology, special micro surface screens can be imaged onto the plate surface to boost solid ink density where it is needed and facilitate the production of combination plates with solids and halftones. 
The company has seen a significant increase in performance with the ability to customize surface screening according to each client's application and use hybrid half-tone patterns for smoother and more controlled transitions.  
'With the much better and more consistent ink laydown, you can generate solid areas with greater coverage without the need to overload the ink on the plate,' added Fernandez. 'This keeps the plates clean for longer even at higher press speeds and also saves on the ink consumption.'
'Despite the difficult economic environment, the flexographic segment is continuing to grow each year. Meanwhile customer preferences are changing more rapidly. Our investment program has been designed to stay ahead of the market and anticipate new demands. Our partnership with XSYS is certainly underpinning this strategy,' concluded Fernandez.
Stay up to date
Subscribe to the free Label News newsletter and receive the latest content every week. We'll never share your email address.