KB Folie installs first ThermoFlexX imager
The Polish packaging manufacturer invests in the XSYS to expand in-house prepress department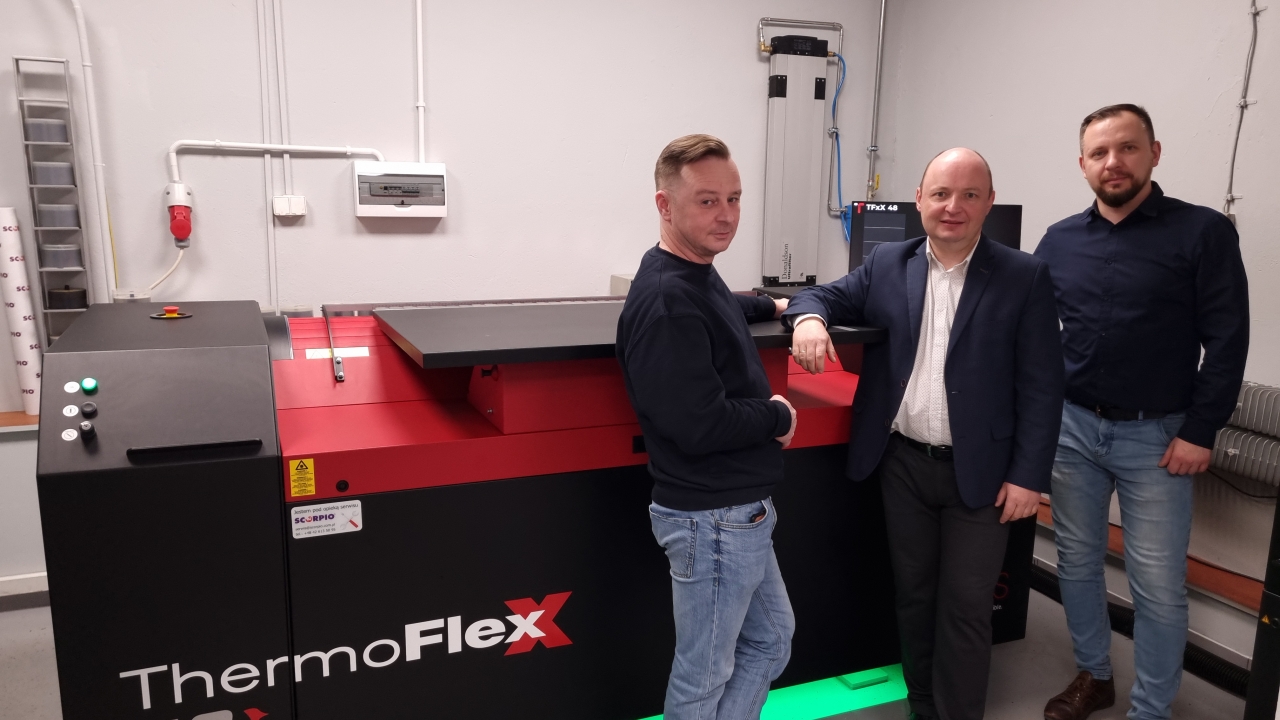 KB Folie Polska Sp. z o.o., in Poland, invested in XSYS ThermoFlexx system, an investment that also includes ThermoFlexx Woodpecker screening technology for adding microstructures to the surface of flat top dot plates to help maintain print quality at top press speeds.
'We are one of the first printing houses in Poland to leverage the many tangible benefits of the ThermoFlexX system with Woodpecker surface screening,' said Jan Marcinkowski, deputy production director. 'XSYS is known for its fresh and innovative approach to technology, and ThermoFlexx imagers for their high levels of automation and waste-saving features. Our new machine is definitely proving that point by leveling up our in-house platemaking capabilities as a greener, more cost-efficient proposition.'
Based in Warsaw, KB Folie specializes in flexible packaging, mainly for the fresh and frozen food industries, but also the chemicals and cosmetics sectors. Originally founded as an aluminum trading company in 1996, the family-owned enterprise set up its flexo printing department in 2000 when the first wide web flexo press was installed, and later also added rotogravure printing. Currently employing 200 staff, plans are underway to expand further and build a completely new printing facility, as the company continues its growth trajectory.
Its product portfolio spans the breadth of flexible packaging for both dry and liquid foodstuffs, including mono-material packaging solutions, laminated packaging, bags, ready-made doypacks and other types of pouches with closure sealing, various types of notches and perforations, cold seal, and variable coding on the inside, among the many options.
KB Folie has been making flexo plates in-house for many years. The new ThermoFlexx TFxX 48 from XSYS is the latest digital imager acquired for this purpose and it came through long-term supplier Scorpio Sp. z o.o., a distributor of ThermoFlexX products in Poland.
ThermoFlexx TFxX 48 can produce plates up to 900 x 1200mm. Featuring the built-in flextray, it can automatically load and unload plates with one touch of a button, which reduces the risk of damage due to manual handling. The automatic resolution switching function matches laser optics to file resolution, giving users much more flexibility, including the ability to image multiple plates at different resolutions simultaneously. Meanwhile, the unique vacuum slider concept (VSC) allows plates of any width to be loaded without needing to be taped in place, another waste-saving innovation. With Woodpecker surface screening added to the mix, KB Folie has the option to boost ink density in the solid areas and improve dot definition for even sharper text and images, all while ensuring a smoother ink lay down for those jobs that demand the highest quality.
'The ThermoFlexX 48s laser is very user-friendly and flexible and also compatible with other devices. We have found that it provides longer plate durability, which results in greater print stability, and cuts down on waste of plate material. When we need to, it also allows us to work with files that have a lower resolution, which ensures faster data processing and acceleration of work. I can safely say that we are very satisfied with the investment,' Marcinkowski concluded.
Stay up to date
Subscribe to the free Label News newsletter and receive the latest content every week. We'll never share your email address.