Megohm Digipack adds Jetsci Colornovo digital press
Mumbai based converter adds Jetsci ColorNovo press to diversify in labels and flexible packaging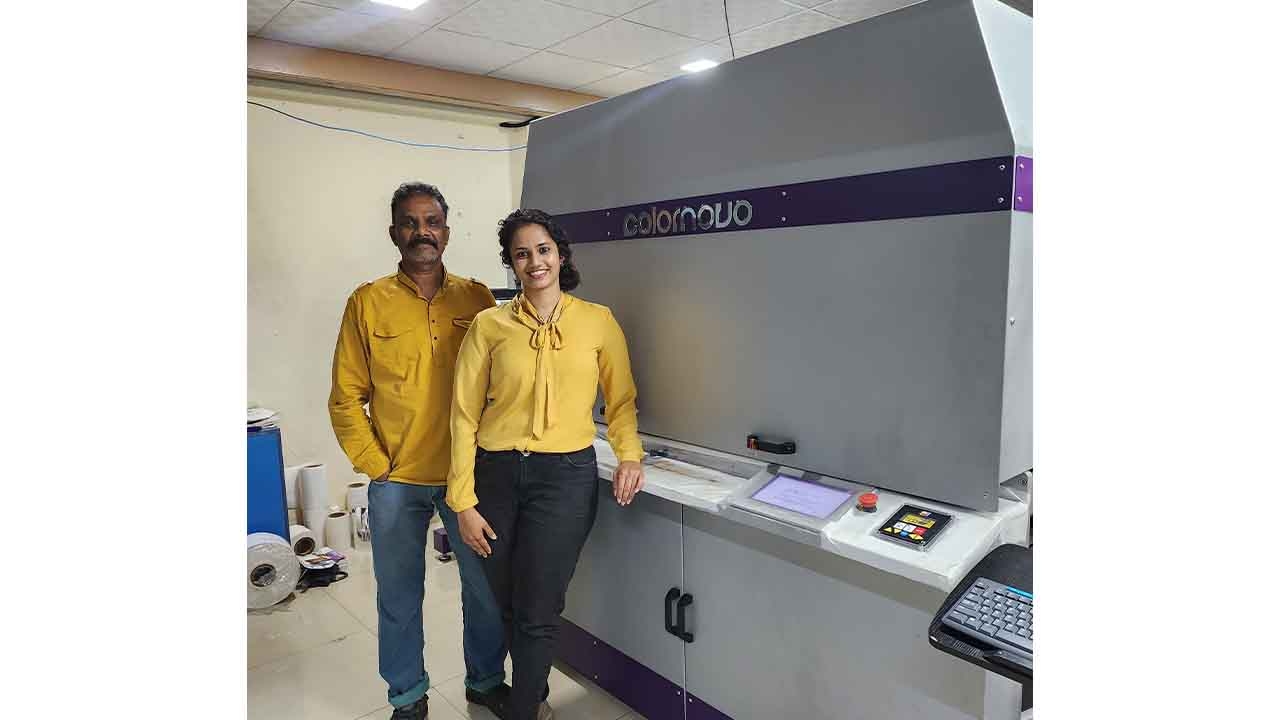 Megohm Digipack, a Mumbai-based label converter has installed the Jetsci ColorNovo SAPFC, a digital UV inkjet label production press in a 6-color configuration to produce self-adhesive labels.
A sister company to Swapnali Labels, founded by Gopal Yadav in 2013, Megohm Digipack was established in February 2023 by his daughter Swapnali Yadav. Swapnali Yadav, who holds an MBA from the University of Sydney and has experience working in Australia, decided to join her father's business and venture into the digital label printing. Her passion for packaging and knowledge acquired through attending meetings and visiting the factory motivated her to establish Megohm Digipack.
The Covid-19 pandemic has led Megohm Digipack to acknowledge the growing need for short production runs, driven by the success of startups. Additionally, brands and businesses are now placing greater importance on efficient stock-keeping, opting to minimize storage space utilization. To address this demand, Megohm was established as a separate digital unit. Additionally, it plans to enter the flexible packaging sector and expand its offerings to include pouches. The company aims to diversify into different packaging segments, leveraging its expertise in labels to cater to the demands of industries such as pharmaceuticals, home products, fragrances, and cosmetics.
Sustainability is a crucial focus for Megohm Digipack. It prioritizes using biodegradable and eco-friendly paper labels whenever possible. In cases where sustainable options are limited, it recycles waste by collaborating with municipal corporations or other organizations. The company has dedicated staff managing waste management practices to ensure environmental responsibility.
Megohm Digipack believes in providing transparency to its customers and plans to demonstrate the Jetsci Colornovo digital label press to ensure customer satisfaction. The company foresees a promising future for the label industry, driven by increasing demands for diverse and customizable label products.
The Jetsci Colornovo digital label press uses advanced piezoDoD inkjet printhead technology, enabling high-quality label printing at a native resolution of 600x600 DPI and speeds of up to 50m a min. Its versatility allows printing on surfaces up to 330 millimeters in width and diverse materials, expanding the scope of printed products.
Dinesh Thakur, deputy general manager of sales at Jetsci Global, Monotech Systems, said: 'This press seamlessly integrates printing, finishing, and converting functionalities in a single pass, setting it apart from other machines in the market and propelling Colornovo to a leading position among its counterparts. The unparalleled and advanced configuration of the Colornovo SAPFC eliminates the need for separate investments in finishing and converting units.'
The press offers an extended color gamut, coupled with a diverse range of finishing options such as lamination, cold foil, special color printing, post-coat application, and rotary die-cutting.
Stay up to date
Subscribe to the free Label News newsletter and receive the latest content every week. We'll never share your email address.