Silver Fox reduced turnaround times thanks to GEW UV LED
UK label converter takes entire production in-house and reduces turnaround times
UK-headquartered, family-run label converter Silver Fox has retrofitted its Nilpeter FB-3300 press with a four-lamp, 38cm-wide GEW LeoLED UV curing system, which has allowed the business to take previously outsourced jobs in-house and reduce its order turnaround times.
Founded in 1979 by managing director Nick Michaelson, Silver Fox remains a family business with all products manufactured in-house at the company's UK headquarters and distributed globally, directly or through the expanding distribution network.
While production was outsourced in the early days, the business strategy has always been to innovate, create its own solutions, and produce as much as possible in-house.
'From the beginning, we have had the plan to be in control of our own destiny, and it was around ten years ago that we were in a position to begin to invest in our own plant machinery to make this a reality,' commented Michaelson. 'Most recently, and during the pandemic, we invested significantly in a Nilpeter press fitted with UV LED curing, which has been a liberator for us. We now have 100 percent of our production in-house, and we have dramatically reduced our order turnaround times.'
The Nilpeter FB-3300 is used to produce a broad range of base labels printed with common information; these are then customised on-site by the user, overprinting with a standard laser printer or Silver Fox's proprietary Fox-in-a-Box thermal printer and Labacus Innovator software.
'As we have the UV LED curing system fitted to the press, our make-readies are so much quicker. Combined with this we are saving hugely on energy costs compared to our competitors who are still using conventional drying methods, so we have the flexibility to offer all run lengths at unbeatable prices,' added Michaelson. 'While our focus is on specialist materials and quality, not production speed, we do not need to work our LED lamps hard… but to know that our energy consumption is around 60 percent lower with LED gives us peace of mind as a certified, carbon-negative company.'
A typical press run for Silver Fox would be to print safety yellow and black with a double-hit opaque white base and matt varnish on a synthetic substrate. UV LED is renowned for being particularly good for curing opaque whites as the longer wavelength penetrates deep into the ink. With these whites being so regularly used at Silver Fox, this formed another argument in favour of choosing UV LED.
Adam Howell, press minder at Silver Fox, commented: 'We use a duct-applied LED varnish, and we consciously decided to go all LED. By doing this, we don't have the complexity of looking after dual systems, and we are future-proof… besides, the benefits of UV LED far outweigh the small extra cost, and full LED helps us to maintain our status as one of the UK's only carbon-negative SME manufacturers.'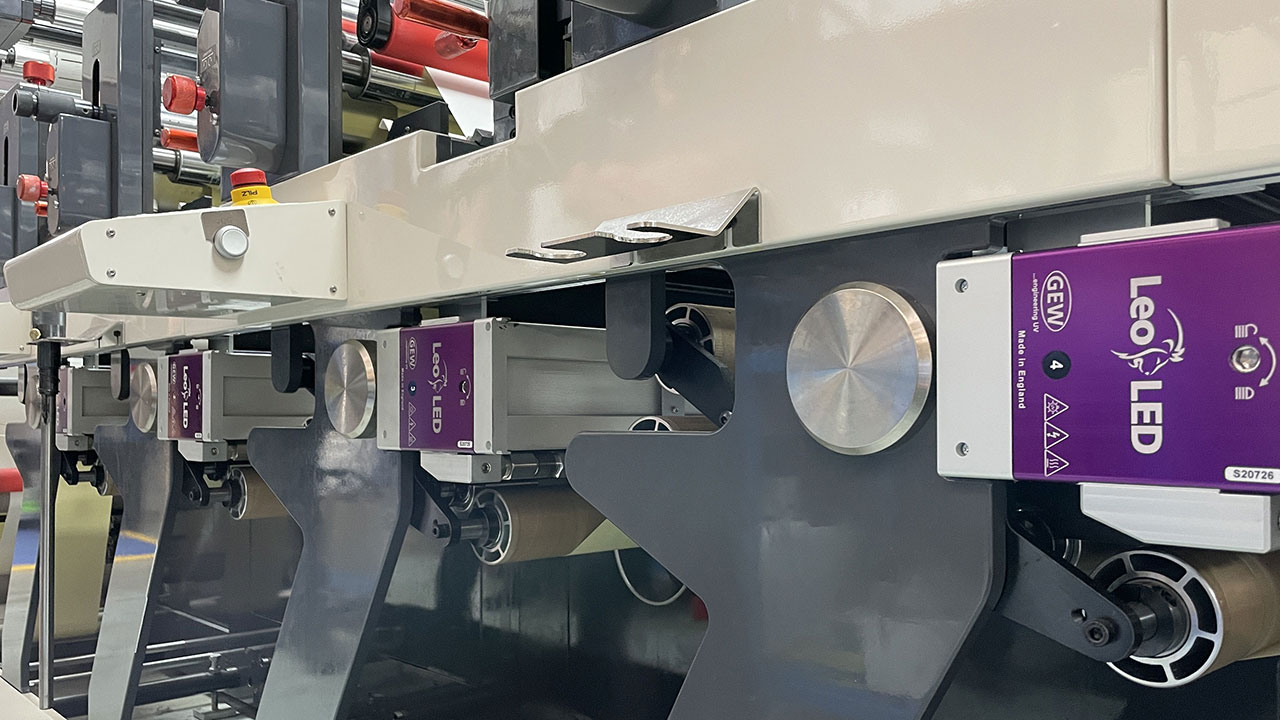 This drive to further improve the business's sustainability credentials motivated Michaelson to choose UV LED.
'Everything we do is geared towards supporting our users by offering solutions that help them reduce costs, reduce waste and save them time. For example, all of our thermal labels go through the same printer and use the same ribbon with the same software. We've even designed a function, that enables users to roll back their label reels to keep wastage to an absolute minimum. But above all, we design high-quality products that ensure long term durability. To demonstrate this durability, we have labels that are successfully and non-destructively tested for 8,000 hours of accelerated UV ageing. So, in terms of our production, choosing a low maintenance, energy efficient, quick start-up LED system was a no-brainer for us,' said Michaelson.
Milan Krneta, production manager at Silver Fox, added: 'As we had not used UV curing before, we had no preconceived ideas or any baggage tying us into using a particular technology. We spoke to several industry experts, all of whom advised us on the benefits of LED. That said, we had to be 110 percent sure it would work for us, as our products have to perform to the highest specifications.'
Having decided that LED was the way to go, Michaelson and his team spent several months researching which UV system manufacturer to partner with for their incoming press. They eventually opted for GEW from a small pool of contenders.
'The installation was painless, and now we don't really have to think about the UV system… we turn it on, do the job and turn it off, simple as that,' said Krneta. 'We mostly run it at around 40 to 50 percent of its full power capability, so we have plenty in reserve if we need it. The GEW LED system is such that if we have a particularly demanding job, we can more than deal with it.'
'I am so, so pleased that we went down the LED route for our press. We are ahead of the curve and our competitors as a result. We have quick set-up, low energy consumption, no heat, no ozone, no ducting, ease-of-use and production flexibility… what more could we want? It has opened up a world of possibilities for new product ranges and new customers, not to mention the crucial environmental benefits it brings. There's no question it has set us free,' concluded Michaelson.
Stay up to date
Subscribe to the free Label News newsletter and receive the latest content every week. We'll never share your email address.