Domino launches thermal transfer overprinters
TTO printers for flexible packaging reduce production downtime and wastage, provide printing onto flow wraps, HFFS, and VFFS packaging lines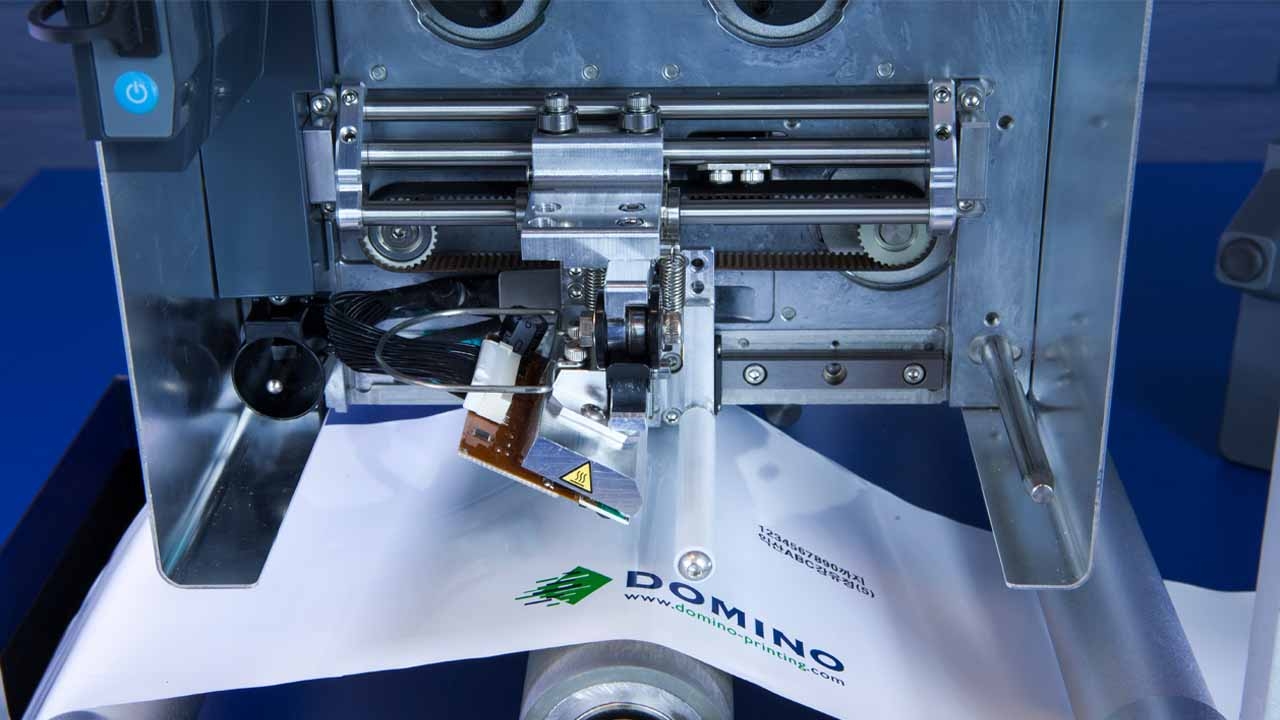 Domino Printing India has launched new Vx-Series thermal transfer overprinters (TTO) for increased efficiency on flexible food packaging lines. The Vx-Series is designed to maximize production uptime while reducing ribbon usage in flow wrap and vertical (VFFS) and horizontal form fill seal (HFFS) applications.
The Vx-Series was developed in direct consultation with customers who had significant experience with TTO printers and flexible packaging. Downtime caused by complicated ribbon drive technologies and excess costs from inefficient ribbon usage emerged as key issues. The Vx-Series was designed to tackle these issues head-on and was subject to extensive testing at customer sites across Asia prior to launch.
Trails included Woochun Foods Company, a tofu producer, and contract packer for many leading Korean food brands. Woochun Foods Company was happy with the trial and became the first customer to place a printer order, much in advance of the official launch date.
'We participated in advanced trials for the Vx150i and were delighted with the printer's performance,' said a spokesperson for Woochun Foods Company. 'The printer was very easy to use, and provided consistent, high-quality prints, even when using ribbon save modes.'
Vx-Series printers are optimized to use up to 60 percent less ribbon per print, with four ribbon-saving modes to suit a variety of applications, helping to reduce waste and overall cost per print. Extra-long ribbon roll capacity provides longer production runs, and lightweight cassette-based ribbon loading ensures faster ribbon changes to minimize downtime further. In addition, the Vx-Series is fully electric, with no need for factory air.
'According to the Economist Intelligence Unit and World Bank study, the middle-class population in Asia is expected to double in the next decade. This increased wealth is expected to accelerate the demand for flexible packaging in the Asian food market,' said Sharmil Ghouse, global head of TTO and P&A at Domino.
'Equally, increasing production costs linked to the price of energy and raw materials are putting pressure on food manufacturers, many of whom are already operating with very thin margins. Domino's Vx-Series range has been developed with this backdrop in mind to provide an efficient and cost-effective solution for food manufacturers printing on flow wrap and flexible packaging.'
The Vx-Series range currently includes the Vx150i, which offers print rates of up to six prints per second with a maximum print size of 53x100mm, and the Vx50i, providing up to four prints per second at 32x55mm. All Vx-Series printers provide 300dpi prints for text, graphics, and high-resolution machine-readable codes. Manufacturers can also take advantage of additional performance pack add-ons for serialization, advanced security marking, and promotional coding.
'At Domino, our R&D teams are committed to developing the latest products and solutions to solve customer needs,' said Tony McNulty, chief product officer for Domino. 'Our objective with the Vx-Series was to provide a printer for flexible packaging that is cost-effective and efficient, without compromising on quality – and we are delighted to have delivered on this.'
Stay up to date
Subscribe to the free Label News newsletter and receive the latest content every week. We'll never share your email address.