Fujifilm unveils its first Revoria Press PC 1120 in India
Fujifilm has launched Revoria Press PC 1120 production digital printer in India during a launch event on December 7, 2021, at its distributor Insight Print Communications' demo center in Faridabad, Delhi NCR. Revoria is now available for sale in India and customers are welcome for a detailed demonstration at the Fujifilm demo center and at Insight Print Communications' office.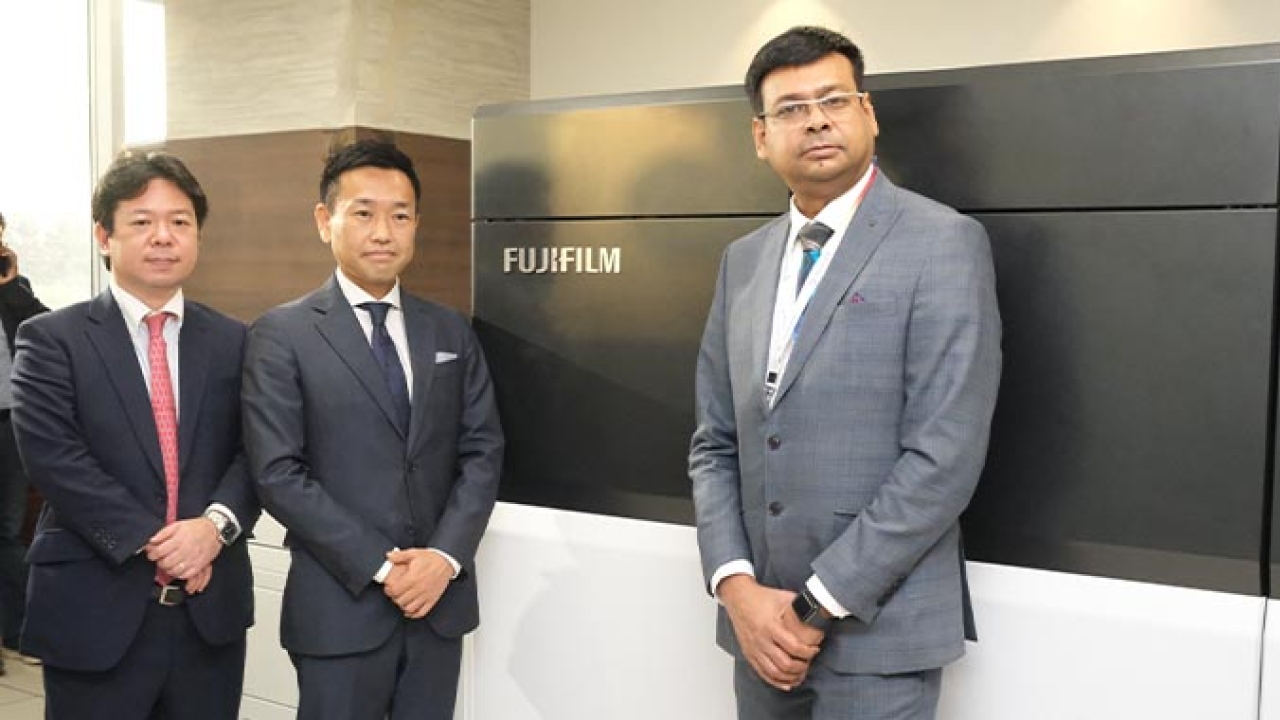 The print-on-demand printer is a high-end production printer that can print up to six colors simultaneously and has an option of six additional colors along with the standard CMYK.  
The press offers high speeds of 120 pages per minute (A4 horizontal), media versatility in terms of size from 52gsm to 400gsm. The press can print on colored, clear transparent, photo, labelstock and metallic substrates. It offers print quality of 2400x2400dpi.    
The term Revoria is derived from the blending of 'revolution' and the suffix '-ia' meaning country or land, which asserts Fujifilm's dedication to revolutionize the production printing business, by foraying into new 'lands' or innovative spaces and creating unprecedented value.   
The Revoria PC 1120 comes equipped with a one-pass, six-color print engine, up to two special toners such as gold, silver, clear, white, pink, and textured can be used in addition to the basic CMYK toners. These toners enable high-value, high quality printing such as metallic colors, pop ups, labels, natural skin textures, prints on non-white substrates, clear substrates, high-end invitation cards, photographs apart from the standard commercial printing applications.  
To support printing companies in their business expansion and increase productivity with new applications, there are built in tools such as artificial intelligence for improving the photographs, imposition and high-end server that allows for up to 20 user clients simultaneously.  

Kentaro Imafuku, head of Department, Graphic Arts Division Fujifilm India, said: 'At Fujifilm, we are always working towards giving the best of technology to our customers. With the Revoria PC 1120 now available to our Indian customers, we are excited to help our customers in the printing business grow many folds. The demand for this product is immense in the Indian market and we are confident that our customers will be raving about this revolutionary product. At Fujifilm, we are committed to provide best-in-class services to our users at the most affordable rates in the market.'   
Ajay Aggarwal, MD and CEO of Insight Print Communications, added: 'At Insight, we promote many great solutions for the graphic arts industry in the Indian market. With the Fujifilm Revoria PC 1120, we are looking forward to showcasing the advance technologies of Fujifilm's Graphic Printing solutions to our printing community in India. With our combined vision to understand the needs of our customers and provide appropriate solutions we believe this product will be a game changer in the printing industry.  
'We are coming up with a revolutionary concept of SSMC or Service and Spares Maintenance Contract wherein customers will get the services based on click charges but will purchase the toners/inks as per their needs – opening up possibilities for the offset printer to control its costing while going digital.'   
The Revoria PC 1120 with its Super EA-Eco toner boasts of the smallest toner particle size in the industry. It is capable of printing metallic colors such as gold, silver with combinations in overlays and underlays for a variety of metallic shades. It can further run on non-paper substrates such as films and metallic sheets because of its unique technology of removing static electricity from paper.  
It also automatically divides the image data into five colors of cyan, magenta, yellow, black (CMYK) and pink. The fluorescent colors of the pink toner expand the color gamut significantly resulting in vibrant printouts especially on natural images, skin tones showing vivid colors and smoother skin tones. It also opens up a complete new addressable market of the cosmetics industry that needs very precise colors and especially in the red, pink, magenta, orange color space.  
Its Air Suction Feeder and Static Removal Device provide a highly stable paper feeding for a wide variety of papers such as paper containing concentrated amounts of paper dust, cohesive coated paper, and film. Additionally, artificial intelligence (AI) enables automatic image corrections for photo images. Each photo image automatically enhances based on its existing lackluster condition such as image being too dark/too bright, backlight exposure, correction of skin tones, and bringing out the hues in blue skies. 
Stay up to date
Subscribe to the free Label News newsletter and receive the latest content every week. We'll never share your email address.