Labelexpo Europe 2013 exhibitor preview: Substrates and adhesives
Labels & Labeling previews new products and companies offering substrates and adhesives to be seen at Labelexpo Europe 2013: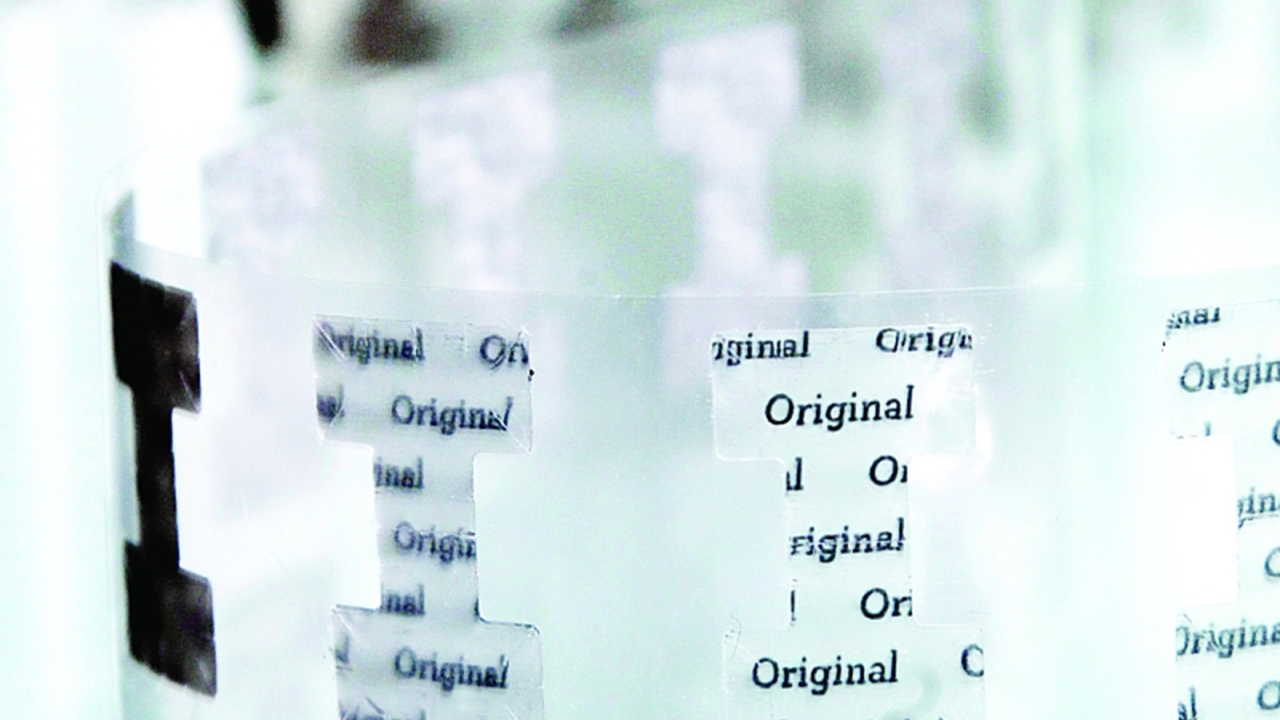 acpo
In addition to general purpose PP and PE overlaminates, new specialty products include flexible packaging overlaminates, matte finish, laser printable, thermal transfer printable, UV screening, removable adhesive and overlaminates specifically for digital presses.
API Foils
Shows its range of hot and cold foils, particularly new developments in sheet-fed cold foil applications.
Appvion
Appvion, formerly Appleton Papers will launch Résiste 185-3.3 light top coated direct thermal paper material for logistics applications. Targeted at the warehouse logistics segments, Résiste 185-3.3 was developed to produce darker images and barcodes, improved scan rates and increased resistance to mechanical scuffing, with strong environmental durability.
Arconvert
Shows full range of specialty label papers.
Armor
Introduces AWR 8 wax thermal transfer ribbon for standard labeling applications such as storage and transport labels.
Ashland
Demonstrates pressure sensitive, flexible packaging, and laminating adhesives, heat seals, cold seals, UV/EB and water-based overprint, print receptive and specialty coatings. The company is focusing on 'disruptive trends' such as short run packaging and food safety, which calls for highly regulated low migration products.
Avery Dennison
New product launches include Bottle-to-Bottle PET recycling which dramatically improves the efficiency of the PET recycling process, and ClearCut, a new platform of adhesives which enable thinner constructions, increased productivity and decreased adhesive bleeding.
Boise
Highlights the latest AvantEdge Plus release liner, providing enhanced silicone coverage and coverage uniformity with opportunity for improved silicone usage.
Bostik
Focuses on high-performance adhesives for tire labels and clear film labels. Bostik HMPSA-based products are suitable for all type of tires (winter, all season and industrial truck tires) and for all kinds of face material both paper and filmic. HMPSA clear film adhesives include a wash-off version for bottle recycling.
Calor
Calor and Regma will introduce improved Ratio wax ribbons with a higher sensitivity, while Brilliant+ is added as a premium resin-enhanced wax quality. T 555 Sw is a high resistant resin quality for applications demanding a very good smear and scratch resistance and a wide latitude of applications – also on paper labels. Customer specific 2-colored ribbons are shown.
Eurocast/Thomas Graphics
Specialist in deliveries of short run stocks of filmic labels with short lead times to narrow web converters. Packaging laminates are already in stock and more will be launched at the show, delivered on the same small lot, short lead time model.
FLEXcon
Along with a wide range of specialist and downgauged films, presents its new 25μ Black polyimide film engineered to handle high levels of heat and retain its readability and scannability. The material is designed to withstand fluctuating temperatures and abrasive chemicals.
Herma
Demonstrates a range of new adhesives based on the company's multi-layer coating technology. Firstly, a plasticizer-free, removable dispersion adhesive for labeling sensitive surfaces and with a variant for glass surfaces that avoids the problem of 'ghosting'. Secondly, plasticizer-free dispersion adhesives with good die-cutting properties targeted at the multiple types of rubber surface found in the tire industry. Finally, textured papers developed for wrap-around labeling of wine bottles. The Hermaexquisite range is based on 62W adhesive optimized for wine storage conditions and immersion in wine coolers.
IIMAK
Adds SP575 grade to its Super Premium Resin range, targeted at demanding automotive and industrial applications. SP575 resists harsh chemicals and solvents and provides excellent mechanical durability. The CleanStart TTR print head cleaner will also be on demonstration. IIMAK's acquisition of Graphic Controls' inkjet business in May 2013 broadens IIMAK's product portfolio with a range of consumable solutions for industrial inkjet printing.
İlkay Kağıtçılık
Shows new Novita brand PS products from 2012 investments in new lamination line and slitting machines, including coated, uncoated, thermal and film materials.
Inkstar
Chinese manufacturer of thermal transfer ribbons and hot stamping foil.
Intercoat
Demonstrates a range of filmic labelstocks for HPC, beverage, food, chemical and other packaging applications. All products are topcoated and most PE and PP products are available in the express- and net-width service programs for fast delivery.
ITW Foils
ITW Foils introduces EcoCast inline Holography, in which effects are applied directly to printed sheets on press by means of a reusable holographic film and a UV varnish. This process creates an illusion with no actual transfer of material. UV cast boards and papers contain no film, so they are recyclable and compostable assuming other components are too. The production process does not emit VOCs and because there is no actual transfer of a foil or material onto the substrate, the film can be reused several times. UV casting films are available in a variety of diffraction patterns and can be customized for brand identity and security applications.
KK Enterprise
Announces the SQ-Series of security label material, claimed a world first in combining a brittle film as the security layer with a specially emboss PET film.
Leonardus
Launches holographic material for in-mold labeling.
MacTac Europe
Demonstrates new TLL2511 filmic construction validated for safe bonding on tires and similarly demanding applications. REACH-compliant MP318N & MP318N UV are the new versions of the company's established adhesives approved for pharmaceutical applications. For wet wipe reclosure systems, the new hot melt MR709 adhesive is shown, complementing the established solvent adhesives of the MR980 family. New products aimed at digital printing technologies are also presented.
Manucor
Formerly Manuli films, this BOPP specialist shows label substrates for wraparound and self-adhesive markets, available in a variety of gauges.
Manter
Unveils its new Industrial and Synthetics label collection, along with award-winning Craft Beer label collection.
Mitsubishi High Tec Papers
Demonstrates full range of thermal papers, inkjet papers, cast coated label papers for wet glue and PS applications, and HP Indigo printable thermal papers.
Munksjö
Introduces Acti-V LEAF 50g/sq m, a new lightweight release paper with superior mechanical characteristics, which allow the production of thinner and lighter PSA labelstock laminates. Acti-V technology enhances silicone anchorage and reduces energy and catalyst costs in the silicone formulations. The product was tested with formulations below 20 platinum ppm and coated at speeds over 1,200m/min. Also on show are PSA graphics applications, the Silco Flat range, Silco Office grades and a new range of release papers for pre- impregnated composites materials used by industries such as marine, aerospace, wind-energy, leisure or automotive. This range of process papers includes supercalendered, clay-coated and SCK grades for silicone coating on both sides.
Novamelt
Novamelt PS 2030 is a new adhesive developed for secure and fast labeling of food packaging under cool and moist conditions. Excellent die-cutting properties are combined with an exceptional low penetration behavior on base papers without barrier or top coating, says the manufacturer. Sustainability issues are addressed with a new hotmelt formulation based on more than 70 percent 'renewable raw materials from natural sources'. Other new products include permanent adhesive Novamelt PS 1400 and Novamelt PS 1720 CC UV, a cost-effective alternative to repositionable UV curable acrylic hotmelt adhesives, exhibiting high transparency and ageing resistance, with no yellowing effect.
Polyonics
Shows full line of Halogen free, REACH- and RoHS-compliant label materials, including high temperature aluminum label material, printed circuit board label materials, and anti-static and fire retardant grades.
PPG Industries
PPG Industries' Teslin substrate products group showcases two new products. Teslin Food-Grade substrate offers the same capabilities as standard Teslin, including resistance to water, chemicals, tears and scuffs. Designed for durable, visually attractive labeling in challenging storage and retail environments where color reproduction and security coding barcodes or quick-response (QR) codes are required. Lumit digital paper is a white, coated polyester film resistant to heat, UV light, water, chemicals and tearing, optimized for high-heat, dry-toner laser-print applications.
Ricoh Industrie France
Promotes the B110CU 'ultra-resistant' thermal transfer printer for the safe and reliable identification of sensitive or corrosive products, Also launches direct thermal printing solutions for the booming linerless technology sector.
Ritrama
World launch of Core Linerless Solutions, a new technology developed in collaboration with Prati and Ilti which combines the industry's thinnest film label with a dedicated finishing and application machinery.
Rolling Optics
Demonstrates new generation of micro printed 3D foils incorporating both overt and covert security features. The company works with printers and converters to integrate 3D foils into their labeling and packaging production lines.
Sekisui
Introduces new thermal transfer printable overlamination films to improve print readability for a wide variety of printers and ribbons.
Superfilm
Launches Supmet 1132 CLC, a metallized white opaque cavitated BOPP film designed for cut & stack patch labeling applications using water based cold/wet glue technology for glass bottles and jars. The film is designed to replace paper labels with high water resistance, ink adhesion, improved graphics, no curl attributes and better durability. Top coating on metallized surface provides consistent print quality and scratch/wrinkle-free metallized surface.
Taghleef
Shows a wide range of BOPP label films for self-adhesive, in-mold and wraparound reel-fed cut & stack labels.
Torraspapel, Lecta group
'Labels to Celebrate' is an exclusive selection of Adestor brand pressure-sensitive label material for the food and beverage industries. The range includes textured, coated and metalized papers, and permanent adhesives, in addition to new Adestor facestocks. The 'Labels to Celebrate' swatch book includes specially designed self-adhesive labels with special finishes: stamping, relief and UVI screen printing. Metalvac metallized paper has a new swatch book with sections for wet-glue labels, pressure-sensitive labels, and tobacco and packaging.
Univacco
Demonstrates award-winning cold foil work on 'Life of Pi' limited edition posters and collaboration with Jimmy S.P.A for sheet-fed offset cold-foiled postcards and narrow web cold foiled stickers.
UPM Raflatac
Introduces Raflacoat Fit PEFC mid-gloss label range for high-volume food applications, with a thinner 63 μm caliper which yields up to 30 percent longer rolls. Adhesive options include the EU 10/2011 compliant RH6 hotmelt 6 optimized for chilled conditions. Liner options include PEFC certified HG65, HG45 glassine or ProLiner PP30. Other Fit grades include Retail Eco Fit PEFC for weigh price applications and Thermal Eco Fit PEFC, targeted at short life labeling applications on packaging films and most common cardboards.
Weldon Celloplast
Will exhibit its new and expanded range of tamper evident label materials for anti-theft and brand protection applications. The company will also launch it new range of tamper evident security envelopes, and developments in laser and inkjet labels.
Zuber Rieder
Shows a new range of label papers titled 'Grains de papier'. Other new products include HP Indigo Certified papers and 'Master Process' technology for labels on bottles immersed for long periods of time in ice buckets.
Read the full Labelexpo Europe 2013 show preview in Labels & Labeling #4, 2013
See the full exhibitor list here
Stay up to date
Subscribe to the free Label News newsletter and receive the latest content every week. We'll never share your email address.