Read later
Toppan develops smart packages with NFC functions
Toppan Printing has integrated tamper-evident NFC1 tag functions into the structure of paper-based packages to develop a new type of smart packaging that enhances security and helps streamline the manufacturing process while preserving package design.
RFID, NFC, and other ID technologies are commonly applied to the surfaces of product packages. This, however, can negatively impact printed graphics or appearance because packages are not necessarily designed to accommodate such a label, and the need to apply labels during packaging manufacture also increases the workload. Another disadvantage is that labels can be removed and reapplied to other items, giving rise to potential risks of counterfeiting, grey market diversion, and other fraudulent activities in the supply chain.
Toppan has developed smart packaging with the ID label embedded in the package to combat these issues. Integrating the NFC tag function as a part of the packaging structure ensures a higher level of security. It helps to reduce the workload associated with applying conventional NFC labels to packages. 
Part of the communication circuit employs a brittle structure. Suppose an attempt is made to separate the NFC tag from the package. In that case, the circuit is destroyed and the NFC tag no longer functions, therefore reducing risks related to the removal of the NFC tag, including counterfeiting and grey market diversion of labels, products, or packaging.
Additionally, a circuit that detects disconnection can be positioned to indicate the opening of the package. NFC tag functions are maintained even if this additional circuit is broken, meaning that scanning with a smartphone or other NFC-enabled device is still possible after a product has been opened. As well as bolstering security, this opening detection function also has benefits for consumer engagement because brands can vary the content and information provided to consumers based on whether they have opened the product or not.
Embedding the NFC tag into the package during manufacture means that, in contrast to NFC labels, the graphic design on the package surface is not affected. The required NFC communication performance can also be ensured by selecting suitable packaging materials and circuits at the stage of package design, which assumes the presence of the NFC tag. Integration of the tag and package also eliminates the need for processes associated with affixing labels to packages, helping to streamline and reduce manufacturing workload.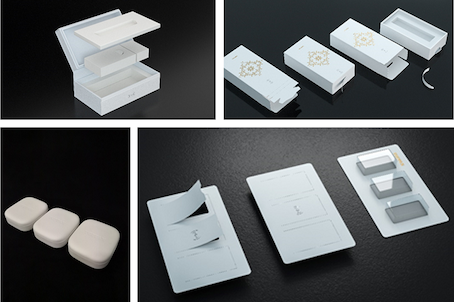 Toppan has devised four concept types of packaging with built-in NFC functionality. Clockwise from top left, one-piece tuck top box type, straight tuck box type, blister card type, and molded pulp type.
'Fusing our packaging and ID technologies makes it possible to create this kind of integrated solution that supports digital transformation and brings value in terms of security, efficiency and communication with consumers,' said Takamitsu Nakabayashi, senior R&D manager in Toppan's Security business. 'Toppan will continue to drive the development of smart packaging as we target a broad range of applications for these new products in the near future.'