Coveris launches ReCover facility
New facility elevates recycling and fosters a sustainable future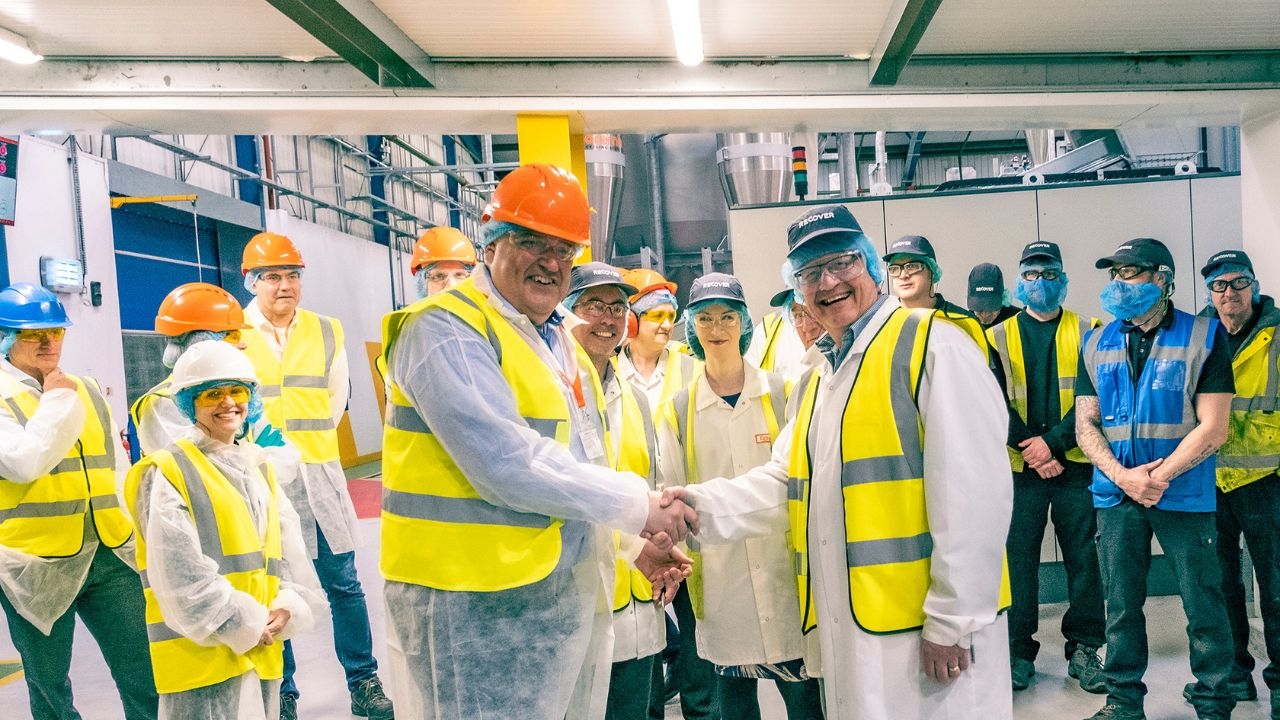 Packaging manufacturer, Coveris, has taken another step on its 'ReCover' journey. With the opening of a groundbreaking recycling facility, this is the second development in its portfolio. ReCover, a new recycling business segment from Coveris, is devoted to keeping plastic circular by closing the recycling loop.
Christian Kolarik, CEO of Coveris, said 'When we started to develop ReCover, our goal was to introduce a new business model, establishing ourselves as a recycler with a clear leadership in technological know-how. The opening of our second facility, ReCover Louth, represents another milestone in our journey.'
The new ReCover plant is located at Coveris' site in Louth, Lincolnshire (UK). Using innovative technology, it recycles printed polyethylene (PE) films. This project supports Coveris' 'No Waste' vision and various packaging sustainability frameworks in the United Kingdom and European Union. ReCover Louth gives printed PE packaging films from post-industrial waste (PIW) sources a new lease of life.
The dedicated facility within Coveris Louth's PE extrusion and conversion site uses a unique de-inking recycling process. This method removes ink from printed film packaging waste, which is then regranulated into high-quality recycled PE resin, known as 'ReGen'. This new recycling infrastructure within the packaging industry enables a larger and more consistent supply of quality recycled resin, ReGen, for packaging film production. The process reduces reliance on virgin raw material, eliminates waste, and maintains plastic as part of a circular loop, creating significant environmental benefits.
The facility includes a ReCover Lab, a fully equipped laboratory that supports innovation, quality control and validation of ReGen recyclate and its use in the extrusion of Coveris' recycled content films.
Coveris Louth, having a long history of reprocessing, previously recycled its printed film waste into building films. The introduction of ReCover Louth's de-inking recycling capabilities allows printed film waste to be redirected into ReGen pellet production and upcycled into high-performance non-food packaging. This includes collation shrink films and tissue paper overwrap.
ReCover Louth can produce 5,000 tonnes of ReGen pellets annually, using printed waste feedstock from within the Coveris Group. It also utilizes its customers' production waste and suitable post-industrial waste films from the industry. The ReGen pellet will initially meet the requirements of recycled content within the Coveris Group. It complies with the UK Plastic Packaging Tax and supports UK Plastic Pact targets.
The launch of the new recycling facility, Recover Louth, is the second addition to Coveris' closed-loop recycling business segment. The launch of ReCover in December 2022, was announced by Coveris, alongside the acquisition of a post-consumer waste mechanical recycling facility, now operating as ReCover Blaenavon. Through its facilities at both ReCover sites, Coveris is optimizing the recycling of post-industrial and post-consumer PE waste in its mission to keep plastic circular.
Martin Davis, business unit films president at Coveris, shared, 'Sustainability is at the heart of our business and the development and opening of ReCover Louth, our second recycling facility, is a significant step in our No Waste journey. We are innovating and building more recycling infrastructure for the plastic packaging sector and also developing longer and more circular lifecycles for our products. We are passionate about packaging and the value it brings. I am extremely proud of the Coveris and ReCover Louth teams for our ambitious and pioneering approach to developing and exploring new technologies to create a more sustainable future for packaging.'
Stay up to date
Subscribe to the free Label News newsletter and receive the latest content every week. We'll never share your email address.