Cloud computing is set to revolutionize the label and packaging print industry across the entire supply chain from artwork design to delivery of a fully quality assured final product. Let's go through a few of the key areas where this is already happening and how it might develop.
To start with color management – the most basic function of ensuring that the label design signed off by the brand manager is delivered with exactly those colors whatever the material and whatever the type of press the job is finally printed on.
The best way of achieving this is to place color standards on a common Cloud platform which can then be accessed by every partner along the chain of design, approval and printing.
In theory a label designer could download a Cloud-linked plugin which holds the profile of a target press or press model, and which gives an out of gamut warning when non-printable colors are selected. The spectrophotometric camera on the press, also referenced to that color standard, then checks the accuracy of color reproduction inline and reports delta values in real time to a Cloud portal. The brand manager has meanwhile signed off the job on a smart mobile device accessing a secure Cloud platform using those same color values and can then be sent real-time confirmation of accurate color reproduction from the press camera.
Then there is machine data. Machines potentially generate a wealth of data – not only digital presses, but also analog equipment driven by digitally networked servo drives. The ancillary equipment mounted on those machines could also be Cloud-networked, including inspection cameras, UV lamp sensors, print/die-cutting pressure sensors and more.
Up to now, that information has been kept isolated in the machine operating system. But finishing equipment and presses are now being designed to send this data to a Cloud server, where it can be processed into critical information on machine uptime, average speed, time between changeovers, lamp power used and much more.
Flexo press manufacturers still have work to do in opening up their press operating systems, with the exception of MPS, which recently demonstrated its open architecture Talk To Me networking protocol.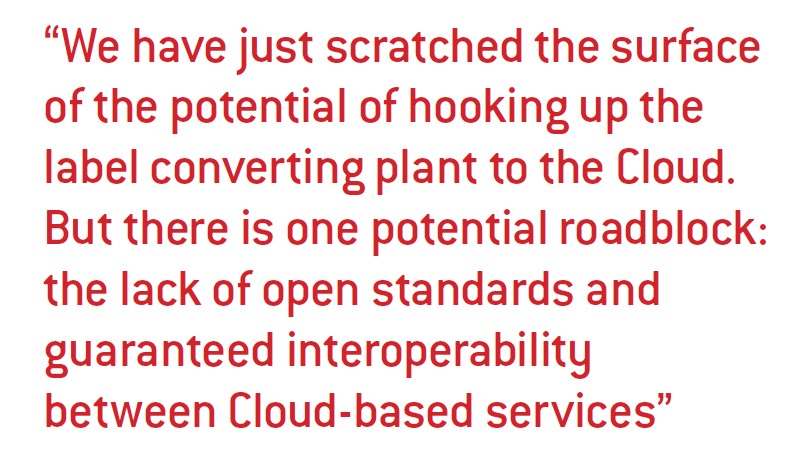 Once a press can be integrated into a factory management system, we can eliminate double keying. Production data can be directly uploaded to the machine with real time production data flowing in the opposite direction.
We briefly mentioned Cloud-connected ancillary equipment, and once again there are exciting developments afoot. Cloud-connected inspection cameras, for example, will be able to 'learn' the full range of printing defects and spot and help prevent them before they become major production issues.
With the label plant comprehensively Cloud connected, a host of remote management and monitoring options become available.
Press operators, for example, are no longer tied to their machine during production runs. The inspection system will alert them when there are issues with print quality, and other Cloud-connected sensors will alert them if there is a problem with lamp curing power, color or registration or die-cutting/waste stripping. In the case of a fully automated press, the press system can auto correct or compensate, for example by adjusting print pressure and registration.
At the same time the press is being remotely monitored over Cloud connections by OEMs looking at fault prediction and resolving service and downtime issues.
Job planning and quality monitoring will be other areas which will be positively impacted, with the ability to distribute this information in real time to any authorized person, at any location.
Potential
We have just scratched the surface of the potential of hooking up the label converting plant to the Cloud. But there is one potential roadblock: the lack of open standards and guaranteed interoperability between Cloud-based services. This could lead to a situation where different suppliers' Cloud services become effectively fenced off, frustrating attempts to promote the free flow of data.
Of course that data must be secure and of course each data stream will be describing different functions (machine production data, color management data etc), but at this early stage we should be building in open protocols which enable data to be freely shared.
We want to avoid the situation which arose in the early days of the JDF (Job Definition Format) protocol, which in theory allowed different manufacturers' software systems to talk to each other – for example pre-press with MIS. What actually happened was different manufacturers put their own 'hooks' into JDF which meant a lot of work had to be done to ensure that data could indeed be exchanged.