A label's functional effectiveness is largely due to the formulation of its adhesive, writes Tom Kerchiss, MD of RK Print Coat Instruments.
Label and packaging converters and their customers – as well as the many others that have a say or are involved in product output – have to take into consideration many factors before making a final commercial and process commitment. Decision-making is a joined-up affair. Economic, environmental, feasibility and marketing related objectives – such as brand/product image and presentation and what is expected of the label or packaging – are discussed. Material properties and process fundamentals including durability, conformability, flexibility, chosen method of printing and – if relevant – die-cutting or the addition of tamper evident/anticounterfeiting devices, etc, must be allowed for. 
It doesn't stop there. The need for clarity, gloss, chemical resistance and moisture resistance may influence substrate and consumable (inks, adhesive) selection. Overriding everything, perhaps other than cost, of course, is what do we want from the label or the package? If it is a label for a shampoo container, will it be taken in and out of the shower? If so, is the surface that the label is to adhere to flat or curved? Is the product container going to be squeezable? If the answer is yes, the label, and most importantly its adhesive, is going to be subjected to a great deal of flexing and deformation. There is a lot to think about when it comes to designing and producing a label or a package – and that includes choosing the adhesive.
Effectiveness
Let's consider the cosmetic or personal care label. Cosmetic labels must stick fast to the container, irrespective of whether it comes into contact with water, plasticizers, alcohol or even the greasy or oily substances contained within the package. Much of a label's effectiveness is due to its adhesive. After all a visually creative, heat resistant label for a scented candle will be judged to be a complete failure if the label fails to stay firmly in place.
If our cosmetic or personal care product is going to be used in or near an area subject to high humidity, such as the shower or bathroom, then the label might need an adhesive with high shear resistance so that there is less risk of tearing or cracking when the bottle or container is squeezed. For soft squeeze containers with a textured look and velvety feel, or which have been embossed or debossed, an aggressive and permanent adhesive might be judged necessary to obtain optimum adhesion. 
A visually creative, heat resistant label for a scented candle will be judged to be a complete failure if the label fails to stay firmly in place
The production of pressure-sensitive adhesives for labels and tapes is primarily a coating and laminating process. The objective sounds simple: deposit a uniform amount of adhesive onto a web. However, it is subject to many variables. Adhesives are available in a variety of formulations, each subject to specific viscosities and levels of solids. Different applications require various thicknesses and coating weights. The coating of adhesives for pressuresensitives is usually accomplished either by direct or transfer coating. In the case of the former, the adhesive is coated directly onto the facestock or a backing material. With the transfer method the adhesive coating is first coated onto a release coated liner and transferred to the face/backing liner lamination. 
PS-adhesive items may be coated via the pre-metered method – that is the thickness of the adhesive is pre-determined prior to applying it to a web. Post-metering is another option. In post-metering the amount of the adhesive is determined after it has been deposited on the web. The choice of coating method and coating applicator depends on the viscosity of the adhesive, its solids content, the characteristics of the substrate being coated and the coat weight parameters. 
Pre-metered methods of coating include reverse roll coating and gravure. The latter can provide a smooth coating profile and as such may be regarded as being effective for coating pressure-sensitive adhesives on clear film stocks. Gravure and reverse roll coating are among the coating technologies that can be supplied with RK Print Coat Instruments' VCML-Lab/pilot coater.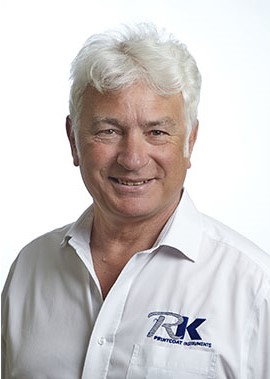 Post-metering methods of coating include meter bar. This method of coating is often used to coat solution or emulsion-based pressure-sensitive adhesives. Because of the risk of ridging, this wire-wound rod coating method is limited to low viscosity formulations that offer good flow characteristics. The meter bar method of coating is also an option with the VCML-Lab/pilot coater. 
As the range of substrates and product requirements expand to meet the complex needs of today, so too does the range of adhesives and sealants, many of which can be applied in the converting and product development environments using pilot/production coating and laminating systems.
Adhesives punch above their weight. Despite the fact that adhesives are generally only used in discrete low volume amounts, many packaged food items, labels, tapes and industrial products and commercial goods simply wouldn't be able to function effectively without some form of adhesive input. 
Synthetic adhesives only made their debut in the 1940s, so in many respects the development of modern adhesives is recent and very much on-going. One of the first beneficiaries of adhesive system advancement was the corrugated sector, when mineral-based sodium silicate glue was replaced with resin-modified starches. Synthetic polymers formed the cornerstone of modern adhesive development, invariably with many of those using thermo-plastic or cross-linking polymers.
Laminate films provide flexible packaging solutions for many product sectors, including frozen foods and for many luxury items. The strength and flexibility, excellent printability and presentation and customizable nature of laminate structures makes for an attractive proposition.
In addition to holding the various plies together for the lifetime of the laminate, adhesives – along with the completed structure itself – may be engineered to meet specific performance requirements. These requirements may include gas permeability and optical clarity, heat 
resistance, moisture and light resistance, conductivity and perhaps thermo forming capability or even flameproofing – all of which must be taken into consideration. 
The laminate adhesive must be resistant to the effects of tunneling – a localized separation or delamination of the substrate that sometimes arises as a result of using substrates with differing degrees of extensibility. Also, if the adhesive is not applied correctly or the coat weight is too light or too heavy, the process of laminating will fail as it will bubble, blister or again it might delaminate from the base material.
Versatile
Hot melt adhesives are highly versatile and can be optimized for many different applications including carton and case closing, chocolate/confectionary wraparound boxes, as well as for fruit and vegetable case/tray making and for labeling. Many converters will be most familiar with the pressure-sensitive and hot melt adhesives. The former belong to a class of drying adhesives whereby most of the drying takes place before the surfaces or adherends are married together. It is pressure that optimizes contact bonding. Pressure-sensitives are based on soft polymers or elastomers. They stay tacky for long periods, which is why they are ideal for many labeling products and for tape either from the roll or produced in die-cut shapes.
With hot melts the bond is formed by solidification of molten adhesive and then by loss of heat. They are based on resins, waxes and thermoplastics that melt in the temperature range of between 100 to 250 degrees centigrade. In recent times formulas have become increasingly complex, resulting in hot melts that provide instant adhesion on almost any substrate. Hot melt is favored for many reasons: no large drying ovens are needed, there is no use of solvents and consequently no emission control equipment is needed. Hot 
melts must flow, wet substrates thoroughly, then cool rapidly. The final bond strength is attained when the temperature falls to ambient levels. 
Viscosity must be low at the application temperature, but not so low that excessive spreading and penetration occurs, otherwise blocking could be problematic.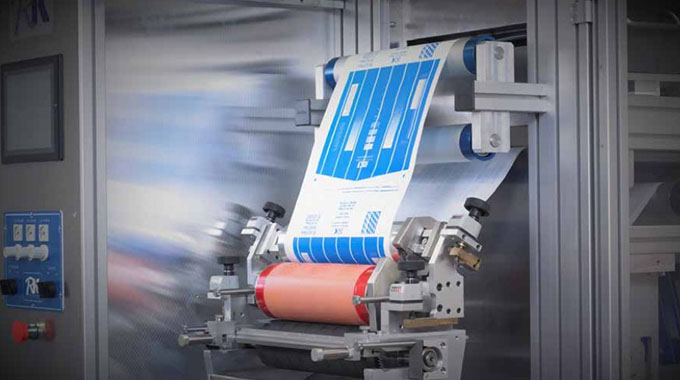 Hot melt coating can be accomplished on systems including the VCM pilot/production coater and the VCML-Lab/pilot coater via extrusion coating or gravure coating. When it comes to extrusion, the hot melt coating head is comprised of the extrusion head, heater hose and heated tank with pump. Adjustments can be made to the temperature of the system and the pump speed in order that coat weights down to as low as 10gsm can be obtained. Adhesives with a viscosity of below 500 centipoises and with temperatures of up to 150 deg C can be coated on the VCM or VCML-Lab/pilot coater with gravure cylinders using a reverse angle doctor blade setting.
While to the uninitiated coating and laminating may at first glance seem straightforward, that is far from the case. Trialing and developing adhesive and other material solutions takes up time, especially when using a production coating machine. One reason is for this is that a production machine lacks the flexibility and does not allow the degree of experimentation that a pilot, print/coat and laminating system – such as the VCML-Lab/pilot coater – allows for. In addition to being able to print, coat and wet or dry bond laminate on a wide range of flexible substrates, the system also enables users to undertake small-scale production. Hot air, infrared and UV curing is available while print and coating options include screen, slot die, reverse roll, gravure, gravure offset, flexography, etc, are selectable