Supplier focus: then and now
In the very first issue of Labels & Labeling, Mike Fairley wrote: 'Thanks must be extended to the many companies and individuals who have committed themselves to giving their support to a new and untried magazine.'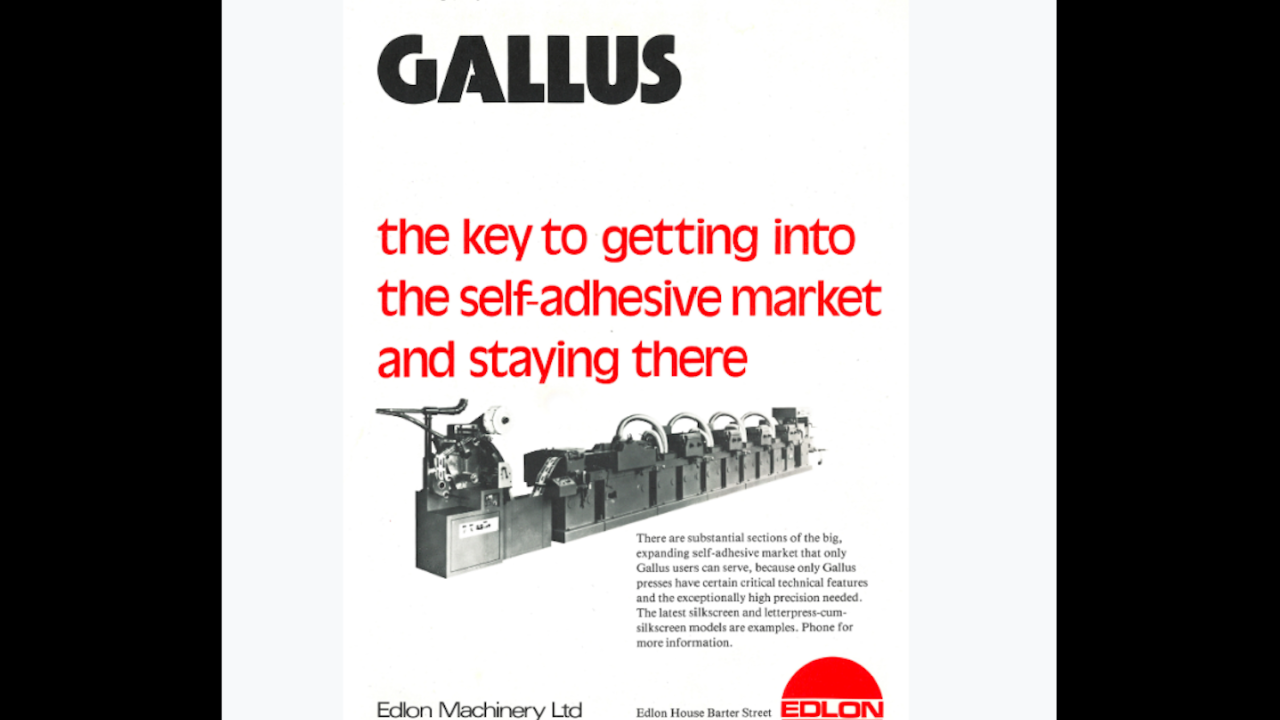 Gallus 
Occupying the inside front cover of volume 1, issue 1, Gallus – through UK distributor Edlon Machinery – has been promoting itself to the market through L&L from the very beginning. In those early adverts, Gallus was promoting machines as offering unique technical features and the high precision needed to serve large sections of the self-adhesive market. This included silkscreen and 'letterpress-cum-silkscreen' models.
Today, the Gallus Group comprises two divisions: Labels, offering a portfolio of equipment for the manufacture of labels, sleeves, booklets, tickets, in-mold labels, blister packs, tubes and wraparounds; and screen printing, offering rotary screen technology for all types of effects and tactile elements for printed products. 
Now fully owned by Heidelberg, Gallus' current label printing portfolio spans flexo, offset, screen, digital inkjet and hybrid printing. Its latest addition is Smartfire, a Memjet-powered entry-level digital inkjet press.
Mark Andy 
Through Stanley Press Equipment, Mark Andy made its presence known in volume 1, issue 1 by promoting the precision and reliability of its technology, notably a 16in, 4-color 4120 high speed flexo press as illustrated in the advert. Presses available in 7-16in widths, from three to six colors, modular or in central impression configurations, were promoted. Later adverts in that first year included the 2100 flexo roll label printing and die-cutting machine available with six printing stations and four die-cutting stations with a maximum speed of 150m/min.
Today's Mark Andy portfolio includes flexo, digital and hybrid options, as well as an array of finishing equipment. It recently added the P9E, P7E and P5E models to its Performance Series product line. P9E is a 660mm-wide flexo press specifically designed for high-quality flexible packaging production. Mark Andy continues to expand through activities such as the acquisition of Presstek, a supplier of direct imaging offset plates and presses, CtP technology and service to commercial and in-plant customers.
Nilpeter
Nilpeter's selection of roll label presses were the focus of Registerprint Machinery adverts in 1979. These offered the S-18, a compact, budget-priced 2-5 color press; S-330, with a larger web width and available with flatbed screen printing units; and F-200, a 6-color rotary press with accurate register, even web tension and electronically controlled. It was listed as suitable for narrow web flexible packaging materials. Options such as die-cutting, hot foil stamping, cross-cutting, perforating and punching, screen printing, UV drying, slitting and automatic turret rewind were also promoted.
Nilpeter's current portfolio spans flexo, offset, digital and hybrid, along with value-adding gravure, hot foiling, die-cutting, embossing, rotary screen and inkjet embellishment units.
Nilpeter's new offerings are said to be ideally suited to the next generation of printers and the needs of Industry 4.0, thanks to its automating of almost all processes. The new FA, for example, offers complete clean-hand operation from wireless tablets, handheld or positioned anywhere on the front of the machine. All new machines offer job store and recall, completely automated controls and full connectivity. 
Lonsdale 
Lonsdale Universal Engineering took full-page adverts promoting its letterpress and flexographic presses during the first 12 months of L&L's existence. This covered: 4-color letterpress machines for printing on paper, board, self-adhesive, pressure-sensitive, heat-set, fabric, cotton, silk, acetate, satin and nylon, and to 2- to 5-color flexo presses capable of running up to 75m/min and handling a variety of substrates, from paper and tape, to aluminum and gold foil. 
Now Edale, its press portfolio includes flexographic and inkjet technologies. The company is working to transition from being regarded as a narrow web press manufacturer to an engineering company. Its expertise spans a range of print processes and widths. Graphium, for example, has been jointly developed between Edale and FFEI to combine digital print quality with advanced flexographic technologies from Edale's FL3. It has also been a strategic partner to Canon, along with FFEI, in its go-to-market strategy for the LabelStream 4000 Series.
Fasson 
In issue 4, 1979, Fasson was making sure its participation in Labelex 80 was known along with imagery to support the marketing line, 'for every industry, use and application surface.'
Fasson lives on as a brand of Avery Dennison, offering a range of products principally for layflat offset printing.
Avery Dennison is a global manufacturer and distributor of pressure-sensitive adhesive materials, apparel branding labels and tags, RFID inlays, and specialty medical products. A current focus is on functional packaging innovations, such as unique heat sealable reclosure technology that features an FDA compliant adhesive for direct contact. Avery Dennison has also launched its RFID Converter Academy intended to assist label converters with becoming involved in RFID label production. 
Sterling Coated Materials 
Pressure-sensitive materials specialist Sterling Coated Materials' portfolio included: Stera Stic, available in specifications for labeling down to minus 40 degrees C, for textile labeling and for wash-off applications; Stera Foil, a pure aluminum foil with a permanent adhesive for applications such as packaging, display material, electrical conductive contacts and air-tight sealing of double glazing units; and Stera Tape, double side tapes said to have, '1001 uses in labeling, posterwork, point of sale material, packaging and general studio use.'
Sterling Coated Materials, through Sterling Adhesive Materials, would go on to become part of United Paper Mills and the formation of UPM Raflatac, a global supplier of pressure-sensitive label materials. As well as the addition of the solvent-free RX adhesive family for durable labeling applications, UPM Raflatac has recently had all of its factories across Europe certified according to the ISO 22000:2005 food safety standard.
Polyart 
Polyart was to be offered to the UK market through a new division established by Robert Horne Paper Company to market adhesive papers and display products, as featured in issue 4, 1979. Polyart 2 was advertised alongside the news by the synthetic paper division of Bakelite Xylonite.
Polyart was registered as a trademark in February 1968 by Bakelite Xylonite, with 2018 seeing Arjobex celebrate the 50th anniversary of the synthetic paper that combines the durability of plastic, with the feel and easy printability of paper.
Mactac 
Mactac was another brand to be offered through the newly established division of Robert Horne Paper Company. This included papers, vinyls, foils, polyesters and acetates, as well as the new MACline paper and vinyl products.
More recently, Avery Dennison has acquired Mactac Europe, with Lintec taking over Mactac Americas. This has spurred a number of product innovations, such as the new Relatch portfolio featuring the company's peel and reseal adhesives and a partnership with Armor to enhance its existing portfolio of Underwriters Laboratories (UL) approved durable films with thermal transfer ribbons.
Gerhardt
Gerhardt made the most of its pan-European manufacturing footprint, which in the late 1970s spanned Denmark and the UK, and its ability to serve a global customer base. Products pushed to the market through advertising included rotary cutters, step and repeat units, and ruled cutters. Conventional engraved rotary cutters were supported by removable-blade cutters and cutters suitable for non-paper materials. 
Following a merger with RotoMetrics in 2011, the combined company continues to occupy a leading position in the dies and tooling market. Its RotoRepel product won the Award for Innovation (for companies with more than 300 employees) at the Label Industry Global Awards 2018.
Ashwell
Ashwell Label Dies was advertised as a specialist in rule forme label cutting dies and precision cutting dies for the complete Gallus range. The company extolled its expertise in die-cutting difficult materials, such as Flexcon and polyester on polyster, and vinyls. It had also been working with Fasson to overcome certain problems that have arisen from new technology in the paper industry in the late 1970s. 
Today, Ashwell Label Dies lists flatbed label dies, precision laser cut dies and specialist cutting tools amongst its products.
Schober
Schobertechnologies has produced tools for integration into rotary processing units and assembly units for over 50 years. Its portfolio of tools covers creasing and scoring, sealing and embossing, cutting and perforating, and punching and stamping.
Back in 1979, its rotary punching tools for label systems were advertised alongside Scribe equipment, such as the 1050 rotary letterpress machine, as offered through Printpack Equipment.
Stay up to date
Subscribe to the free Label News newsletter and receive the latest content every week. We'll never share your email address.