Read later
Cartes launches digital embellishment module
The Italian manufacturer's Jet D-Screen multi-pass inkjet embellishment module is inspired by screen printing. Lorenzo Villa reports
In the production of labels, embellishment is an almost indispensable ingredient. This is particularly true in the alcoholic beverage and luxury goods segments, where labels have always been embellished with selective varnish and metal foils. With the increased importance of packaging as 'media' for engaging with and influencing consumers, brands are now commissioning increasingly rich rigid and flexible packaging. Metal foil and special effects are also being used more and more for food, confectionery, cosmetics and personal care packaging, where small runs represent both a production challenge and a business opportunity to be exploited. 
At the same time, converters are looking closely into digital technologies as a value option for printing, embellishment and converting labels more efficiently, reliably and profitably. 
For over fifty years this has been the territory of Cartes, a renowned label finishing equipment manufacturer and a pioneer in laser converting for labels, founded by Mario Lodi in 1970. The company, still owned and managed by the Lodi family, boasts over 4,000 narrow web lines installed in 99 countries worldwide. 
In 2019, Cartes started researching digital embellishment and developing a new system which was launched in December 2020: Jet D-Screen. 
Digital project with analog foundations 
'In October 2019, after returning from Labelexpo Europe, we paused to discuss the advances of in- and off-line digital finishing technology,' recalls Mario Lodi, CEO of Cartes. 'What we were seeing fascinated us, but we sensed its limitations, starting with the prohibitive costs to access the technology. So, we decided to develop our own solution.' 
The Cartes R&D team, led by Carlo Stefano Lodi, began to explore inkjet technologies compatible with the required application, talking with the leading printhead manufacturers and specialized integrators. The geographic proximity to the ceramic district of Fiorano Modenese proved to be decisive. 
'In the ceramics industry, it is necessary to lay down high thicknesses of glaze to reproduce the grain of the wood and the surface of the stone,' explains Carlo Stefano Lodi. 'Similarly, optical and tactile effects of sufficient thickness to reproduce the effects of embossing and Braille are required for label embellishment.' 
Cartes engineers conducted initial tests with an integrator specializing in digital ceramic decoration, using printheads designed to lay down high-viscosity fluids. They had the opportunity to purchase a turnkey solution – including inkjet heads, electronics, software, and ink supply – to quickly introduce the product. Although attractive, such a package proved incompatible with Cartes' manufacturing philosophy.  
'We demand to govern our research and development and to be in control of what we bring to market,' continues Carlo Stefano Lodi. 'That's the only way we can be sure to overcome any gaps, meet the needs of today's customers and prepare the technology for their future demands.'
Therefore, Cartes focused on developing proprietary electronics and began testing ink pumping, feeding, and recirculation systems. On the software front, Cartes also drew on its team of specialists. The company then entered into a partnership with an internationally renowned inkjet printhead manufacturer.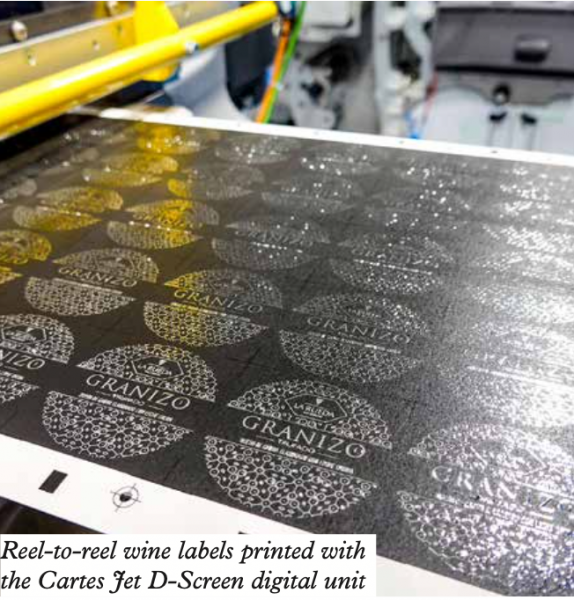 'This has been an exciting adventure. While we've always been writing software for our machines, we had never dealt with waveforms and print presets for fully digital output,' says Matteo Marastoni, Jet D-Screen project manager at Cartes. 
The next challenge concerned formulating a varnish suitable for the application, capable of guaranteeing full compatibility with inkjet printheads, high adhesion and resistance as well as the high thicknesses required for print embellishment. Using a laboratory machine designed and built in-house, Cartes tested numerous pre-formulated varnishes and finally 
developed a custom formulation in collaboration with one of the world's leading inkjet ink manufacturers. 
'We worked day and night to optimize varnish density, jet frequencies, print heads temperature and setting up an automatic cleaning system to prevent gelation and nozzle clogging,' says Carlo Stefano Lodi. 
The printing carriage, which holds the staggered inkjet heads and the UV LED pinning lamps, is designed to move and print width-wise across the substrate.
Making one or more passes (in bidirectional mode), it progressively increases the thickness of the laid down varnish that after going into drying process can be also embellished by metallic doming effect. 
Using high-laydown printheads, capable of producing drop sizes between 25 and 150 pl, Jet D-Screen makes it possible to achieve a varnish thickness of up to 230 μm in one pass, which can be increased to 650 μm in four passes. The final result and the number of passes required to achieve it can vary depending on the substrates' absorbency rate. High levels of coverage are possible even on untreated, uncoated papers. 
The first three Jet D-Screen beta units start field-testing in July 2020, in collaboration with two leading Italian label converters. At the end of 2020, after certifying the machines' performance and reliability on long runs and fragmented jobs, Cartes concluded the beta program and started a cycle of closed-door demos for label converters and online printers, some of whom are already accustomed to digital embellishment. 
Jet D-Screen is conceived in the name of full modularity and scalability. Therefore, it is possible to insert multiple digital modules on the same production line, before and after any analog printing and converting units. By deactivating the line's analog printing units, the Jet D-Screen can also be used solely to embellish prints produced on other presses, whether traditional or digital. 
'Most prospects for new lines are interested in Jet D-Screen as the last unit, immediately before the foiling,' points out Ivan Spina, sales manager at Cartes. 'This configuration gives them operational flexibility and ensures flawless die-cutting results, even with very high- thickness varnish.' 
Among the various options, Cartes also offers the Jet D-Screen as a standalone finishing system. In that configuration, the digital unit is combined with an unwinder, drying and foiling modules, and a rewinder. 
Ready for Industry 4.0
In the packaging industry, the label sector was the first to embrace digital printing and implement hybrid presses. Despite the variety of processes used in creating flexo photopolymers, offset plates, and screens, which imposes countless manual interventions, almost every advanced label converter has partially digitized its workflows. 
To this end, Cartes has equipped the Jet D-Screen with a proprietary PDF-compatible application and an intuitive user interface. Using the touch panel installed on the machine, the operator can load substrate presets and PDF files containing the varnish layout. Each color can be matched with a different thickness of varnish, and Jet D-Screen can simultaneously manage up to three varnish thicknesses within the same job. 
The system can also interpret gradient fills, from white to black, to achieve smoother, more controllable varnish gradients. The software automatically associates black with the maximum thickness and white to the lowest thickness. 

Accurate registration between print and embellishment is guaranteed by the MHPS (Multi Head Positioning System) technology, which automatically corrects substrate advancement variations using data collected by a photocell. The operator can quickly adapt the embellishment layout using the touch panel to handle the print's dimensional variations. 
Software included with the Jet D-Screen allows creating hot folders that the pre-press department can use to optimize job queues. Cartes has also preloaded the software with a database of standard substrates presets (which the user can customize) to reduce set-up times. 
The unit is designed to integrate into third party software ecosystems – such as those of Esko, EFI, HP and Xeikon – but can also operate as a stand-alone machine. Furthermore, Jet D-Screen can exchange production data in XML format with any MIS software and is compatible with Industry 4.0 guidelines. 
To lower Jet D-Screen's running costs and encourage its intensive use, Cartes defined an aggressive consumables price policy: customers receive increasing discounts as they exceed agreed consumption thresholds.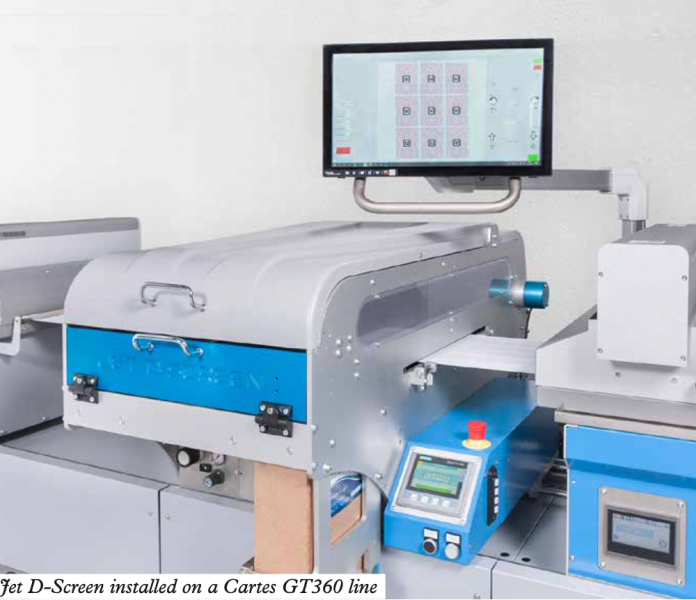 'The price of our inkjet varnish is comparable to that of a screen-printing consumables,' says Spina, 'with the added benefits of zero waste, predictable consumption to the gram, and not having to make screens.' 
Jet D-Screen's software includes an estimation tool, which allows accurately forecast the embellishment cost. Depending on each job's settings, it also shows the time required for processing. 
Tests carried out by Cartes have shown the complete compatibility of Jet D-Screen with the most common kinds and brands of foil on the market. 
As proof of the system's robustness, Cartes does not require Jet D-Screen customers to subscribe a service contract and offers a one-year warranty on the printheads. Routine maintenance is limited to periodic replacement of filters and membranes. 
'We are accustomed to providing solid durable technology and when designing the Jet D- Screen, we eliminated everything superfluous, enabled remote assistance and defined a straightforward maintenance routine that customers can perform themselves,' concludes Enrica Lodi, marketing manager at Cartes. 
---
Lorenzo Villa is co-founder and CEO of Density Media, which publishes the printing magazine Italia Publishers, among other titles. www.densitymedia.com