Culturally speaking: The Steinhauser Way
Steinhauser, a fourth-generation converter based in Newport, Kentucky, has come a long way in fostering a positive workplace culture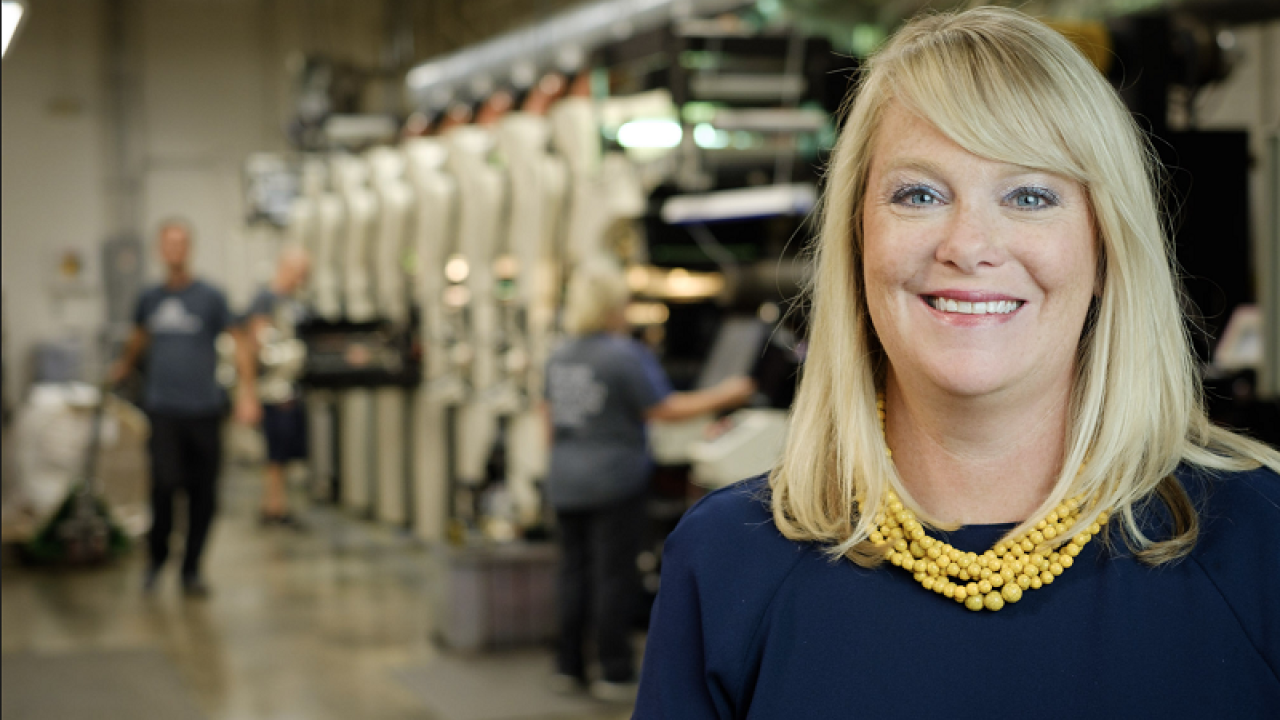 Steinhauser's award for best workplace in America didn't come easy. The Newport, Kentucky-based label company went through trials and tribulations that would be enough to crack even the toughest business owner.
But that's not the 'Steinhauser Way.'
Steinhauser was named Best Workplace in America by the Printing Industries of America, and the company's president Tara Halpin spoke at FTA's annual Forum of her company's journey from a struggling business to award winner.
History
Steinhauser was started in 1905 by Halpin's great-grandfather Albert Steinhauser. From his garage in Cincinnati, Albert started the small commercial printing company that focused primarily on printing government bonds.
Albert and his wife, Helen, had two children, Wilbur and Harold. While Wilbur wanted nothing to do with the family business, Harold couldn't wait to begin the work.
Harold would never get that chance. He was killed in the line of duty during WW2. Following the death of his brother, Wilbur dove into the business.
Wilbur ran the business for years, eventually selling it to his son, and Halpin's father, Robert, or Bobby, as he was affectionately known around the plant.
As children, Halpin and her two brothers often visited the plant and saw Bobby's magnetic personality in action. On Saturdays, Bobby often would bring donuts for the crew working a weekend shift. He walked the shop floor stopping to talk with every person.
'From a young age, before I knew what culture was, I knew that dad's employees respected him and knew that he cared about them,' Halpin says.
After what she calls a 'glorious week off' after college graduation, Halpin started working at Steinhauser. Her goal was to learn every aspect of the business, so she could eventually take over the family business with her brother.
In 2004, the commercial printing company purchased a Comco Proglide, and started transitioning into the flexo printing business. A year later, an outside board of directors named Halpin president.
Halpin recalls: 'Dad said: "I'll stay around and help you with the financial part of the business, the insurance, the banking, all of those things you have not yet learned. I'll stay around as long as I add value to the business."'
With tears welling in her eyes, Halpin continued: 'That always made me laugh, because I knew he would always add value.'
Succession plans were in place and starting to come together.
But sometimes – oftentimes – life doesn't happen according to plan. And sometimes plans go completely off the rails.
The week after his daughter was named president, Bobby was diagnosed with terminal brain cancer.
'I had a 4-year-old, a 2-year-old, a multi-million dollar press about to be delivered and a dad who was terminally ill,' Halpin says.
Robert 'Bobby' Steinhauser died in 2006.
Though his absence was large, Steinhauser managed the successful transition to flexographic printing.
Struggles
The business was thriving, but culturally, Steinhauser was struggling.
'We were numb. We walked around trying to be positive when all we wanted to do was cry. I couldn't even look in my dad's office,' she says.
Halpin left Bobby's office dark for a year until someone told her: 'Tara, you are the leader of this company, you are the president, and people need to see you in that office.'
'What a wonderful lesson in leadership I learned that day: people are watching you at every moment and you must lead by example no matter how hard it is. I took the office and got to work.'
A second flexo press was purchased in 2008, an 8-color Comco Proglide. At that time, the company made the strategic decision to shed its commercial business and rebrand themselves as a label company. With the sale of the commercial business, Steinhauser lost some long-time employees, through both attrition and layoffs.
This shift in technology and direction also eliminated all but one customer.
Transition
The risk paid off. A year later, in 2009, Steinhauser invested in an HP Indigo WS6000, and was building its client base.
Another speed bump came in 2015, when Halpin's brother and business partner told the family he was suffering from addiction, and that he would take a sabbatical from the business. Halpin's biggest mistake at the time, she says, was not being transparent with her employees about the personal turmoil facing the family.
The next couple of years were dark, Halpin says. Turnover was rampant, business suffered, rumors about her brother's absence were flagrant. 'The trust our team had in us was lost,' she said.
It was time for a change. She hired a business consultant to review the workplace culture and Halpin engaged a culture leadership team.
'I made it my mission to create the environment that I grew up watching my dad foster with his team,' she says. 'To create a place where people love to come to work and they genuinely cared about each other. This was our pivotal moment.'
Changes were implemented. Steinhauser's management is now more transparent, successes are cheered, schedules are flexible – particularly when it comes to family engagements or emergencies, and the whole organization has become a part of building the culture. There are Steiny Snax – monthly meetings with a nice snack provided, to share company results; Steiny Treats – appreciation measures like chair massages or ice cream trucks, for example; the 'Good Book' – a public journal for employees to recognize their colleagues and share their experiences at Steiny Snax; supportive onboarding practices for new hires; as well as team building events, community engagement, extended maternity leave and more.
With all these cultural enhancements, three mottos guide employees at Steinhauser: 'happy people deliver results', 'mistakes and adversity are our greatest opportunity' and 'every impression matters.'
Then came the results.
In the first quarter of 2017, Steinhauser tripled its profits. In 2018, Printing Industries of America honored the company's efforts as a Best Workplace in the Americas, and FTA invited Halpin to be a featured speaker on workplace culture.
'I don't pretend to be an expert in culture. Everything that's happened to our company in the past couple years has made me laser focused on doing whatever I can to make our company the best place for my team.
'These ideas are so simple but their impact is so profound.'
Stay up to date
Subscribe to the free Label News newsletter and receive the latest content every week. We'll never share your email address.