Read later
Digital finishing helps drive Springfield's success
Despite the pandemic, UK-based Springfield Solutions attracted several new customers thanks to investment in ABG digital finishing equipment.
Last year Springfield Solutions marked a significant milestone: its 45th anniversary. 2020 was also a roller coaster for most businesses in the UK, adjusting to remote working and applying social distancing and safety rules for those operating machinery on production lines.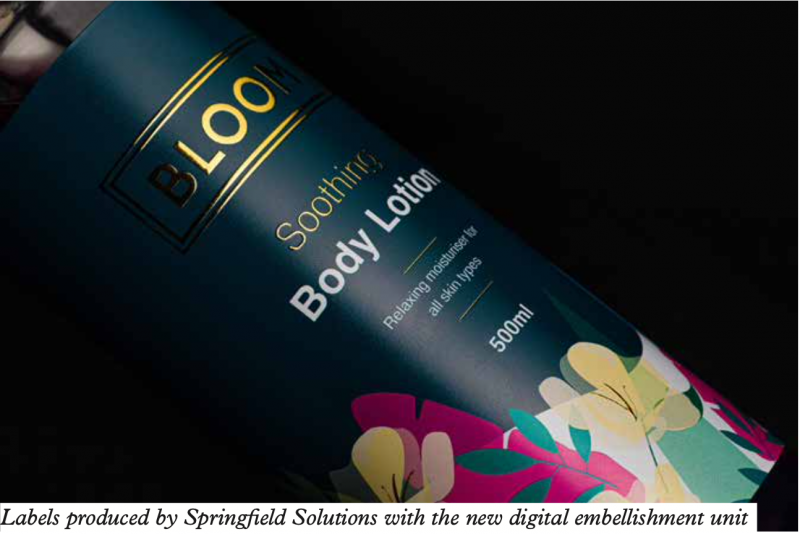 'The pandemic has been an extremely challenging time for everyone at Springfield,' says Matt Dass, managing director. 'However, the fact we are 100 percent digital company has meant we have been able to react quickly, be agile, and continue operating throughout coronavirus. None of this would have been possible without our fantastic staff, who have worked tirelessly to ensure we can continue to service our customers.'
Matt's father, Albert Dass, established the business in 1975. He served his apprenticeship as a printer in the metal box and printing industry before moving to City Engraving in Hull as a printer and proofer. However, after 15 years as an employee, the pull of entrepreneurship was too great, and he founded a trade platemaking and proofing service on Springfield Way, Anlaby, UK.
In 2016, after three years of substantial growth, the company invested GBP 1.3 million to expand its digital print division into a neighboring building. Springfield increased print capacity by 30 percent by installing a Screen Truepress Jet L350UV with Jet Converter and an A B Graphic Digicon Series 3 finishing unit with buffer, retrofitted to an off-line Screen Truepress in the new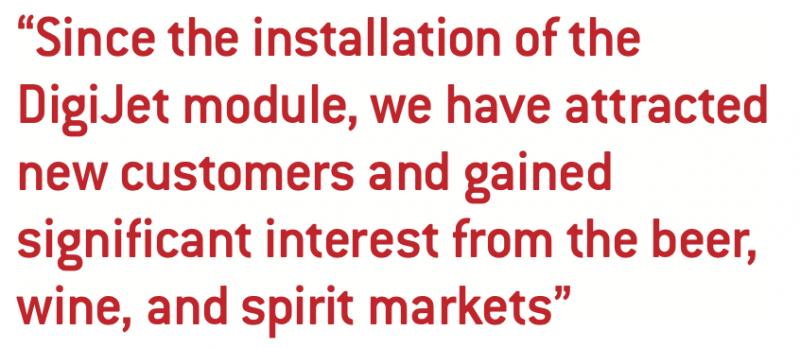 factory. 
The company's name might still recall its first headquarters, but everything else has changed over the years. Today, Hull-based Springfield Solutions is one of the leading one-stop-shops in the UK, offering global brand management, digital print, and media services.
The company currently operates four digital presses and five finishing lines. Its team of 90 supplies a wide range of end-user markets such as household, chemical, cleaning products, paints, coatings and aerosols, to name just a few, with 60 percent of its printed products destined for the domestic market. 
Year of growth
During the last year, Springfield's digital team produced 187 million digital labels, equivalent to 29 million meters of printed material; its brand management department created 19,118 digital artworks supplied to 45 different countries. 
After installing its latest piece of machinery in 2020, a DigiJet module powered by JetFx technology from A B Graphic, Springfield launched a digital label embellishments service enabling personalized digital foiling, tactile finishes, digital spot varnishes as well as embossing and debossing effects. 
Initially purchased at Labelexpo Europe in September 2019, the installation was delayed due to Covid-19 restrictions but has since been successfully integrated with Springfield's existing Digicon Series 3 finishing press. 
'Although the unit's installation was delayed, the team at ABG couldn't have been more helpful,' adds Matt Dass. 'Engineers attended the site on the weekend, not to affect production, followed all secure Covid-19 policies, and had the machine back up and running for the Monday production slot. We are delighted to have the JetFx DigiJet module finally installed. And having it retrofitted over a weekend to allow for social distancing was easily the best installation ever.'
According to Matt Dass, the module enables Springfield to create varnish and foil effects, tactile finishes and other embellishments. 'Being perfect for short runs, our digital package offers no tooling costs, variable data, personalization, and dramatically reduced lead times. It's a perfect fit that will open many doors to all our customers,' he says.
As a digital embellishment module, DigiJet offers an on-line or off-line fully digital system allowing for multiple processes in one pass, including spot varnishing, cold foiling and tactile screen. Springfield benefits from equipment features including two inkjet heads with UV pinning and UV curing, automated cold foil throw-off, a shuttle system for inspection and waste reduction, chill rollers for sensitive materials, pre-press software, and food compliant fluids.
'Springfield decided to go into the embellishment side of labels to offer our customer something epic, something unique, something personal,' notes Steve Nix, print operations manager at Springfield Solutions. 'These digital finishing effects can be applied to any product, whether it is a drink bottle, a beer bottle, a wine label or a cleaning product. This is one of the world's first units offering a digital foiling solution and a digital spot varnish. Its potential is really great.'
'Springfield has been a valued ABG customer for many years, and we look forward to seeing the results of their investment in the future,' said Matt Burton, sales director at A B Graphic, based in Bridlington, just a few miles away from Springfield Solutions. 'The DigiJet module powered by JetFx technology shows that ABG has the ability and expertise to provide a finishing technology that works seamlessly with all technologies within the digital label print environment while adapting to meet the requirements of all consumer label markets.'
Matt Dass says that since the installation of the DigiJet module back in the summer of 2020, the company has attracted new customers and gained significant interest from the beer, wine and spirit markets. With no additional tooling costs, the converter could reduce lead times of premium packaging to up to five days from sending approved artwork.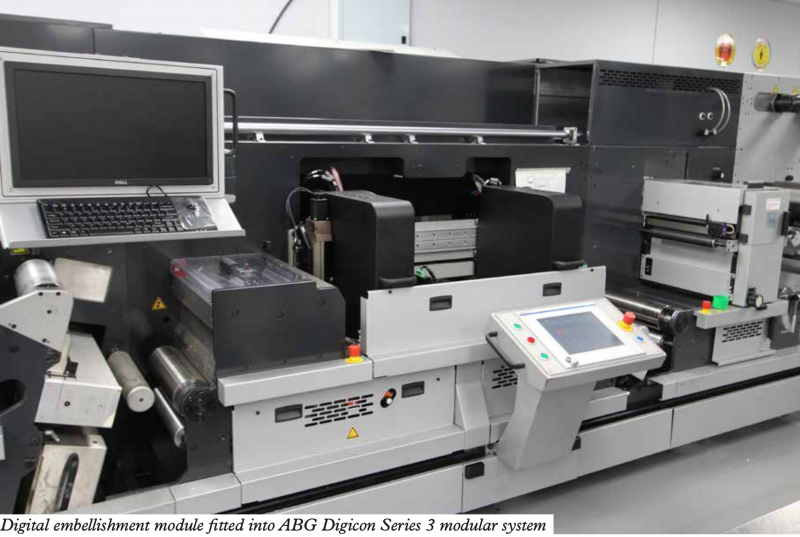 'The ability to add foils and spot varnishing to enhance our brand owner's look and feel of their packaging is very appealing to them and their market. Historically, this has always meant expensive set-up costs, minimum order quantities and long lead times. The ability to do this digitally takes away these barriers and allows brands to run special offers, campaigns, personalization, serialization, and change their packaging designs much more cost-effectively,' says Dass.
Year of giving
2020 was also a year of giving. When Scottish company Macphie temporarily converted its production facilities to produce hand sanitizers for crucial organizations and frontline staff, Springfield was tasked with creating the labels. The challenge with this particular set of labels was urgency, as Macphie needed them quickly. After the first batch of 25,000 free labels, the company requested a further order of 300,000. The order was placed in the morning, and the labels were delivered the following morning. 

'It brings us great pleasure and joy to know our innovative and digital print facilities provide organizations like Macphie the opportunity to get the products it desires quickly and efficiently, with the correct labels,' comments Matt Dass. 
Last Christmas, the company donated 850 personalized hand sanitizers to local NHS staff in the Queen's Centre, Castle Hill Hospital.
'Every year, we send a Christmas gift to our customers thanking them for their custom and support,' notes Dass. 'Last year, we decided to do something slightly different and show our appreciation to a special group of people. We have donated personalized hand sanitizers to local NHS staff who received bottles with their names in an elegant silver foil.
'Once again, another year of growth for Springfield. But we don't plan on stopping here, and we want to continue working with forward-thinking brands and organizations to provide innovative packaging solutions.'
---
For further info: 
To learn more about Springfield, go to www.springfieldsolutions.co.uk. For more detail about ABG's DigiJet module powered by JetFx technology, visit www.abgint.com