Disruptions to the global supply chain have left converters and suppliers asking what's next and battling to stay ahead of the curve.
Though it's easy to hold the Covid-19 pandemic responsible for the global supply chain disruptions of the past 18 months, there are a multitude of issues that have put pressure on an already vulnerable system.
'What's going on with the supply chain is a confluence of many different happenings. It's really a perfect storm of highly disruptive events,' said Jeff Ogren, North American business director at Bostik
during the TLMI Annual Meeting in October 2021.
Unfilled workforce positions, issues with freight and shipping, and random natural disasters are just a few of the root causes of the current bottlenecks and delays across the global supply chain.
In a report by the US Bureau of Labor Statistics looking at the labor shortage, the number of resignations increased to 4.3 million in August 2021, leaving the total number of unfilled positions at 10.4 million with no obvious signs of a slowing or downward trend. 
'People are revaluating their lives due to the pandemic,' said Ogren. 'People may end up retiring early. A lot of people are making those personal choices. All these different things are happening that
are driving the issues we're seeing today.'
One of these is the persistent issue with freight, overseas shipments and blockages at ports across the globe.
Earlier in 2021, the Ever Given, a 400-meter-long vessel carrying over 18,000 containers, became lodged in the Suez Canal for six days. The financial cost of this is still being evaluated, but this single
event is only one part of the larger supply chain issues.
Ships have continued to be anchored off the Port of Los Angeles – one of North America's largest – for days, carrying thousands of shipping containers full of a wide range of products. This situation is repeated across many ports and warehouses on both coasts.
Labor shortages and delays are persistent in the freight industry as well. About 71 percent of the US economy's goods are moved through freight, according to the American Trucking Association. The industry is short 80,000 drivers as of October 2021, which is making it difficult to keep products moving.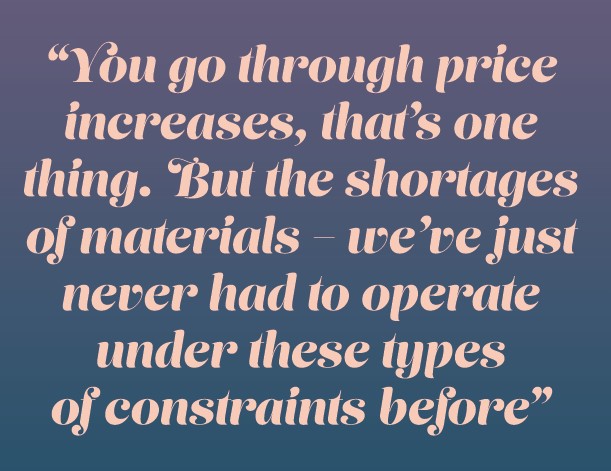 'Freight, in my experience, is more at a premium today. And I think it's been more unpredictable as well,' says Bill Podojil, vice president, sales and marketing, label and graphic materials North America at Avery Dennison. 'Early on, we were running into challenges where we would have a truck that would seemingly go missing and we would end up finding it on the side of the road somewhere. Just things that we never had to deal with before.' He adds that based on conversations had with others, these problems seem commonplace across the label industry.
Adding to the already strained workforce and supply chain, multiple natural disasters occurred over just a few months, causing even further complications.
Through February 13-17, 2021, Winter Storm Uri swept across North America, dropping snow over places that hadn't seen it in hundreds of years. In Texas, the snow combined with the freezing temperatures to result in blackouts across the state, causing major issues with the chemical producers based in the area.
'It never snows in Texas until it snows in Texas,' said Ogren. 'This massive ice storm wiped out a significant portion of the major specialty chemical producers. And because some of these are open air facilities, pipes burst and equipment failed. This caused the first major, dramatic supply chain disruption in the specialty chemical market. And, in some ways, we haven't fully recovered from that.'
In August this year, Hurricane Ida hit the Gulf Coast, causing further issues with these same manufacturers who were still recovering from the winter storms.
What about the label industry?
Providing its services across markets ranging from food and beverage to aerospace to manufacturing, the label industry proved to be resilient throughout most of the Covid-19 pandemic. But now, as disorder in the global supply chain continues, the industry is facing unprecedented challenges.
'I've been in this industry for 25 years. You go through price increases, that's one thing. But the shortages of materials – we've just never had to operate under these types of constraints before,' says Shane Lauterbach, president and CEO of Lauterbach Group, a label converter.
Shortages in raw materials, price increases across the supplier base, demand increases from both converters and end users, and continuing delays in shipping are a few of the major problems the industry is having to navigate.
When the winter storm swept across the United States, a significant number of domestic suppliers became incapable of providing the raw materials needed to manufacture the products necessary in the label industry.

'When you look at the chemical manufacturers who are making adhesives, polypropene, or any of the other chemicals we use in films, face sheets, or anything like that, there's somewhere around 50 or 60 of these companies in the US that are in force majeure status,' says Lauterbach.
Due to many of the manufacturers in Texas claiming force majeure because of the 'big freeze', Avery Dennison, like many other label industry suppliers, was left to figure out where to procure its supplies.
According to Podojil, this led to the company leveraging its global supplier base more than ever before. But because of the labor shortages and other ongoing issues at ports, this solution unveiled other, previously unseen, consequences.
'We have had a few challenges at the ports, mostly with customs and waiting for containers to be unloaded. And because of this, if we're late getting our materials, we're going to be late getting the finished product to our customers,' says Podojil, referring to what he calls 'the domino effect': because the raw materials suppliers are having a shortage, Avery Dennison is having a shortage, leading to shortages on the converter side, and ultimately, the end users.
This succession of shortages is causing difficulties keeping up with the increasing demand, which according to Podojil 'peaked at the start of 2020 and hasn't slowed down since'.
Echoing this sentiment during a panel discussion at the TLMI Annual Meeting, Tim Kirchen, senior vice president at UPM Raflatac, said: 'Consumers have been saving and were sitting on this pile of cash. And then came January 2021, when consumers started to unleash this cash at a rate that was 20 percent higher than usual. Goods that need to be manufactured, goods that need to be labeled, goods that need to be packaged and then labeled again.'
Though not many could predict how high demand would rise, it didn't come as a complete surprise for some converters. Lauterbach Group, for example, prepared by ordering more materials. However, difficulties came when consumer demand continued to rise as supplies dwindled.
'We pre-bought a significant number of materials. The problem was it only lasteda short while, but the demand hasn't stopped. Now, we're in the throes with everyone else that is trying to manage supplies through these constraints,' says Lauterbach, who adds that it's impossible to predict how long these shortages are going to last.
And Lauterbach Group was not the only converter that looked to get ahead of the curve.
Podojil confirms: 'Between March and June of 2020, there was a lot of prebuying from our customer base, which I totally understand because nobody understood what to expect. But from the summer to the fall of 2020, we started to be able to balance our outbound shipments with the up-ticking demand, we were able to get a little more even. But after the holidays, the demand has just kept on rising.'
And as demand continued to increase and stock shrunk across the industry, suppliers of film, inks, papers and other materials announced a series of price increases. Looking at the current prices of international freight and shortages of raw materials makes this easier to understand.
According to LPC, a marketing communications and industry research company, in 2020, moving a container from Asia to ports on the eastern US seaboard typically would have cost 1,000-2,000 USD. Today, moving that same container along the same route costs close to 20,000 USD.
'All the supply chains for label materials are exhausted. Whether that's for adhesive components or liners or thermal papers, supply chains are exhausted and there is very little stock,' said Kirchen.
During these difficult times, many companies are asking when everything is going to go back to normal. When can converters, suppliers and end users expect to order a product one week and receive it the next? There is no straightforward answer.
'We've heard predictions from Q1 2022 to something that's going to be extended to the length of 2022,' says Podojil. 'I think most of us in the industry are trying to take a more positive outlook. But I think most of the issues are tied with the demand, which I haven't seen slow down.'
Kirchen predicted that there won't be a full recovery of the freight industry throughout 2022, adding that a developing energy crisis in China may have a further negative impact on the supply chain.
'I wish that, come Christmas, everything will get better and we'll get back to normal next year, but unfortunately that's not the case,' said Kirchen. 'On the materials side, we probably will see some temporary improvements here and there and we may even see some things worsen with certain products, but we don't think there will be a significant change until at least the middle of next year.'
The other side of disruption
Many of these disruptions are out of the hands of any individual company. This is a systemic issue that will more than likely continue in some way or another for years to come. However, there are ways to take some control of the situation, to make sure issues don't compound and cause further problems. One of which is understanding that, from a global standpoint, the label industry is relatively minor.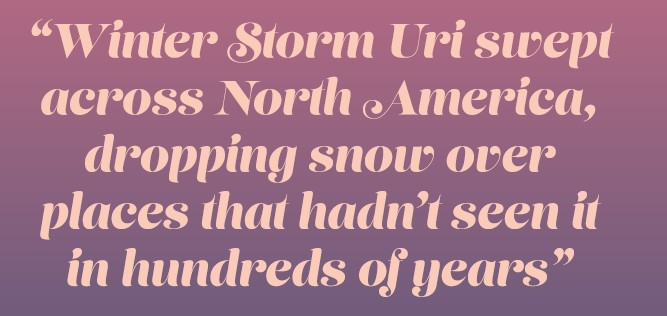 'When you ask what you can do, I think part of the process is understanding that you're insignificant to the global system. If a company needs acrylic monomers for adhesives but the massive paint companies also need them, you have to think: which is the bigger industry, paint or adhesives for pressure-sensitive labels? It's almost always going to the paint companies. And that type of competition goes for practically every industry, because we're just a subset of these suppliers' portfolios,' says Lauterbach.
Another step in this process is understanding that for the foreseeable future, just-in-time and overnight delivery are not going to be doable.
'This was an industry used to 24-to-48-hour delivery, which was pretty inefficient at normal times and pretty much impossible now.' Kirchen also emphasized that it's important to keep expectations realistic and good communication is going to more important than ever. 'As for what we can do now, we can actively and openly communicate with each other, with suppliers, so we can manage this chaos together.'
Communication all the way down the supply chain is going to be the key, agrees Podojil, especially as prices, availability of supplies, and lead times will continue to fluctuate week by week.
'There was an adjustment phase earlier this year. Some people were already used to those shorter lead times and hadn't planned into the future, so we had to approach them saying that you have to plan further so we can at least work with our own suppliers to make sure you have those orders when you need them,' says Podojil. He adds that though the disruptions are still causing problems, there at least haven't been any further downward swings on shipments and deliveries.
But although the problems seem to be plateauing, there is still a lot of work to be done. From the start of a product's life to the end, everyone is going to have to continue working to keep the fluctuations in check. And according to Lauterbach, based on conversations with the company's suppliers, that's exactly what's happening behind the scenes.
'From the materials suppliers, and the companies behind them, there are a lot of great people working hard to fix this. And I think that gets lost in the turmoil. All these improvements, all the communication, and the hard work going into trying to find the solutions throughout the supply chain, is getting buried,' says Lauterbach. 'It's easy to get frustrated with the day-to-day problems, always figuring out what's next. But I'm positive that there will be tremendous innovation and improvements that'll come out of this process from the suppliers to the converters and with our clients.'