Opportunities in Asia-Pacific
For many, Asia Pacific is a faraway holiday land with ancient traditions, flavorsome food and welcoming people. It might be a distant land, but it struggles with similar challenges and seizes the same opportunities as more mature markets.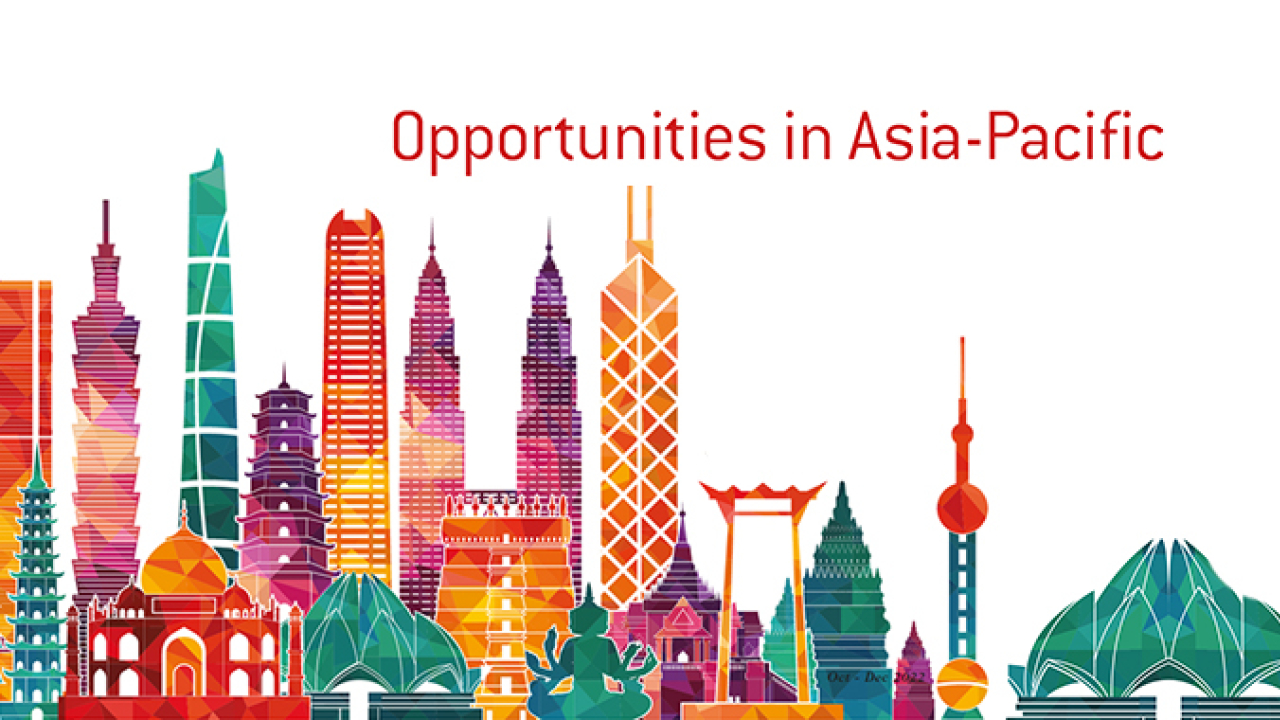 According to the Knowledge Sourcing Intelligence report published in September 2022, the Asia Pacific (APAC) print labels market was valued at 15.778 billion USD in 2020 and is expected to grow at a CAGR of 7.34 percent to reach a market size of 25.092 billion USD by 2027.
The CAGR percentage might not seem impressive initially. Still, compared with the 3.02 percent and 3.47 percent growth prognosis for North America and EMEA, it becomes clear why some of the significant label market players increased their presence in the region.
High economic growth in emerging economies, rising disposable income, and growing health awareness are some of the key factors augmenting the demand for packaged food and beverage products, which boosts the demand for print labels in the region.  
Several countries in the Asia-Pacific region were significantly affected by the Covid-19 pandemic. The shutdown of various factories affected global supply chains and negatively impacted manufacturing, delivery schedules and raw material sales. Additionally, sealed borders made it difficult to procure raw materials such as ink, label stock, plates and dies. 
Long Covid or fast recovery
'The global economic outlook during the pandemic saw a decrease in gross domestic product and supply chain challenges,' says Singapore-based Arnon Goldman, general manager for HP in Asia Pacific. 'As a result, the print industry was impacted by lower demand and volume slowdown. We immediately set out focused plans to support our customers and partners aimed at business continuity and the needs of customers. Since then, we have seen many of our print service providers (PSPs) demonstrate business agility and a quick reaction to ever-changing market demands by shifting more volume to digital print and leveraging the versatility of our presses to offer new types of products and services.' 
'I believe that many companies faced the same issues with longer delivery times beyond their control,' agrees Lena Chmielewska-Bontron, European marketing manager at press manufacturer Mark Andy. 'This meant we all had to change our logistics and supply chains. The advantage for Mark Andy was that most elements are produced in-house at our factory in St Louis, USA.'
The pandemic affected the regional labels market as consumption and demand plummeted due to government restrictions and businesses closing. 
'The impact of the pandemic on business has been a mixed bag, varying by segment and country. In general, we saw a rise in demand in the tag and label sector and flexible packaging,' adds Roy Schoettle, vice president of the Asia-Pacific region at XSYS. 'This was largely driven by the high demand for pharmaceutical and sanitary products and by the rise in at-home consumption of packaged goods. However, other areas, such as the beverage industry, dropped. From a regional perspective, China performed strongly, whereas India, for example, experienced a decline.'
'In general, our business has remained resilient despite the impact of government lockdowns,' says Benjamart Fagg (Jane Tan), managing director of Press Systems Group (PSG), a Thailand-based supplier of UV LED systems. 'The restrictions on travel led to a downturn in the leisure and tourism sector, and as a consequence, we've seen a divergence in demand trends across different sectors. The hygiene and pharma sectors have been solid and the retail food and drink sector performed better than expected.'

Thai KK, a major label and adhesive tape manufacturer, faced a much lower demand for self-adhesive labels for the food industry. However, it could keep a stable volume by supplying more to converters producing labels for the pharmaceutical, home and personal care, and digital advertisement industries.
'A big number of brand owners were supplying labels to specific verticals such as healthcare, retail, home, personal care and education before the pandemic unfolded,' comments Chawaeng Uvimolchai, CEO of Thai KK Industries. 'Now, as businesses have reopened, many brand owners are getting more traction and demand on social distancing labels, smart labels, touchless transactions, etc. We were also able to capitalize on this opportunity during the pandemic.' 
Challenges and opportunities for growth
APAC is undoubtedly a rising market with great potential. Although the pandemic has negatively influenced its economy, the region is showing strong economic growth again. It is listed as one of the fastest-growing markets globally, with indicators way above other more mature markets like North America or Western Europe.
'Regional companies will embrace the opportunity for growth and will know that it represents both an advantage and a challenge,' says Jake Roberts, sales director of Sandon Global. 'The advantage will lie in the increased revenue opportunities, but that will, of course, be countered by the challenges. Elsewhere in the world, we've already seen increasing demand for shorter-run work, with fast turnaround expectations and a greater variation in print quality demands. As the market grows, so do these more exacting requirements and increasing quality standards, all of which require technical know-how and agility to uphold consistently.'
'The growth provides a good incentive for companies to invest in the region. The APAC region is characterized by its large population, rising living standards and urbanization trends,' notes Jane Tan of Press Systems Group. 'These are the principal factors driving consumption across all aspects of the packaging market. Overall penetration of supermarkets and convenience stores is relatively low compared with more mature markets. Therefore, there is sustainable growth potential in PSG's key markets, which include Vietnam, Indonesia, Philippines, Thailand and Malaysia.'
XSYS, on the other hand, warns that high growth also presents various challenges for individual companies, including PSPs. 'The main challenge for regional companies would be staff retention, new recruitment, and staff training and development. Like in the rest of the world, the conditions are tough in the Asia-Pacific region at the moment with severe cost pressures, fast-rising energy costs, supply chain issues and lack of highly skilled staff making life difficult for flexo converters,' says Schoettle.
Material prices have been increasing substantially throughout 2022.  Additionally, companies are hit with higher power, logistics and staffing costs. Consequently, there is a great deal of cost pressure across the entire value chain.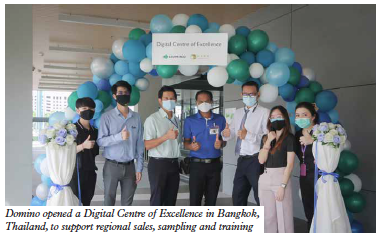 HP lists rising costs as the biggest challenge in the region. These costs are going up to the highest prices for decades and has lead to inflation forecasts on a macro level.
'In addition, a challenge we learned to plan for is shortages of parts, substrates and raw materials. With only a few new offset workers being trained, any shortage in labor in print can be an enduring crisis,' says HP's Goldman. 'Customers that have adopted digital as part of their business strategy are coming on top of those challenges as they react and change faster. We see increased demand for automation in production and a move to more automated workflows. Successful PSPs are shifting to focus on customer experience and diversifying their products offering and services flexibility with digital print on HP.'
Mark Andy's Chmielewska-Bontron adds that the challenge now, and going forward is finding the right people with the technical know-how and ability to operate a printing press and be responsible for production. 
'This is especially an issue for the flexo sector and is, perhaps, one of the reasons for the growth of digital printing – the presses are easier to learn and operate,' notes Chmielewska-Bontron. 'The shortage of printing skills is a global issue facing all converters, irrespective of where they are in the world or which sector they work in. For many major markets, the looming crisis in energy costs will become a critical concern. So strange as it may seem, now is a good time to invest in the latest and most efficient technology.' 
Driving the cost curve of flexographic printing down compared to other printing technologies, such as gravure or digital printing, is one of the most significant opportunities for the industry, according to Roy Schoettle of XSYS. 
'This can be achieved by increased machine automation resulting in higher productivity and waste reduction while enhancing quality through a more consistent plate production process,' says Schoettle. 'Our ThermoFlexX Catena plate processing systems, in combination with our extensive plate portfolio, are driving this trend with a strong focus on sustainability.'
Many countries in the Asia-Pacific region share similar heritage and are geographically close to China; therefore, they also share a glass-half-full culture and prefer to focus on opportunities rather than challenges. 
This approach is apparent in a comment from Carrie Duan, international sales director of vision inspection expert Luster: 'We are glad to see APAC regions recover from the pandemic, so manufacturing orders are flushing back to their new peak. Companies are busy with new orders, expanding their production and inventing in new machines. China's technology and manufacturing level has grown fast in the past 10 years, and more local companies feel confident about Chinese machines and technologies. Its great ROI level attracts them.'
According to Teemu Ainasoja, sales director of Voyantic, smart label manufacturing is also an ample opportunity in the region with the demand for smart labels, especially RAIN RFID labels, growing faster than traditional label demand. 
'The post-pandemic trends show the world embracing more digital tools. In print and packaging, we are seeing this integration of the best of the physical and digital world for a fuller experience,' agrees HP's Goldman. 'There is the adoption of physical dimension products and services being offered following increased attention and customers online.'
Balancing digital, flexo and hybrid
The latest Knowledge Sourcing Intelligence report confirms that digital printing is anticipated to grow significantly in the region and outpace any other printing technology. 
According to HP, as print continues to grow and evolve, so are customer expectations and demands changing. Successful PSPs are now increasing their focus on growth drivers and progressing their digital acceleration. 
'The digital sector is proving popular for smaller runs and niche applications, offering cost benefits and flexibility over flexo. However, we don't expect digital printing to make big inroads into the core flexo print sector at this time as flexo is still proven to have its cost advantage for mid- to long-run jobs,' responds Jane Tan of PSG. 'It's higher quality in terms of the overall durability of the ink, which supports a longer shelf-life, and is another advantage. Furthermore, flexo can be used for add-on processes such as lamination or cold foiling, which are not supported by a digital press on its own.'

Domino Digital Printing Solutions, which has been present in the APAC market for over three decades, opened a Digital Centre of Excellence in Bangkok, Thailand, with its long-standing partner Harn Engineering Solutions, in June 2021. The facility has been established to support regional sales, sampling and training.
'Digital inkjet printing is gaining momentum in the Asia-Pacific for label printing and for the increased use of variable data printing witnessed since the Covid-19 pandemic struck,' comments Paul Myatt, Domino Digital Printing Solutions' APAC regional service and support manager. 'Domino is well-placed to serve this demand. We combine our global knowledge and expertise with the local language capabilities and cultural awareness provided by our network of distributors and direct channels in India, China and Korea to deliver personalized local service and support throughout the APAC region.'
Roy Schoettle agrees that the install base of digital presses is growing, but these technologies are still complementary to flexography. 
'Digital does play a role, however, particularly in the tag and label market where we are seeing many printing companies investing in multiple technologies, but in other markets, such as flexible packaging where high-speed printing and long job runs are required, it is still not economically viable,' he says.
Luster's Carrie Duan thinks that digital printing is undoubtedly growing fast, along with many technological improvements. However, she expects to see the increasing popularity of hybrid printing machines.
'Flexo is and will be for some time the major technology in narrow web, and it is important that converters see the two as complementary, not as direct competitors,' adds Mark Andy's Chmielewska-Bontron. 'Each has advantages and limitations, so we carefully evaluate each customer's requirements before recommending which technology they should invest in. Mark Andy is in a unique position here, with a portfolio of flexo and digital hybrid presses that no other manufacturer can match. This puts us in a far better position to be objective with our recommendations and honest with our customers – we can supply whatever technology best suits their needs. If I would need to estimate the current split in our sales numbers, I'd say that flexo accounts for around 70 percent and digital hybrid around 30 percent of presses sold.'
Talking about ratios, Thai KK believes digital printing products will have higher growth in percentage in the long run. Although, the company estimates the current balance is only at 10 percent digital, compared to traditional offset labeling, which is around 90 percent. The company predicts that digital printing will grow faster in the next five years.
HP is also expecting all technologies to coexist in the market, noting that there is a shifted focus and investments in digital. 
'All the trends we discussed here motivate PSPs to redefine their strategy and long-term plans,' says Arnon Goldman. 'We are seeing more interest in new business models and offerings largely enabled by digital and HP technologies, services and solutions.' 
Sustainability goes beyond eco-friendly materials
Sustainability is on everyone's agenda, and while before, it was mainly just a topic for debate in the APAC region, legislation is now being introduced to reduce the impact of packaging on the environment. The region is proving its maturity when it comes to eco-friendly approaches.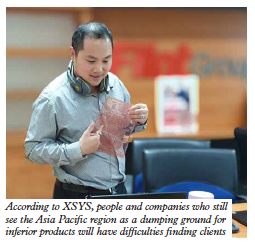 'People and companies who still see the Asia-Pacific region as a dumping ground for inferior products will have difficulties finding clients, as the converters in the region are supplying high-end quality packaging and continuously improving conditions and the quality of their output,' says XSYS's Roy Schoettle. 'Sustainability has become a key requirement for the packaging industry across the board, with everyone from global brand owners to local startups making pledges to lower their impact on the planet.'
Sandon's Jake Roberts thinks that sustainability may have been less of a priority during the early stages of the pandemic as hygiene and safety rose in consumer concern, but now that the company operates at full strength, everyone is far more conscious of this when purchasing products, both in their professional and personal lives with sustainability requirements increasing at every step of the value chain. 
'HP leads with sustainability, and the opportunity for it has expanded. Consumers, regulators, and brands are driving the change where consumer pressure and social media supported by focus and regulatory pressure drives bold moves from CPG and retailer,' comments Arnon Goldman. 'Print and packaging businesses can become an integral part of the solution and offer a digital-first mindset in manufacturing with reduced waste, a lower carbon footprint, circularity commitments and new sustainable materials.'
The driver has been initiated by end-consumers and brand owners and now covers the entire label and print value chain. For PSG and its local customers, there is a requirement to use sustainable products, reduce waste and lower energy consumption.  
'We expect to see a further transition towards recycled materials in labels,' states Jane Tan of PSG. 'Consequently, we work closely with our primary suppliers to test and develop new products to meet these requirements. Our leading suppliers are based in Europe, where these processes are more advanced. PSG constantly reviews ways of reducing waste and increasing efficiency. Earlier in 2022, we installed solar batteries at our Thailand factory to save costs and reduce carbon emissions.'
'The demand is real, and the APAC region is not different,' agrees Voyantic's Ainasoja. 'The drive towards better sustainability originates from consumers and known overconsumption of earth resources. Brand owners forward the demand to their label suppliers. Supply chains, including labels, are global, and creating sustainable products and supply chains is a globally shared topic.'
Broader environmental, social and governance subjects have also become a significant priority for customers and businesses in the APAC region in recent years. 
'As a responsible business ourselves, the new Sandon Global facility is only fractionally away from being carbon neutral,' notes Roberts. 'We can supply 50 percent of our energy requirement through photovoltaic solar panels when weather conditions are favorable.'
Many businesses in the labeling and packaging market in the region have embraced sustainability on many levels. Thai listed firms remain the regional leaders in their commitment to sustainable development, with 24 Thai companies, the highest number in ASEAN, joining the Dow Jones Sustainability Index, proving their focus on driving toward a more positive and sustainable future through responsible sourcing and using sustainable materials. 
'Some companies have also committed to being carbon neutral in the next three to five years. Thai KK is also committed to driving sustainability goals by implementing eco-friendly packaging across all businesses while also focusing on developing recyclable and linerless labeling solutions,' adds Uvimolchai.
What does the future hold?
One of the dominant trends in mature packaging markets is M&A activity. The APAC region is no different. 
'We are seeing M&A activity changing the customer landscape in the APAC and contributing further to global industry consolidation. There are now fewer small and medium-sized printers active in the market than were present 10 years ago, and this trend is expected to continue,' confirms Jane Tan of PSG. 'For us, it presents both challenges and opportunities. Challenges are associated with the need to meet global best practices of customers and additional requirements on product consistency across different regions. Ultimately for PSG, this has led to longer testing and trailing periods for some products and additional cost and supply chain pressures.'
As Domino see it, the future lies in inkjet as it offers local businesses to operate more flexibly, efficiently, cost-effectively, sustainably, and with shorter lead times, ultimately driving up their return on investment and digital product development and growth. 
'We strongly believe that the APAC region will adopt hybrid technology in a big way, which means that we will have to stay very close to our customers and partners to help them choose the right solution for their specific needs,' answers Mark Andy's Chmielewska-Bontron. 'It's impossible to paint an accurate picture for such a large geographic area – different countries have different requirements, priorities, pressures, and financial capabilities.  It's not a one size fits all situation – but with our diverse portfolio of technology, both flexo and digital, we are confident that there is a Mark Andy press to suit all applications.'
Roy Schoettle of XSYS, on the other hand, thinks that introducing higher levels of automation into the production process can help alleviate some of these issues, which will no doubt continue to trouble the region, and the world, over the next few years. He thinks that minimizing waste, removing manual intervention, and reducing the total cost of ownership is now conditional to successfully operating in the packaging industry and futureproofing businesses.
In line with automation prediction, Luster's Carrie Duan sees the future in quality control level, production efficiency, and reduced costs. 'Currently, most companies are still using manual quality checks. However, more companies are seeking more smart, automatic and efficient solutions, not only for the top player but also middle to small-sized companies,' says Duan. 'Our high-speed and zero-defect print inspection system will greatly reduce customer investment, and we will continue to introduce new products with the best total cost of ownership by combining our accumulated experience in AI and industrial vision inspection with the advantages of China's mature upstream supply chain.'
Univacco's sales manager, Patrick Lee, bets on sustainability trends being predominant in the region following the American and European markets, which are seen as leaders of sustainability and carbon footprint topics. 
Perhaps the best future trends conclusion comes from Arnon Goldman, who thinks that there are several categories at tipping points for our industry, like digital adoption, sustainability, automation, personalization, e-commerce and growth in packaging. 
'Print is positioned at the intersection between many interesting segments of big logistics and operations and rush for more creative solutions where our PSPs can plan key roles with new business models,' concludes Goldman.
Stay up to date
Subscribe to the free Label News newsletter and receive the latest content every week. We'll never share your email address.