Read later
Sanchuang makes digital move with Screen
Located in Bishan district, Chongqing, label converter Sanchuang has a workshop of 2,500 sqm and more than 50 employees. The company is equipped with two Label Source satellite letterpress, Zonten intermittent letterpress, Zonten intermittent offset press, a Screen Truepress Jet L350UV SAI UV inkjet digital press, two Reborn high-speed die-cutting machines, a Rhyguan die-cutting machine, Luster automated inspection system, Pulisi visual inspection equipment as well as a Xinhua ERP system.
Owner Chen Baixiang previously had a highly successful career in international trade in Guangdong Province. In 2013, he happened to find out that Sanchuang was about to be sold, at the same moment he had decided to invest his earnings in his home town.
With his years of working experience in international trade, Chen saw that demand for labels would continue to grow, opening up huge opportunities for future growth. Therefore, he made the decision to take over Sanchuang.
Chen admits he knew very little about the technical side of label printing at the outset. 'Although I am full of confidence in the development of this industry, I didn't know much about the technology and market, so I had to start from scratch. Fortunately, a partner who carried on from the original company knows a lot about this industry, so production and operations were not greatly affected by the change of ownership.'
Chen gave full play to the 'courage and aggressiveness' of his 'newborn calf'. He went straight into the front line and worked in different roles such as sales assistant, merchandiser and delivery driver to support the development and expansion of the business. Sanchuang was soon on the right track and achieved positive and steady growth.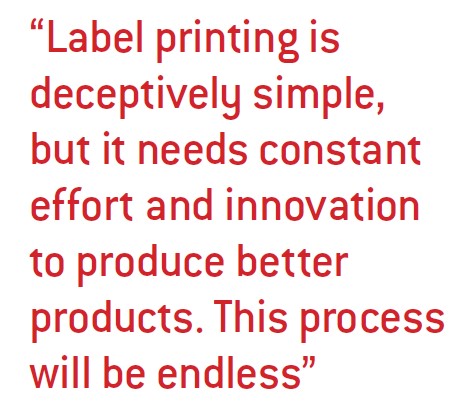 After years of development, Sanchuang has created its own blueprint for success, which it calls its 'best tricks': standardized management, high-quality products and professional services. For standardized management, Sanchuang has set up an internal '7s' management system, whose procedures cover a wide range of quality assurance processes, including reorganization of the production workflow, cleaning and safety training. For high-quality products, a rigorous quality inspection system has been established with automatic quality inspection equipment. Samples of each tested roll of products are kept for archiving to ensure consistency of product color and quality. And Sanchuang set up a professional service team to monitor the ERP workflow from receipt of customer orders, to internal processing of orders, material allocation, production scheduling, printing, post-press finishing and inspection, warehousing and finally outbound delivery, to provide customers with a first-class services.
Digital investment
In March 2021, Sanchuang installed a Screen Truepress Jet L350UV SAI series UV inkjet press – the first such press in the Chongqing area. From the initial contact with Screen to the official installation of the press took only three months. 'However, we looked around for two years before investing in this digital press,' Chen tells L&L. 'I've been learning about different digital printing technologies, the performance, range of label materials, market segments and so on. But I didn't find suitable equipment matching our order structure.'
With the pandemic-era label industry now being pushed towards automation and AI, we are entering an era full of opportunities but also uncertainty and new challenges, in which enterprises need to think hard before investing in new equipment.
Before investing in the Screen press, Sanchuang conducted several rounds of tests. 'We chose this digital press because it happened to match a new order we were developing. It has a stable color quality, wide color gamut and easy color matching and the print quality of repeat orders can be guaranteed,' says Chen. 'Additionally, customers are fascinated by the gloss and tactile printing effect of a UV inkjet press. Moreover, I am impressed with the brand credibility and service concept of Screen.'
Sanchuang has fully tested the performance of this digital press with different materials and orders. They have also tried to combine conventional and digital printing processes to varying degrees to provide customers with more diversified label products.
Most of Sanchuang's products are currently used in the beverage and electronic products industries, with beverage accounting for about 70 percent. Filmic PS labels account for between 60-70 percent of all orders.
After eight years working in the label industry, Chen knows he always has more to learn. 'Frankly, although it seems that I have learned a lot compared with when I took over Sanchuang in 2013, the more I know, the more I find I need to know on a deeper level. Label printing is deceptively simple, but it needs constant effort and innovation to produce better products. This process will be endless.'