Hickman Label invests in Screen L350UV SAI
Hickman Label Company of Lebanon, Tennessee, has invested in a Truepress Jet L350UV SAI, marking the 200th installation for this Screen's press in the world.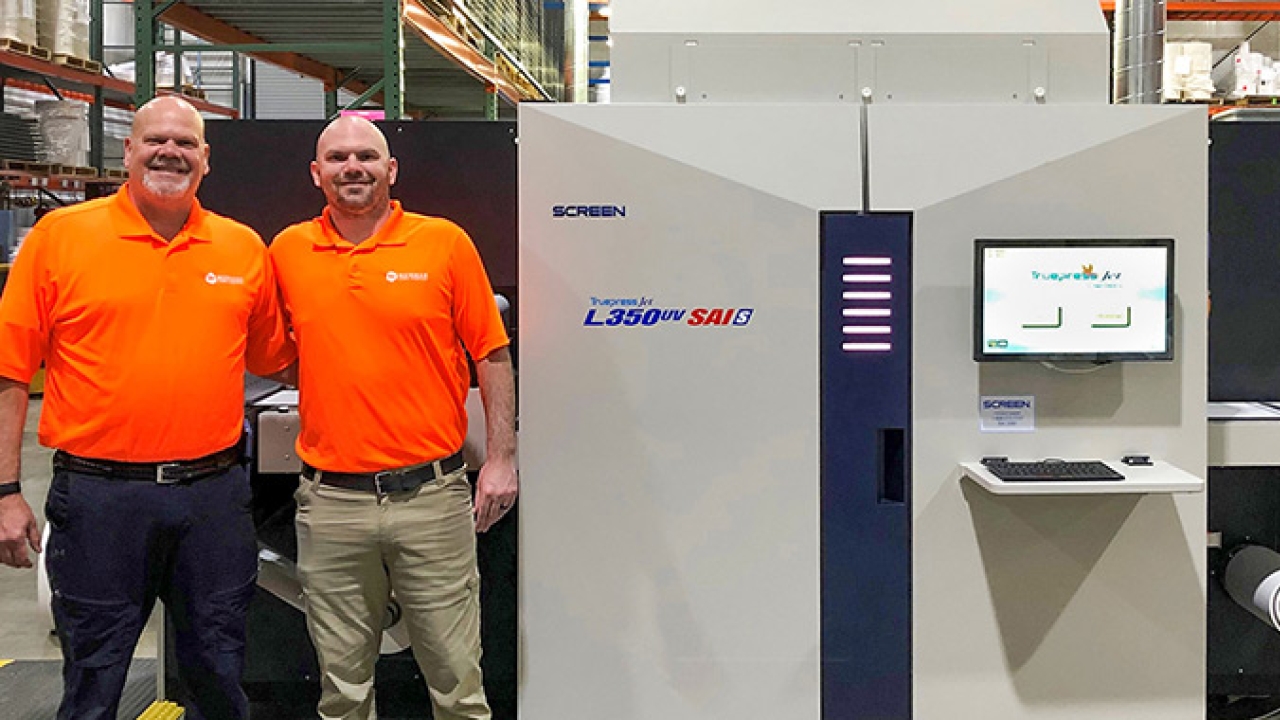 Hickman Label Company chose the Truepress Jet L350UV SAI S to expand its business into a full-service label production operation. The company was founded in 2015 and supplied blank labels to the industry. Its founder, Neil Hickman, needed a compact press that was easy to operate and one whose manufacturer offered training and a service program.
Immediate plans for Hickman Label Company include constructing a 30,000 sqft facility to accompany its 18,000 sqft building and 4,000 sqft warehouse. The company also plans to purchase additional Screen equipment and hire more operators. 
'I expect that the printing side of the business will grow to be as big or even bigger as the blank side of our business,' said Hickman. 'The press is already running every day. It's been a great investment for us.'
To better serve its wide range of customers in various industries, Hickman Label Company will also be expanding its website to include an online store for its label side of the business. The company will offer label manufacturing throughout the United States.
Launched in 2019, the Truepress Jet L350UV SAI follows its earlier models, the Truepress Jet L350UV+ and Truepress Jet L350UV+LM, and the original model, the Truepress Jet L350UV, which was launched in 2014. The Truepress Jet L350UV SAI series offers greater stability with printing speeds of up to 60 m/min and allows for seven printheads with the option for an eighth.
President Yukiyoshi Tanaka, Screen Graphic Solutions Co, underscored the company's continued commitment to the flexible packaging industry with this record installation. 
'The pandemic challenged the global supply chain, including label and packaging markets, in ways never seen before. Disruption in the workforce, scarce materials, and demands for shorter runs and on-demand printing reinforced the need for digital printing,' said Tanaka.
'The Truepress Jet L350UV SAI helps printers overcome these challenges with simple operation, market-leading uptime, and exceptional image quality on a wide range of substrates. We have built extensive after-sales support and proactive service systems. This is why many of our customers are repeat buyers, owning multiple units, even though Screen pursued this particular market a bit later. Screen GA will continue to support this industry with optimal solutions to fit diverse needs for a market that we know will continue to change,' concluded Tanaka.
Stay up to date
Subscribe to the free Label News newsletter and receive the latest content every week. We'll never share your email address.