GM launches the DC350Flex+ wine and spirits line
The new 350 mm-wide finishing line offers flexo varnish unit, hot stamping for foiling and embossing, screenprinting, and 130m/min rotary die-cutting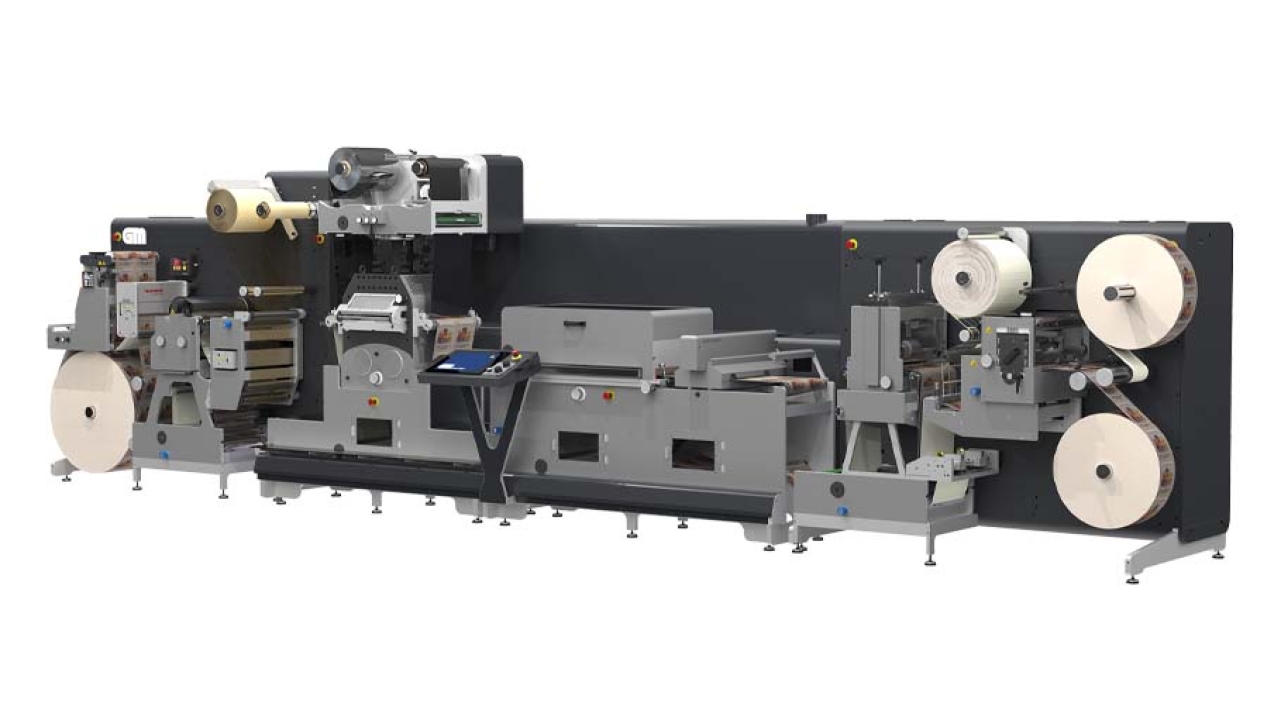 GM (Grafisk Maskinfabrik) has launched the DC350Flex+ Wine line for premium embellishment of labels. The new 350 mm-wide finishing line offers flexo varnish unit, hot stamping for foiling and embossing, screenprinting, and 130m/min rotary die-cutting as standard. It gives label converters a new way to enter luxury markets, such as high-end wine, spirits, and cosmetics.
'We have learned in the past few years that even when times are tough, consumers are still prepared to pay a premium for a little bit of luxury to treat themselves, which means that brand owners are looking for ways to add a luxury look to their labels,' said GM's CEO Uffe Nielsen. 'The cost, however, is always the main factor, so label converters need high-quality machinery with high productivity that can deliver without breaking the bank.'
The star of the show on the DC350Flex+ Wine line is the 50-ton hot stamping module, which uses multiple foil streams and features a turning tower for the largest possible design options.
Running at a speed of 70m/min, this all-in-one machine enables precision embossing and foiling in one process saving time and space. It also comes with an integrated foil saver to reduce the waste of costly foils and with GM's QuickMount technology for faster mounting of embossing plates.
Other standard features include the die-cutting speed of 80m/min in semi-rotary mode and 130m/min in full rotary and the flatbed screen-printing unit for varnish effects or high impact screen colors. More modules, such as digital varnish and laser cutting, can be added at extra cost either from the start or retrofitted at a later date to expand the reach.
The Industry 4.0-ready DC350Flex+ Wine can operate as a standalone unit or it can be set up to run in line with a digital printing press. Its capabilities are integrated into an optimized footprint machine measuring 7.7 x 1.6 x 1.7 meters (25.3 X 5.2 X 5.7 inches) for the standard configuration.
'Our customers are looking for better, faster, and more versatile solutions that fit easily into their current setup, without having to extend their factories to get these special capabilities,' commented Uffe. 'And don't forget, the new DC350Flex+ Wine line comes bundled with all our deep know-how and decades of experience in label finishing. Plus, it is easy and simple to operate backed up by online support and remote diagnostics to ensure maximum uptime. It really is the full package!'
Stay up to date
Subscribe to the free Label News newsletter and receive the latest content every week. We'll never share your email address.