UEI Group to demonstrate NW SpeedChase NXT system at Labelexpo
UEI Group engraved die companies will demonstrate the NW SpeedChase NXT system during Labelexpo Europe 2019. The new system is claimed to change the way engraved hot stamping and embossing flat dies and counter forces are set-up on a flatbed narrow web press.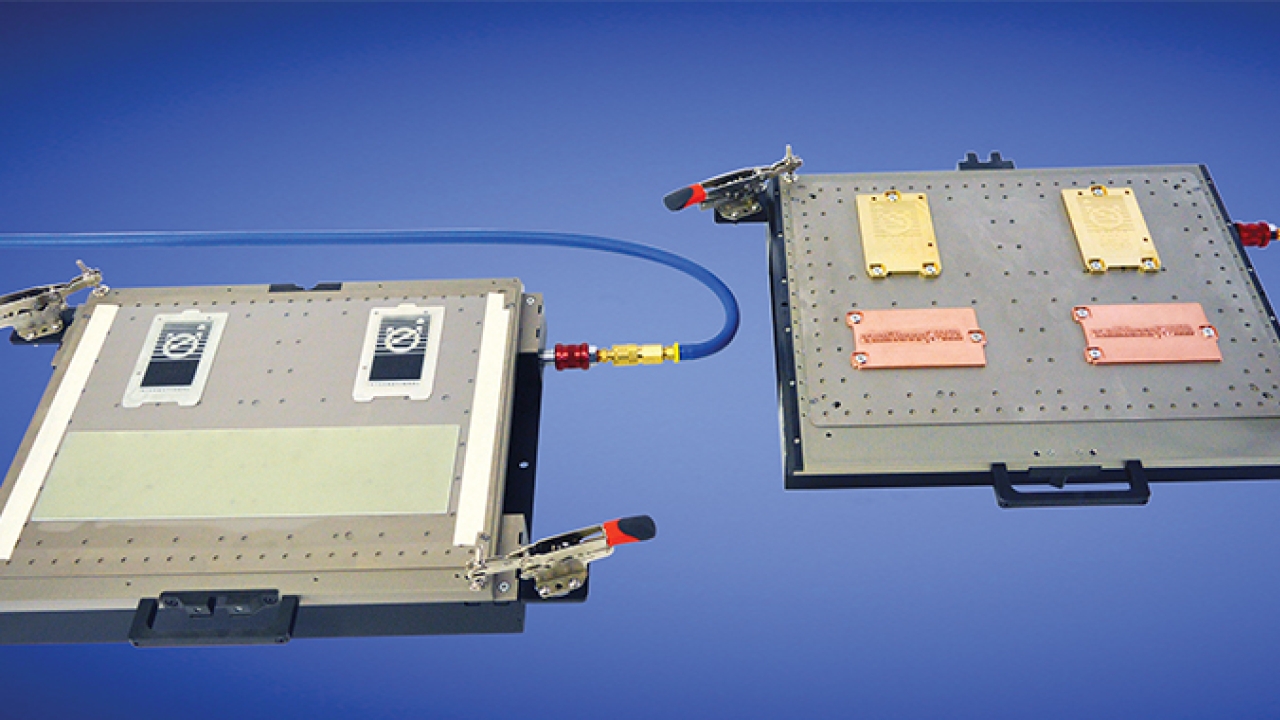 According to the company, narrow web press operators can now experience easier lock-up, quicker changeover, lower overall costs, increased speeds, and improved overall efficiency with the NW SpeedChase NXT system. It includes a NW SpeedChase NXT and a NW SpeedPlaten NXT that use a NW UniLock-Up Plate Ejector NXT box to quickly set-up and change jobs. 
Todd Rima, vice president of operations and sales, said: 'Lock-up is now reduced to one steel plate for the engraved dies and one for the counter forces. Job changeover can be accomplished, on average, in as little as one minute.
'UEI pre-mounts and pre-affixes both the engraved dies and counter forces to UniLock-Up plates. So, you're ready to go with a quick mount of the UniLock-Up Engraved Die and Counter Force Plates to the NW SpeedChase and NW SpeedPlaten.
'We designed the NW SpeedChase system to be easy-to-use and for it to work with your existingpress. All engraved dies and counter forces arrive pre-mounted and pre-registered onto NW UniLock-Up plates, so, out of the box, they're ready for the press. This also greatly reduces the makeready time.'
The NW SpeedChase NXT system provides precise register of engraved dies and counter forces to the digital press file and set-up and changeover can be done 'hot' or 'cold'.
The SpeedChase's ergonomic design is lightweight and easy-to-handle: it is 65 percent lighter than a traditional chase. Special engineering allows individual engraved dies to be adjusted slightly (if necessary) in all directions. The NW UniLock-Up Die and/or Counter Force Plates can be stored easily and UEI offers a cost-savings return/reuse program for the UniLock-Up Counter Force Plate NXT. 
UEI Group is headquartered in Overland Park, Kansas, USA, and is comprised of four companies: 
Universal Engraving, UEI Falcontec, UEI Systems and Infinity Foils. 
Stay up to date
Subscribe to the free Label News newsletter and receive the latest content every week. We'll never share your email address.