Abbey Labels invests in ABG equipment
UK based company invests in three machines for efficiencies, new capabilities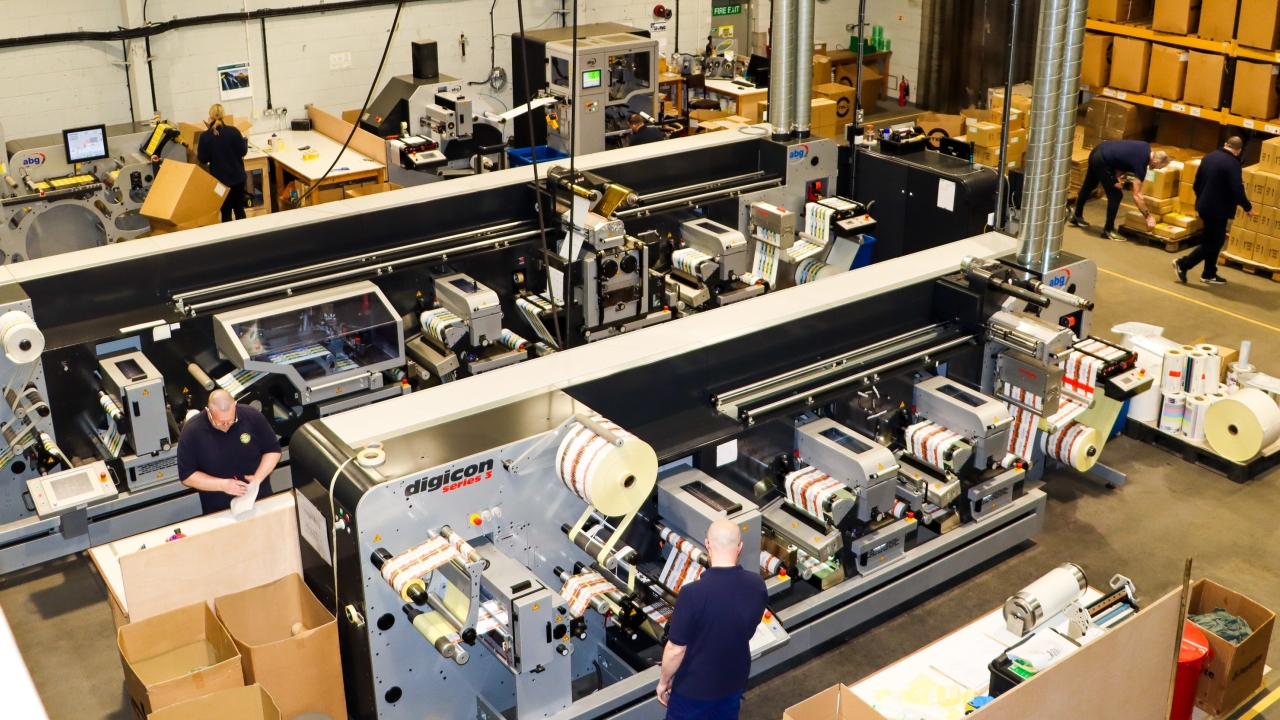 Abbey Labels optimizes finishing capabilities with ABG equipment
UK based company invests in three machines for efficiencies, new capabilities
Three new finishing machines from AB Graphic International have been installed into the label converting workflow at Abbey Labels, which is based in Suffolk, United Kingdom. The investment includes a Digicon Series 3 line dedicated to peel and reveal and multilayer labels, an automatic Vectra turret rewinder for faster changeovers, and a flatbed screen-printing unit for added-value embellishments.
As the fourth Series 3 finishing line for Abbey Labels, the new ABG Digicon has been configured with a re-registration lamination unit to produce multi-ply labels. The 330mm-wide machine also features a corona unit, two flexo stations, semi-rotary die-cutting and auto-slitting with label gap sensor.
'We are experiencing a constant and high demand for peel-and-reveal and multi-layer labels within our digital department. To better serve our customers, we decided to invest in a new finishing line from AB Graphic dedicated just to this purpose,' said chairman Tom Allum.
The addition of another finishing line has released capacity on the company's existing specialist embellishment Digicon, which in the process has been upgraded with a high-speed screen-printing module for creating textures and patterns with tactile varnishes and high impact colors. The machine already offers hot and cold foiling and embossing and debossing for adding high value and standout shelf appeal to product labels.
The new flatbed screen-printing module is perfect for shorter run label jobs due to the lower set up costs compared to rotary screen. With faster changeovers and 48m/min speed, the next-generation module will help Abbey Labels accelerate the embellishment and finishing of digitally printed labels.
'We already have rotary screen-printing in our flexo department but it is better suited to longer runs,' said Allum. 'We needed to add flatbed screen capabilities to make further headway into the beverages, vape and supplements markets, plus existing customers in other industries have been requesting it for a while.'
The third new piece of equipment is a Vectra SGTR330 Autoset turret rewinder, which comes with glueless technology for automatic job changeovers.
Allum said: 'We bought the ABG Vectra to minimize downtime and have seen great results already. For example, it was taking around one hour to change core size on our old turret; now this same task takes just 15 minutes. The running speed has also improved by up to 50 percent, so this is a big jump in productivity, which means we can get the finished rolls of labels out the door much quicker.'
These latest investments at Abbey Labels have been made on the back of a 50 percent increase in digital printing capacity gained through the successful installation of two Xeikon CX300 label presses. The ABG equipment has been put into production in the company's new finishing hall, which was constructed last year as part of a $1.2M USD overall investment plan to support growth for the family-owned company.
Allum explained, 'We needed a more effective layout in our factory to create a better workflow. We did that by connecting the two print departments through a central hall where all the finishing, quality checking, packing and despatch now take place. That has given us a much more efficient operation with the flexo and digital press halls seamlessly feeding the finishing department from both sides.'
Altogether the three new pieces of kit and the newly constructed finishing hall account for more than $740,000 and is projected to add another $430,000 to Abbey Labels' $8.6M USD turnover.
Commenting on the process, Allum concluded, 'We worked closely with AB Graphic and the whole project ran very smoothly. Despite a lot of upheaval, it has been business as usual here at Abbey Labels, and I don't think our customers experienced any drop-in service or extended delivery dates, and now they are enjoying the benefits of our new and improved finishing capabilities.'
Stay up to date
Subscribe to the free Label News newsletter and receive the latest content every week. We'll never share your email address.