Read later
Daymark Labels adds two Mark Andy presses
UK-based narrow web converter Daymark Labels has installed a Mark Andy Digital Pro 3 digital press and Evolution Series E5 flexo press at its production facility in Hartlebury, Worcestershire.
The Digital Pro is a second-generation Mark Andy hybrid that combines a toner-based digital engine for 1,200dpi CMYK with a press platform that offers flexo printing before and after the digital module, laminating, cold foiling, rotary or semi-rotary die-cutting, slitting and rewinding, or sheeting and stacking, all in one pass.  
The press is capable of printing on a variety of stocks, from tags to pressure-sensitive and Tyvek materials, typically self-adhesive stocks, porous and wine label substrates, PET, and PP, without any need for primer. The Digital Pro has a production speed of 23.4m a minute (77ft a minute) and requires no cleanroom environment nor involves any 'click charge'. It features RIP that allows any existing pdf to be printed at the touch of a button, and onboard compressor for its air-cooled LED-UV curing system.  
The Digital Pro 3 has shortened production time from three days to one shift on one of the company's regular jobs. 
The Evolution Series E5 features the latest Mark Andy servo platform for entry-level flexo. It has 330mm (13in) web width, eight flexo print units, and is the first to be installed in the UK fitted with GEW's LeoLED/UV curing technology. Specification also includes a web cleaner, overhead rail with turn bar unit, delam/relam, double die stations and a sheeter/conveyor.  
Palmer added that its print quality and speed have both exceeded expectations, and significantly, allowed Daymark to bring outwork back in-house with improved customer service.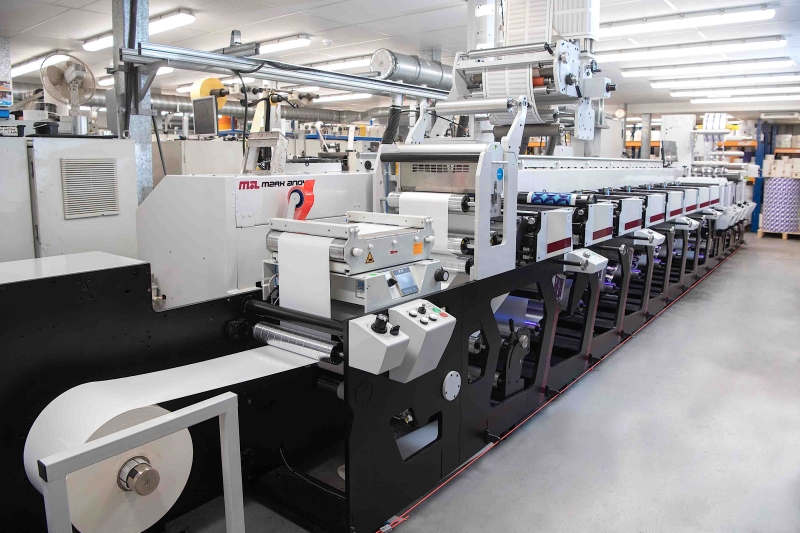 Founded by Jon Bird Snr in 1974, and now run jointly with son Jon Jnr, Daymark Labels began by specializing in short run work including foil-stamping 1,000 labels at a time. The company moved into flexo in the 1980s and later into letterpress with three 340mm presses that are still producing good quality work. In fact, the semi-rotary die station on the new DPro was familiar to Daymark from its letterpress lines.  
The company was looking to upgrade its flexo capacity and commit to digital for the first time.  
Currently employing 30 people and aiming for a GBP £3.5m turnover this year, Daymark is keen to grow its label business rapidly in the food and beverage sector and as in pharmaceuticals and the electrical industry, as well increasing its output of tags and tickets. Run lengths vary from 500 to 1 million labels but repeat business is high. 
'We aim to make life as easy for our customers as possible, and do it with an environmental conscience,' said Jon Bird. 'It's a matter of educating the market about sustainability and what is actually achievable. We believe our partnership with Mark Andy will help us to achieve that and grow our business organically.' 
Mark Andy sales manager Phil Baldwin commented: 'Daymark has invested in the very latest technology we have to offer, and it will allow them to manufacture a wide variety of printed products as cost-effectively as is currently possible. The DPro has enabled Daymark to produce jobs in a single pass that previously required multiple presses. Both new Mark. Andy presses, the Evolution Series E5 and the DPro are scalable, allowing them to be adapted to meet changes in market demand. We are looking forward to supporting Daymark in their quest for "green production" in the days and years to come.'